Posted on
Tue, Jan 17, 2012 : 11:49 p.m.
Michigan basketball team topples Michigan State thanks to its rising star, Trey Burke
By Kyle Meinke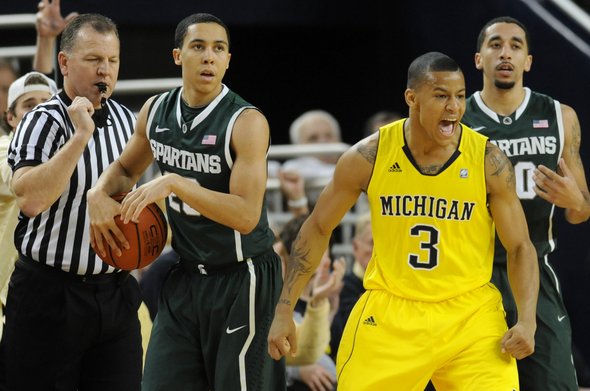 Melanie Maxwell | AnnArbor.com
The question was a simple one, yet
Trey Burke
had to shift in place before answering, choosing his words carefully.
Trey, were you the best player on the court?
The fact this question can be posed to a true freshman who is playing alongside Tim Hardaway Jr. is impressive. The fact the answer just might be yes, even more so.
He wouldn't say he was the best, but his hesitation provides a brief glimpse into the confidence of the Michigan basketball team's precocious point guard.
JOIN OUR LIVE CHAT
Want to talk more about the game? Stop by Nick Baumgardner's lunchtime basketball chat, which fires up at noon on Wednesday on AnnArbor.com. He'll discuss the victory, what it means in the Big Ten race and anything else you want to talk about.
"I wouldn't say that," he said finally. "I just feel like I had to make big plays. Coach
(John) Beilein
told me one of my jobs was just to make big plays tonight."
Burke has made those plays throughout the season, and he did again Tuesday night, pouring in a team-high 20 points to help the No. 20 Wolverines (15-4, 5-2) seal a 60-59 victory against chief rival Michigan State.
He was a cool 8-of-11 shooting, including 3-of-6 on 3-pointers, and added three assists, two steals and two blocks. He thoroughly outplayed his counterpart, Michigan State sophomore Keith Appling, in a matchup of budding point guards.
Whether or not he's the Wolverines' best player, it's clear they wouldn't have won this game without him.
"Guys like him make me look like the best captain in the country because I don't have to do anything," senior Zack Novak said. "I knew he had talent. I knew he was a really good player. I would never expect a freshman to come in and act the way he has and carry himself the way he does."
It was Michigan's third consecutive victory against the No. 9 Spartans (15-4, 4-2), in a game both teams were ranked. The tide of this rivalry is changing, and Michigan's ability to reboot with players such as Burke is a big reason why.
It's what top programs do.
"The coaches told me to just look at it as a regular game ... but this was definitely the biggest rivalry I've ever played in," Burke said. "I look at it as like a Michigan-Ohio State rivalry, just because of the way we were battling out there. I'm out there gasping for air."
Burke, who hails from Columbus, Ohio, didn't just fill up the stat sheet, either. He came up big in big moments, such as on a deep 3-pointer with 5:29 left that stemmed a 21-9 Michigan State run and tied the game at 52-52.
"The whole game, they kind of gave me different looks off the screen," Burke said. "I came off the pick, big (Derrick) Nix would hedge hard. Sometimes, they'd go under. That time they went under and I was pretty deep, but I felt like I could hit the shot.
"We were down three, it would have been a big shot, so I took it, and I hit it."
His biggest play of all, though, came with less than 40 seconds left after he grabbed a loose ball and drove the length of the court. He lost control of the ball as two defenders swarmed him, then found senior guard Stu Douglass for a go-ahead layup that made it 60-59 with 36.5 seconds left.
It proved to be the game-winning shot.
"After my third dribble, I felt someone hit the ball out of my hand," Burke said. "Just kind of popped it up, and then I caught it, hop step, jump step, and then I saw Stu out of the corner of my eye wide open.
"It was kind of luck tonight, and we took it."
Burke clarified, though, that it wasn't chance. He believes he, and Michigan, make their own luck. It culminated with a heart-pounding, 31-second possession by Michigan State that got forward Draymond Green a clean look at a leaning 15-footer.
The shot was long, and Michigan came away with perhaps its biggest win of the year.
"When you play defense like that, you tend to have some luck like that," Burke said.
"We took it."
Kyle Meinke covers Michigan football for AnnArbor.com. He can be reached at 734-623-2588, by email at kylemeinke@annarbor.com and followed on Twitter @kmeinke.