Posted on
Sun, Jul 24, 2011 : 5:53 a.m.
Brady Hoke's 'lunch-pail approach' has Michigan burning up the recruiting trail
By Kyle Meinke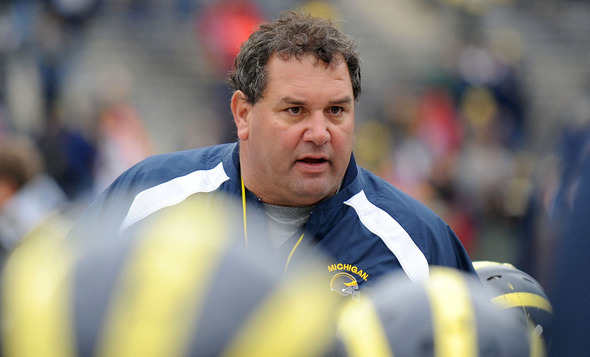 Angela J. Cesere | AnnArbor.com
When Michigan athletic director Dave Brandon hired Brady Hoke in January to be the Wolverines' football coach, he cited Hoke's Midwestern roots and recruiting acumen as major factors in his decision.
Twenty commitments and a whole lot of buzz later, Brandon -- and the beleaguered Michigan football program -- is reaping the rewards as Hoke and his staff compile one of the nation's best recruiting classes.
Did Brandon expect this kind of immediate payoff?
"I knew coach Hoke was going to recruit well for us, but I don't know I would have necessarily thought that, at this point in time, we'd be touted as one of the top recruiting classes in the nation," Brandon said by telephone Friday.
"So, in that regard, I think coach Hoke has exceeded my expectations."
FUTURE WOLVERINES
AnnArbor.com football writer Kyle Meinke's three-part look at Michigan's 2012 football recruiting class:

Top-ranked Ohio recruit Kyle Kalis was the latest coup for Michigan. The five-star offensive tackle, once an Ohio State pledge, became the 20th member of a Wolverines' 2012 recruiting class that already is a consensus top-10 group according to the major scouting services.
After a series of good yet unspectacular recruiting classes the past few seasons, what has propelled Michigan into the recruiting stratosphere?
A confluence of new coaches, new schemes and a new-found ability to mine the Midwest's top recruits -- particularly the ones in Ohio.

THE HOKE EFFECT
It all starts with Hoke.
The former San Diego State coach replaced the deposed Rich Rodriguez. He has Midwestern roots as a Dayton, Ohio, native; former assistant coach at Grand Valley State, Toledo, Michigan and Ball State and head coach at Ball State and now Michigan.
When he took the job with the Wolverines, he emphasized two things about his recruiting strategy: He would target Midwest talent and focus on repairing the defense.
He has delivered in spectacular fashion.
How has he done this without coaching a single down of football?
Cleveland Plain Dealer
"The thing about coach Hoke that really sticks out to me is that he's real," Kalis texted AnnArbor.com in an interview last week. "What you see is what you get with Coach, and that's how it should be.
"Coach Hoke will be the reason U of M gets back on top. And I'm not the only one who sees it that way."
Michigan already has received 20 commitments at an average of 3.63 stars per recruit, according to Scout's ratings. Both are tops in the Big Ten.
The Wolverines have one of the league's two five-star recruits in Kalis. The other -- Ohio State commit Brionte Dunn -- has shown signs he may follow Kalis in rescinding his pledge to the Buckeyes.
He's even taken visits to Ann Arbor.
Michigan has seven recruits rated as four-star prospects by Scout, the most in the Big Ten. Wisconsin is second with five. Ohio State has three, but only one since coach Jim Tressel resigned May 31 amid allegations he covered for and knowingly played ineligible players.
In-state rival Michigan State has one.
Perhaps most impressively, the Wolverines have commitments from five of their state's top seven recruits, according to Rivals. The two others are considered Michigan leans.
One of them has taken notice of Michigan's regional dominance.
"They've made a statement," said Danny O'Brien, a four-star defensive end from Flint Powers who is the state's second-best uncommitted recruit according to Rivals. "It's amazing what they've been able to put together, especially after the past few years. And it's made an impact.
"I know a lot of guys who are going there, and it'd be awesome to play with them."
O'Brien said he plans to name his six finalists this week, and that Michigan would be on that list.

THE OHIO CONNECTION
The Wolverines' Midwest revival extends to that rival state to the south.
Ohio, one of the country's great producers of college football players, has long been a focus of Michigan's recruiting strategy.
THE PLAYERS
Twenty high school football players have made non-binding verbal commitments to play for Michigan in 2012. They include:

Blake Bars (OL, 6-5, 275), Nashvile, Tenn.
Joe Bolden (LB, 6-2, 225), Cincinnati, Ohio
Ben Braden (OL, 6-6, 285), Rockford
Pharaoh Brown (DE, 6-6, 220), Lyndhurst, Ohio
Jeremy Clark (DB, 6-4, 205), Madisonville, Ky.
Devin Funchess (TE, 6-5, 2-5), Farmington Hills Harrison
Allen Gant (DB, 6-2, 210), Sylvania, Ohio
Matthew Godin (DT, 6-6, 270), Detroit Catholic Central
Royce Jenkins-Stone (LB, 6-2, 215), Detroit Cass Tech
Kyle Kalis (OL, 6-5, 302), Lakewood, Ohio
Erik Magnuson (OL, 6-6, 275), Carlsbad, Calif.
Mario Ojemudia (DE, 6-2, 215), Farmington Hills Harrison
Terry Richardson (DB, 5-9, 160), Detroit Cass Tech
Kaleb Ringer (LB, 6-0, 219), Clayton, Ohio
James Ross (LB, 6-0, 209), Orchard Lake St. Mary's
Caleb Stacey (OL, 6-4, 275), Cincinnati, Ohio
Anthony Standifer (DB, 6-1, 178), Crete, Ill.
Tom Strobel (DE, 6-6, 245), Mentor, Ohio
A.J. Williams (TE, 6-6, 260), Cincinnati, Ohio
Jarrod Wilson (DB, 6-2, 190), Akron, Ohio
But in the past few years, the Wolverines' haul from that state has flagged.
Rodriguez did grab 11 players from Ohio in 2010, but tended to cast a more national net to find the recruits he wanted to run his spread offense and 3-3-5 defense -- schemes that tend to reward speed over size.
By most accounts, he did not invest as much into maintaining Michigan's recruiting footprint in Ohio.
"You talk to high school coaches … specifically in Ohio, and it seems their opinion of (Hoke's) staff is higher than it was of the previous staff," said Allen Trieu, Scout's Midwest recruiting expert. "He's brought in a Midwest-, lunch-pail approach to recruiting, and coaches and players in-state and in Ohio are looking harder at Michigan."
With six months remaining before National Signing Day and at least five spots yet to fill, Hoke already has picked up commitments from nine Ohio recruits who average 3 2/3 stars each, according to Scout.
If each signs a letter of intent in February, it would be the Wolverines' second-largest bounty from that state since at least 2002.

THE SCANDAL FACTOR
Hoke's Ohio pedigree certainly helps him to mine the area, but the scandal that is unfurling at Ohio State helps to form a perfect storm for the Wolverines.
"There used to be a sort of border between Ohio to Michigan," Kalis texted AnnArbor.com last week. "For whatever reason you're gonna see a handful of guys make that jump that they usually wouldn't."
Tressel resigned and quarterback Terrelle Pryor left for the NFL this offseason as the Buckeyes deal with sanctions related to an alleged memorabilia-for-gifts scheme.
"For most people (in Ohio), going to Ohio State is a big dream," said Pharaoh Brown, a three-star defensive end from Lyndhurst, Ohio who committed to Michigan in May. "But now, with the sanctions, it's opening up for Michigan here."
A good example is Tom Strobel, a four-star defensive end from Mentor, Ohio, who listed Ohio State as his leader for much of the recruiting process.
But two weeks after Tressel's resignation, he committed to Michigan. Trieu now calls him the Wolverines' top NFL prospect -- in a class full of top prospects.
Rivals national recruiting analyst Mike Farrell said Michigan was wise to target Ohio this recruiting cycle because the window of opportunity opened by the Buckeyes' NCAA troubles could be brief.
"Everything looks bleak now for Ohio State, but what's going to happen is they're going to do a national coaching search (at the end of the season), and this guy is going to be a slam-dunk hire," Farrell said.
"Let me put it this way: Michigan didn't get the top two guys in its search (Jim Harbaugh and Les Miles), and even with that, they're off the charts right now because of excitement from Hoke they can sell.
"But Ohio State? They're not going to miss on their top two guys, and things will go back to normal very quickly."

THE MASTER COORDINATOR
Michigan's recruiting class has a defensive flavor to it, with 13 guys already committed at every position of need besides tackle.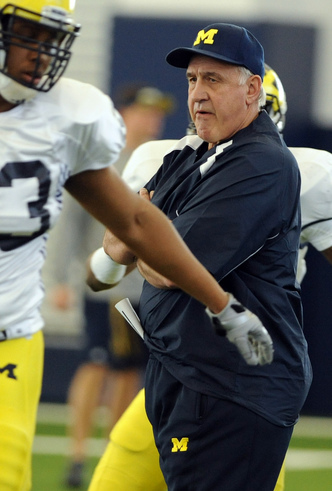 Melanie Maxwell | AnnArbor.com
Greg Mattison is a big reason why.
"In the recruiting world, he's what we call a great closer," Farrell said. "When you go to visit recruits, it's typically assistant coaches and position coaches, and they get kids interested in your program. They're the table-setters.
"But when you get kids on campus, you need a closer. Since he's been at Michigan, Greg Mattison has been a defensive closer. He's a guy if you got a lead for a kid, and you get him on campus, he's going to close the deal."
The 31-year college defensive assistant was lured to Ann Arbor from the Baltimore Ravens, where he fielded a top-three defense all three years in the NFL.
He now makes $750,000, more than double any other Michigan assistant, to coach a unit that was No. 108 in the country last year and set several school futility records.
He's well on his way to earning that salary, and fixing that defense.
"A lot of that is because of his NFL pedigree," Farrell said. "If you can go up to a kid and say you've coached Ray Lewis and you've coached Ed Reed, they eat that up, because they want to get to the NFL themselves.
"(Mattison's) system works, and these kids see that. It'll go a long way in helping Michigan get back to where it used to be."

Kyle Meinke covers Michigan football for AnnArbor.com. He can be reached at 734-623-2588, by email at kylemeinke@annarbor.com and followed on Twitter @kmeinke.