Michigan CB Troy Woolfolk says he has a broken bone in his right hand
Posted on Tue, Sep 13, 2011 : 7:26 p.m.
Michigan senior cornerback Troy Woolfolk isn't sure what's wrong with his right hand, he just knows there's a broken bone in there somewhere.
"I just looked at an X-ray and saw a broken bone," Woolfolk said Tuesday. "I'm not really sure, I just break the bones and provide the medical bills."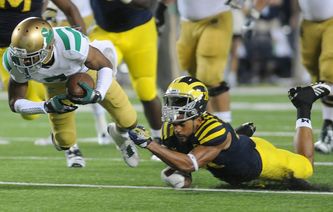 Angela J. Cesere | AnnArbor.com
Woolfolk played in Saturday's game against
Notre Dame
with a cast on his right hand and, following practice Tuesday, was wearing a large blue cast that extended up his forearm and covered his pinkie and ring fingers on his right hand.
Asked how long he'll have to wear the cast, Woolfolk said the doctor who applied it told him four weeks — but he doesn't see that happening.
"I don't really believe doctors, so whatever they say, I take two weeks off that," Woolfolk joked.
Woolfolk was on the practice field Tuesday with Michigan's first-team defense, still wearing a cast, but without the large wrap around his left ankle that was there last week. The right ankle injury came during a season-opening win over Western Michigan.
He also showed off a newly-lacerated nose, an injury he suffered during Saturday's win over Notre Dame.
Woolfolk missed all of last season with a dislocated right ankle, torn ligaments and broken fibula.