Posted on
Tue, Nov 2, 2010 : 10:06 a.m.
Michigan center David Molk passionate about getting things turned around amid current Big Ten skid
By Jeff Arnold
David Molk was cantankerous to begin with and getting angrier the longer the questioning went on.
The Michigan junior center makes it perfectly clear he's not a big fan of reporters. But when the frustration of a the Wolverines' current three-game Big Ten losing skid collided with a press conference appearance on Monday, Molk's demeanor took a turn for the worse.
In the back of the room, safety Jordan Kovacs couldn't ignore the passionate rant. After all, in the midst of Michigan's 41-31 loss at Penn State, it was Molk who made a halftime appearance in the locker room of the Wolverines' defense.
His message - an obscenity-laced motivational plea - came down to this: Let's go. We're not losing this game.
The Michigan defense surrendered 28 first-half points to the Nittany Lions. Penn State hadn't accounted for much offense since putting up 44 points in an opening-night victory against Youngstown State.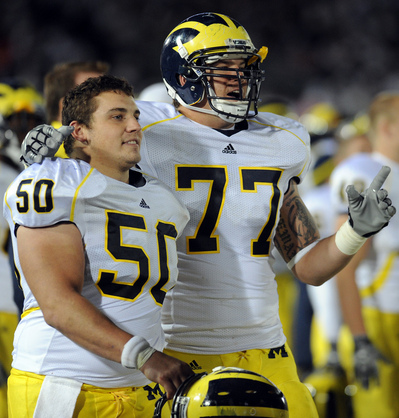 But after the Wolverines' defense struggled over the first two quarters Saturday night, Molk felt something needed to be said.
"That's something that was contagious, and once one guy really gets it going, the rest of the guys start to feel it as well," Kovacs said Monday. "But you could see it on his face - Denard (Robinson) came in as well and they were both ready to go. You could just read it on their face.
"They were ready to go, and they wanted us to feel the same way. I think it really sunk in."
On Monday, Molk again put his passionate side on display. Peppered with questions about Michigan's state of affairs heading into Saturday's home test with Illinois (noon, ESPN), the Wolverines' most experienced offensive lineman pulled no punches.
He talked of Michigan's need for an attitude adjustment. He agreed with senior defensive tackle Greg Banks, who earlier said the time for talking is over.
"We need to realize what we need to do every time we come out to play," Molk said. "It can't just be some half-assed work ethic. It needs to be full out every play, every down, every game."
Molk, who missed the entire Big Ten slate last season with knee and foot injuries, talked of his disdain for losing. Molk suggested the Wolverines didn't deserve the results of the past three weeks given how hard they have worked.
Then, almost defiantly, he made a stern promise: Things are going to change.
He refused to pin Michigan's struggles on the defense. Molk - like Michigan coach Rich Rodriguez did Monday - acknowledged losing is a pill swallowed by everyone.
"We're a team for a reason," Molk said. "We're not an offense and a defense. We're a team, and when you point fingers at one side, it just kills you."
Molk side-stepped a question about Rodriguez's job security, saying the third-year coach was "his own man" who didn't need one of his players to "mediate him and make sure he's calm." Molk said he completely ignores media reports, insisting that if changes are going to be made, it's going to come from the inside. At one point, he claimed he had answered the same question some 300,000 times.
But, as one of the leaders of Michigan's offensive line, Molk is determined to get things turned around.
"This is my coach, this is my team, and I will do anything for this team," Molk said.
"It's just a matter of it clicking. You don't just wake up one morning and say, 'Oh, I know how to play football now.' It's something that is an acquired talent, and we're going to get it right. We're moving toward the place we need to be - we're just not there yet."
Jeff Arnold covers sports for AnnArbor.com and can be reached at (734) 623-2554 or by e-mail at jeffarnold@annarbor.com. Follow him on Twitter @jeffreyparnold.