Posted on
Tue, Mar 15, 2011 : 5:54 p.m.
Michigan coach Brady Hoke addresses recruit Chris Barnett, injury report and start of spring football practices
By Pete Bigelow
A cautionary tale of a recruiting guru gone overboard? Or a simple change of heart at the last minute?
On Monday, FoxSports.com's Thayer Evans profiled Michigan football recruit Chris Barnett, a promising tight end who switched his commitment from Arkansas to the Wolverines.
Barnett's father, Elzie, complained that he was shut out of his son's recruitment process and that he would have preferred his son remain committed to Arkansas.
Instead, the more influential voice in Barnett's decision was Baron Flenery, a co-founder of Dallas-based New Level Athletics, a one-time analyst for Scout.com and someone FoxSports identifies as a "reputed street agent."
At the time, Elzie Barnett said he did not know that Flenery had become involved as a go-between with his son and Michigan. (Here's a link to the full story at FoxSports).
Michigan coach Brady Hoke briefly addressed the story Tuesday.
"I'm not going to get into the kid's personal life," he said of Barnett, who transferred five times and attended four different schools. "If he wants to talk about it, he can talk about it.
"But Chris is a heck of a kid who has done nothing but be very mature about how he visited, and in the conversations I've had in the home with him."
Injury report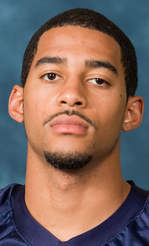 They were supposed to be the starting cornerback tandem throughout the 2010 football season. Instead,
Troy Woolfolk
sustained a serious ankle injury that sidelined him the entire season and
J.T. Floyd
started eight games before suffering a season-ending ankle injury of his own in practice prior to the Wolverines' game against Illinois on Nov. 6.
Entering spring practice, both still are limited by their injuries.
"A couple of guys are beat up," Hoke said. "Floyd won't play as much in spring ball. Woolfolk is getting better."
Others hampered by injuries include linebacker Kenny Demens, who is recovering from off-season shoulder surgery. He is expected to be see limited action.
Hoke isn't as optimistic on running back Teric Jones, who is recovering from knee surgery.
"He's got a lot of rehab to do," Hoke said.
Corner report Whenever Woolfolk does fully return, it's uncertain whether the Wolverines will use the veteran defensive back at cornerback or safety. As a junior, he started six games at each position.
Without saying anything definitive, from a depth perspective, Hoke hinted that cornerback might be in his future.
"Safeties, we're not bad," Hoke said. "Corner, not as good. So that will be a decision, and we'll see how he comes back too."
Position changes Much-ballyhooed defensive recruit Will Campbell, who moved to offensive guard late last season, is back on defense.
In moves to strengthen the team's depth at tight end, wide receiver Ricardo Miller, a Pioneer High School graduate, and former defensive end Steve Watson will both move to the position.
Practice schedule Michigan will kick off its spring football practices Saturday. The team's first two practices will be non-padded. The Wolverines will hit for the first time this spring Tuesday.
More than anything, Hoke is looking to develop the toughness of his team, a point he emphasized numerous times Tuesday.
"We've got to do a great job of creating an environment that has toughness with it, and effort with it, and develop a lot of guys from a fundamental and technique standpoint," he said.
Asked what he wants to evaluate first, he said later, "their attitude, their effort, the toughness they play with."
Pete Bigelow covers Michigan football for AnnArbor.com. He can be reached at (734) 623-2556, via email at petebigelow@annarbor.com and followed on Twitter @PeterCBigelow.