Posted on
Tue, Oct 11, 2011 : 5:58 a.m.
Michigan coach Brady Hoke expects 'a dog fight' against MSU, says 'you've got to punch back'
By Kyle Meinke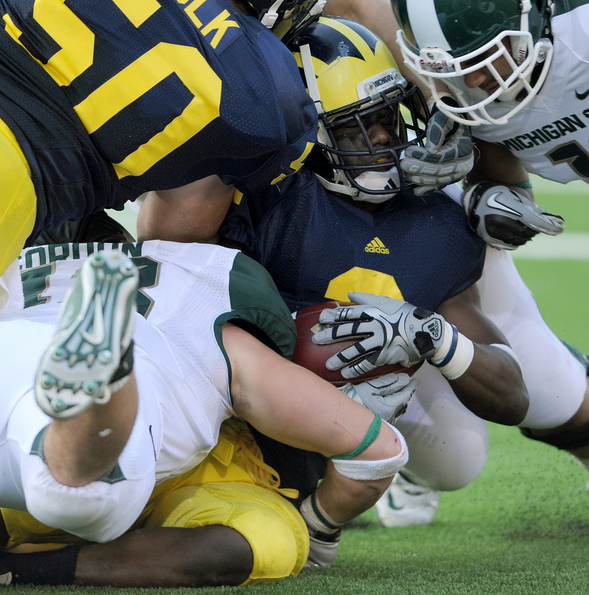 AnnArbor.com file photo
Bo Schembechler
lost his first
Michigan-Michigan State
game, although he's hardly unique.
He later said he wasn't prepared for the ferocity of that 1969 game, something other coaches have echoed since failing in their first forays into this rivalry.
First-year Michigan football coach Brady Hoke hopes to avoid that fate. He knows exactly what to expect Saturday when the 11th-ranked Wolverines visit No. 23 Michigan State (noon, BTN).
"It's going to be a dog fight," he said.
Hoke has a good feel for the matchup because he spent eight years as a Michigan defensive assistant from 1995-2002. And what did that time teach him about this rivalry?
He affirmed what former coach Lloyd Carr used to say about it: Michigan State is the Wolverines' most physical game of the season.
"I'm a defensive line coach, (and) they were going to try to pound you off the football," Hoke said. "You had to match that intensity, and they were going to punch you in the face, and you've got to punch back."
The statistics bear out this point.
The team with more rushing yards has won 38 of the past 41 games between Michigan and Michigan State, and rushing yards are strongly correlated to line play.
"One of the statistics coaches talk about in this game is it's won and lost by rushing and rushing yards," senior defensive tackle Ryan Van Bergen said. "And when it comes to rushing, it's all about who's tougher up front, who's more physical up front — and it's always been about who's going to hit who harder and who's going to move people off the ball.
"So, yeah, this is our most physical game."
That should make this year's matchup even more intriguing.
Michigan (6-0, 2-0 Big Ten) has the nation's No. 7 rushing attack, with dual-threat quarterback Denard Robinson leading the way. He currently is the Big Ten's top rusher at 120.0 yards per game.
However, he'll be facing the nation's top overall defense. The Spartans are No. 3 against the run.
Who's going to budge?
Hoke said the key to cracking that defense will be improved play by Michigan's offensive line.
"I think there's not any doubt that (MSU's) physicalness at the line of scrimmage and their ability to penetrate and be disruptive are a big part of what they do defensively," he said. "For us, we have to play our best game to this point in all areas, but specifically up front."
That's experience talking. It could make a difference against the Spartans (4-1, 1-0).
No new coach has won a Michigan-Michigan State game since 1995, when a pair of first-timers faced each other. The Spartans' Nick Saban beat Carr. It has been 63 years since a first-year coach beat a returning coach, when the Wolverines' Bennie Oosterbaan did it in a 13-7 win in 1948.
But Hoke's already cut his teeth against Michigan State. He's experienced the good, such as Charles Woodson's memorable interception in a win in 1997.
He's also dealt with the bad, such as "The Clock" game in 2001, when the Spartans marched down the field and scored on a T.J. Duckett touchdown reception as time expired.
"Somebody was in charge of substitutions on defense, and we had a penalty that helped them get down the field — and that was me," Hoke said. "We had too many guys on the field. So, I remember (it well)."
An experience such as that could become valuable as Michigan tries to halt its three-game losing streak against the Spartans. Only once have the Wolverines lost four in a row to Michigan State, and that was from 1959-62.
Is Hoke using that as a motivational tool?
"I don't think I have to remind our guys what the outcome has been," he said. "These are college students, and they're in classes and stuff like that.
"I would hope that they're smart enough to understand that we haven't played Michigan football the way we need to."
Kyle Meinke covers Michigan football for AnnArbor.com. He can be reached at 734-623-2588, by email at kylemeinke@annarbor.com and followed on Twitter @kmeinke.