Posted on
Fri, Dec 9, 2011 : 4:42 p.m.
Michigan football coach Brady Hoke expects Al Borges, staff to return next season
By Kyle Meinke
The Michigan football team's offensive coordinator, Al Borges, has been lauded this season for adopting his pro-style offense to the talent he inherited -- most notably, quarterback Denard Robinson.
He was wildly successful forging a hybrid offense he likes to call the "spread-West Coast," which borrows from the two systems, and it powered the Wolverines to 235.7 yards per game and 34.2 points per game, second in the Big Ten.
So successful, in fact, Borges' name has surfaced as a possible candidate for several openings. Most recently, The Gainesville Sun named him as one of five leading candidates for Florida's offensive coordinator job, which opened up Thursday night after Charlie Weis accepted the Kansas head coaching job.
Michigan coach Brady Hoke, though, said on Friday he expects his staff to return intact next year.
"Yeah, I do," Hoke said. "I'm sure if there was anything, they would approach me about it."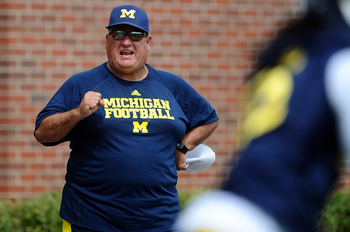 Melanie Maxwell | AnnArbor.com
Defensive coordinator
Greg Mattison
has the best resume of any Michigan assistant, now that he's in his 34th year as a college coach and has held jobs at marquee schools such as Michigan (twice),
Notre Dame
and
Florida
(where he won a national title). He also coached three years in the NFL with the Baltimore Ravens.
However, at 62 years old and with family in the area, Mattison is expected to be at Michigan for the foreseeable future. It would be not be surprising if he finished his career in Ann Arbor.
Conversely, defensive line assistant Jerry Montgomery has become a rising name in coaching circles, despite being only 31 years old. He is considered by some to be the best future head coaching candidate among Michigan's assistants.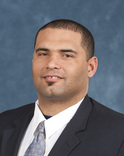 He arrived at Michigan via Wyoming, where he coached the past two seasons. He had accepted a job at
Indiana
for this season, after turning down an offer from
Houston,
, but elected to come to Michigan when Hoke and Mattison asked him to join their staff.
"I just couldn't turn down that opportunity," Montgomery said in a recent interview with AnnArbor.com, adding he loves Michigan and Ann Arbor, and is looking forward to coaching next year's defensive line. He'll have work to do, after it is gutted by the departure of senior stalwarts Mike Martin, Ryan Van Bergen and Will Heininger.
"I'm blessed, in a sense, to be where I'm at," Montgomery said. "Two great position coaches, who coach the position I played. ... I learn something new form those guys every day. It's been really good for me."
Borges, though, remains the hot name nationally.
When asked earlier this year about whether he would want to be a head coach, after reports surfaced indicating he could be a candidate for the top job at New Mexico, Borges said "that is the furthest thing from my mind right now."
Hoke was asked after the regular-season finale against Ohio State whether Borges would be interested in a head coaching vacancy.
"I don't know," Hoke said. "I don't know. If he does, good. If he's interested, I mean, that's all right."
Kyle Meinke covers Michigan football for AnnArbor.com. He can be reached at 734-623-2588, by email at kylemeinke@annarbor.com and followed on Twitter @kmeinke.