Posted on
Tue, Nov 8, 2011 : 5:58 a.m.
Michigan coach Brady Hoke explains why Thomas Gordon didn't play, regrets not getting him on field
By Kyle Meinke
Thomas Gordon is the Michigan football team's second-leading tackler. He's tied for the Big Ten lead with three fumble recoveries and second with two forced fumbles.
And that's after not playing last week.
The sophomore free safety has been terrific this year, but mysteriously did not play a defensive snap in last week's 24-16 loss to Iowa. Coach Brady Hoke explained why during his Monday news conference.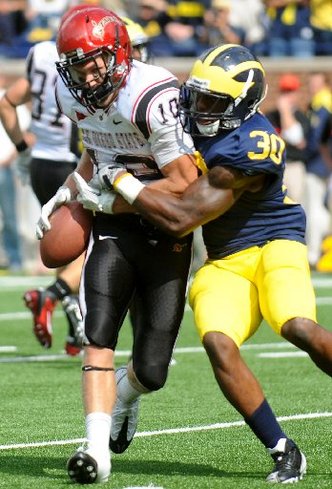 Angela J. Cesere | AnnArbor.com
It's simple: Fifth-year senior Troy Woolfolk, who moved to safety two weeks ago so freshman standout Blake Countess can start at cornerback, had a better week of practice. For Hoke, that was enough to keep Gordon on the bench.
"It all comes down to competition and where guys are," Hoke said. "(Woolfolk) had a better week. They'll compete like heck this week (to determine) who will be the guy."
Woolfolk made six tackles against Iowa, his second start at safety after playing in place of injured starter Jordan Kovacs two weeks ago. With Kovacs returning against the Hawkeyes, though, that left only one space for Woolfolk and Gordon.
Michigan went with Woolfolk, although it was somewhat surprising Gordon didn't get a look for at least a few snaps, especially on a defense that rotates frequently at most positions.
Hoke also indicated last week that Gordon could see time at nickel back. That did not happen.
He later lamented not getting Gordon in the game, at least to keep him sharp.
"I think we should have taken an opportunity to get him in a little bit, and just didn't for one reason or another," Hoke said. "We just thought Troy was going to start the football game once Jordan came back. We were going to go with those two guys.
"It's not like Thomas had made some mistakes."
Hoke said he felt bad for Gordon, but it's also important to feel good for Woolfolk.
"There is no 'game player' -- that's a myth," Hoke said. "If you prepare, and you prepare the way that you're supposed to prepare, then you're going to play well."
Kyle Meinke covers Michigan football for AnnArbor.com. He can be reached at 734-623-2588, by email at kylemeinke@annarbor.com and followed on Twitter @kmeinke.