Posted on
Sun, Jun 10, 2012 : 5:59 a.m.
Michigan football coach Brady Hoke guarding against a sophomore slump
By Kyle Meinke
The Michigan football team played two games last year on a truly national stage, and won both of them in improbable fashion.
The Wolverines beat Notre Dame in Week 2 after staging a 17-point fourth-quarter comeback, aided by a series of fortunate twists that included quarterback Denard Robinson scooping up a fumble at the goal line for a touchdown and the Irish losing receiver Jeremy Gallon on a 64-yard pass with 23 seconds left. Michigan won on the next play.
In the season finale against Virginia Tech, the Wolverines' offense was doubled up by the Hokies. Robinson finished with a career-worst 13 yards rushing. No receiver caught more than two passes, no rusher gained more than 30 yards.
And yet, Michigan emerged as Sugar Bowl champions in overtime due to another series of fortunate plays.
The 11-win season was a tremendous accomplishment for a program that had been mired in mediocrity and controversy for three years. But it also has raised expectations, and raised them for a season in which Michigan faces one of the nation's most difficult schedules.
That could be a recipe for a letdown. Is second-year coach Brady Hoke concerned about a sophomore slump?
You betcha.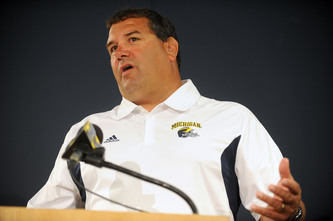 Angela J. Cesere | AnnArbor.com
"I think the hardest year, in doing this at two other schools, is usually the second year," he said last week.
Hoke would know. He languished through a trying sophomore season during his first head coaching stint at Ball State.
The Cardinals went 6-6 in his debut season, and started 4-4 the following year. But things quickly fell apart and Ball State lost its final four games, including a 38-14 blowout against a 3-9 Eastern Michigan team.
Hoke was so distressed by the situation, he had a sports psychologist to work with the team. But he also learned from the experience, and it helped him when he took over San Diego State in 2009.
The Aztecs went 4-8 in Hoke's first season, then flourished during a 9-4 year in 2010. That remains the program's winningest season since 1977.
The biggest lesson Hoke seems to have taken from those experiences: Leadership helps avoid letdowns, and leadership starts with the seniors.
That philosophy has since become part of the basic fabric of Hoke's coaching style.
"It was a group of seniors who really got the message and the impact," he said of the Aztecs. "May have taken a little longer, little more hesitation the first year. Just like the seniors on last year's (Michigan) team, we had some games on both sides that could have gone either way. I mean, that's football, though. That's athletics and competition.
"But I think that part of it helped us. The fifth-year seniors this past year, and at San Diego, the second year with those seniors."
Michigan had strong senior leadership last year with captains Mike Martin, David Molk and Kevin Koger, as well as pseudo-captain Ryan Van Bergen. They each were vocal leaders, which helped set the tone for the season and keep the team on course after losses to Michigan State and Iowa.
Next year's seniors could have a different style. Robinson and safety Jordan Kovacs are multiple-year starters who likely will be counted upon to set the tone, but neither is outspoken by nature.
Defensive lineman Will Campbell is expected to lead, but never has been a consistent producer on the field. Receiver Roy Roundtree is another captain candidate, but is coming off a disappointing season.
Those players will try to find their voices as Michigan not only seeks to match last season's laurels, but exceed them.
"We had a good season a year ago, we didn't have a great season," Hoke said. "If you have a great season, you win a Big Ten Conference championship, which is the goal every year. As a team, we embrace the expectations we have yearly, and that's to win a championship."
Kyle Meinke covers Michigan football for AnnArbor.com. He can be reached at 734-623-2588, by email at kylemeinke@annarbor.com and followed on Twitter @kmeinke.