Posted on
Mon, Oct 17, 2011 : 4:45 p.m.
Michigan coach Brady Hoke insists Denard Robinson is his starting quarterback
By Kyle Meinke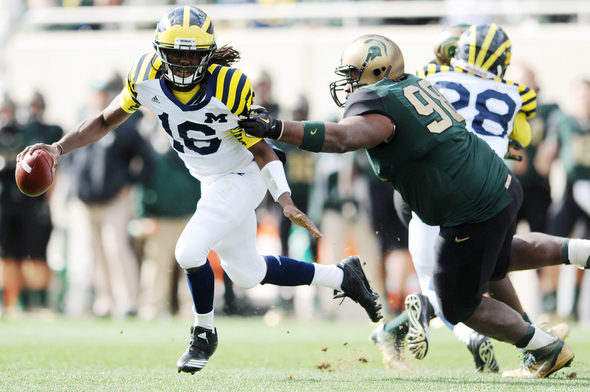 Melanie Maxwell | AnnArbor.com
As Denard Robinson lay on the Spartan Stadium turf, writhing in pain from a late hit that knocked him out of the game, Michigan State's Jerel Worthy was waving his arms to the crowd in a call for more noise.
Meantime, the Spartans' Marcus Rush, who delivered the knock-out punch after the whistle, ran to the Michigan State sideline and received several high-fives from teammates, despite the 15-yard penalty that kept alive the Michigan football team's final hopes of a comeback.
The message was clear: Michigan State wanted to punish Robinson at any cost, and that they did in a 28-14 win against Michigan on Saturday. The Wolverines' junior quarterback had the worst start of his career, passing or throwing, and was removed for stretches in favor of backup Devin Gardner.
But while Robinson never returned to the game after being twirled to the ground by Rush, he remains on his feet as 18th-ranked Michigan's starting quarterback.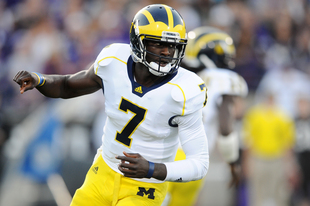 Melanie Maxwell | AnnArbor.com
Wolverines coach
Brady Hoke
made that summarily clear Monday during his weekly news conference with reporters.
"Denard is our quarterback," he said, dispelling any notion of a quarterback controversy. "We're 6-1, and a lot of that is because Denard is our quarterback."
Robinson was 9-of-24 passing for 123 yards, one interception and one touchdown against the Spartans, and ran for just 42 yards, a career low among games he's started. It was the third time this season Robinson failed to complete at least half his passes.
He did that just twice all of last year.
With Robinson struggling, Hoke went to Gardner for about 16 snaps against Michigan State, including when Robinson was healthy. He acknowledged he was more confident in Gardner's arm, considering the gusting winds that plagued the passing game.
"I think Devin, at times, can throw the ball a little more accurately," Hoke said at the time. "I have to do what's best for Michigan."
Hoke said there were a series of plays Michigan wanted to run with Gardner under center, including a couple types of bootlegs, a play on which Gardner scored a 1-yard touchdown against Northwestern the previous week. There also were some two-quarterback formations with Robinson lined up in the backfield or split out at receiver.
That, however, does not mean Gardner will see a whole quarter of action, or even a full drive, Hoke said, and he admonished fans who believe Gardner should be the full-time quarterback.
"They have an opinion," Hoke said. "Doesn't carry much weight, but they have an opinion. We're with (Robinson) every day."
IT'S MAILBAG TIME!
Something on your mind after Michigan's first loss of the year? Email your question or comment to football beat writer Kyle Meinke at kylemeinke@annarborcom for Thursday's column.
Also, join Meinke in a live chat at noon Thursday to talk more Michigan football.
Offensive coordinator
Al Borges
has said he does not like taking his starting quarterback out of the game entirely because it can disturb his rhythm. However, Hoke said he has not seen Robinson bothered by that yet.
He compared it to the playing rotation of any other position.
"That'd be similar to taking a defensive end out and rotating him, when I think about it, because they both have fundamentals and techniques they have to do," Hoke said.
"I don't know what the difference is."
Players said they have no problem with Robinson or Gardner as their quarterback, because both are talented enough to make plays.
"It's good to get Devin in there a little bit, but Denard's our quarterback and he's here to stay," tight end Kevin Koger said.
The biggest advantage to getting both out there at the same time is if Robinson gets hurt, Gardner, a sophomore, will have game experience from which to draw. That's significant, considering Robinson left 10 games with injury last year.
Now, he's left the past two games, first with a left hand injury against Northwestern, then with a bruised back against Michigan State.
Robinson was sacked four times (and Gardner three) and on the wrong end of two roughing-the-passer calls against the Spartans. He eventually left the game after Rush's late hit, although he also left the game with an apparent right (throwing) hand injury and was seen limping to the team bus after the game.
There also was a late hit/facemask call against MSU's William Gholston for jumping on an already-downed Robinson and twisting his head.
That all was by part of the game plan for Michigan State, according to Worthy, the Spartans' prized defensive tackle who was disruptive throughout the game. He said their aim was to strike fear into Robinson.
Worthy said by the time Robinson was knocked out, he saw fear in the quarterback's eyes. Koger, though, saw no such thing in the huddle or on the sideline.
"I actually thought he was more calm than usual," he said.
Worthy also said MSU's game plan was to force Robinson to the air because he "can't throw." Hoke disagreed.
"That's not true," he said. "That's a bogus statement, because he can throw. He's proven it a couple different times this year, I believe. There's a lot more (to the offense's struggles) than just Denard."
Robinson's the guy going forward, whether or not Gardner's a better passer.
Kyle Meinke covers Michigan football for AnnArbor.com. He can be reached at 734-623-2588, by email at kylemeinke@annarbor.com and followed on Twitter @kmeinke.