Posted on
Mon, Oct 3, 2011 : 3:15 p.m.
Michigan coach Brady Hoke votes his team into Top 25, but says they're 'overrated'
By Kyle Meinke
Michigan football coach Brady Hoke didn't vote for his team last week in the coaches poll, and said his team was overrated at No. 19.
He voted for the Wolverines this week, after they blasted Minnesota on Saturday, but still thinks his team is overrated after its jump to No. 12.
Michigan is 5-0 overall and 1-0 in the Big Ten heading into this week's game at Northwestern (2-2, 0-1).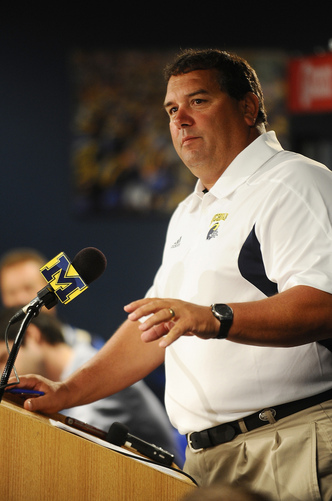 AnnArbor.com file photo
"We're not playing well enough," Hoke said Monday during his weekly news conference. "We're not playing football we need to play. We're not playing well enough. We're not finishing things well enough."
Michigan hasn't been ranked this high since the preseason poll before the 2007 season, when it was ranked No. 5. It lost to Appalachian State, and hasn't been in the top-12 since.
Five games, and Hoke has Michigan back at that lofty perch -- but he's warning his players not to buy into the hype that is growing around his team.
They're not.
"We're not the No. 12 team in the country," said defensive lineman Ryan Van Bergen, who didn't even know of the ranking until being told by reporters. "We definitely don't feel like we've played up to the potential of being a No. 12 team in the country.
"Can we be there? Possibly, but we still have to get a couple things in order. We're getting there, but we're not there yet.
"We've played five game, we've won five games. But, are we a top-15 team in the country? I don't think we've played like that."
Where should they be ranked?
"I don't know, but we're going to find out," Hoke said
Hoke confirmed he did vote for his team in this week's coaches poll, where Michigan is ranked 11th. Where did he slot them?
"Somewhere in the top 25," he said, tongue firmly in cheek.
In injury news:
Ricky Barnum: The left guard still is listed as the starter on the depth chart, but Hoke said Barnum remains hindered by an ankle injury he suffered against San Diego State. The junior is "fighting to get back," but remains "a day-to-day deal," Hoke said. Sophomore Michael Schofield took Barnum's place against Minnesota and played well.
John McColgan: The starting fullback should be available to play against Northwestern after missing the Minnesota game with an undisclosed injury. Hoke called him "banged up" on Saturday, when sophomore tailback Stephen Hopkins took his place. Hopkins played well, rushing three times (one of which was called back because of a penalty) and caught a 28-yard pass.
Troy Woolfolk: The senior cornerback is beat up, but Hoke said he ran Sunday and is expected to be ready to go this week. Woolfolk is playing with a broken right hand, and also has dealt with a sprained left ankle.
Cam Gordon: The strong-side linebacker, who has yet to play this year because of a bad back, should "do more" this week, Hoke said. Gordon has been listed each week as a starter on the depth chart (and again this week) and Hoke has said several times Gordon would be available to play, but he's dressed only twice and has not played.
Kyle Meinke covers Michigan football for AnnArbor.com. He can be reached at 734-623-2588, by email at kylemeinke@annarbor.com and followed on Twitter @kmeinke.