Posted on
Sun, Apr 18, 2010 : 5:03 p.m.
Michigan football coach Rich Rodriguez: Guys are grasping new defense
By Dave Birkett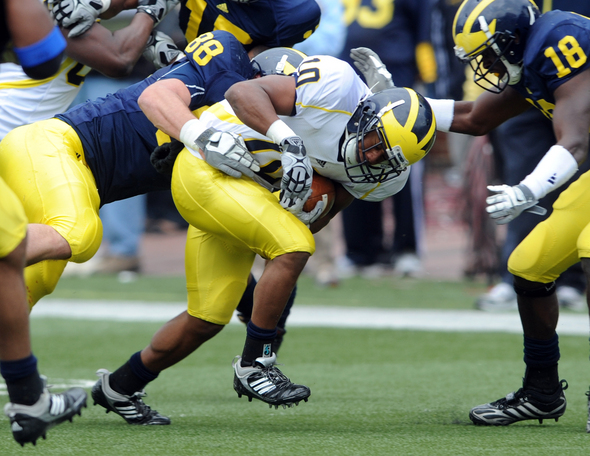 The Michigan football team kept its 3-3-5 defense vanilla by design in Saturday's public unveiling, but one thing that's apparent is the new scheme will be very versatile.
The Wolverines opened with a base look of three down linemen, three linebackers and five defensive backs in Saturday's spring game, but outside linebacker Craig Roh spent time at defensive end in a four-man front and Kevin Leach played occasionally as an extra linebacker.
"I guess you could call it a 3-3-5 because we'll have three down linemen a decent amount of the time," Roh said. "You could call it that, but there's so many different looks that you can give out of it.
"It can be a 3-3-5, it can be a 3-4, it can be 4-3. It can be just a variety of things."
After allowing the second most points in school history last year, Michigan coach Rich Rodriguez just wants to call his defense better.
He went to the new scheme this spring partly to match up with different offensive looks and partly to get better athletes on the field.
Rodriguez said the defense made noticeable improvements in Michigan's 15 spring practices, though tackling wasn't particularly crisp Saturday.
"One of our things we wanted to get better defensively is getting to the ball, getting off blocks and tackling better," he said. "I don't know if we did a particularly good job of that today, but I think throughout the spring we have gotten better. We were really simple today scheme-wise and I think our guys are grasping what we want to do that way. But we've got to get better fundamentally in August."
Michigan played without two likely starters in Saturday's scrimmage. Cornerback Troy Woolfolk sat with a broken right pinky finger and defensive tackle Mike Martin was out all spring recovering from shoulder surgery.
Sophomore Will Campbell started at nose tackle in Martin's place Saturday and had a good enough spring that Martin could see time at end this fall. That would help alleviate one concern along the defensive front, where Michigan is still looking for a pass rusher to replace departed senior Brandon Graham, the nation's leader in tackles for loss last year.
Roh will assume some of those responsibilities at outside linebacker.
"That's my expectations going into this next season," he said. "I'm going to train that way that I can be that kind of guy where I can fill in his type of play.
"I don't want to throw out any (sack) numbers, but I just want to be a guy that's constantly pestering the quarterback like BG did. Every play."
Returning starters Obi Ezeh and Jonas Mouton joined Roh at first-team linebacker Saturday, and James Rogers played opposite J.T. Floyd at cornerback in place of Woolfolk.
At safety, walk-on Jordan Kovacs is a returning starter, but Michigan is breaking in redshirt freshmen Cam Gordon and Thomas Gordon (no relation) at the free safety and "star" positions. Neither has ever played in a college game.
Still, Ezeh said he saw enough this spring to feel confident the defense will be better come fall.
"Just the amount of work we've put in, the countless hours, it's got to pay off," he said. "I think this is the year."
Dave Birkett covers University of Michigan football for AnnArbor.com. He can be reached by phone at 734-623-2552 or by e-mail at davidbirkett@annarbor.com. Follow him on Twitter @davebirkett.