Posted on
Tue, May 18, 2010 : 11:17 a.m.
Michigan football coach Rich Rodriguez has been through expansion before
By Dave Birkett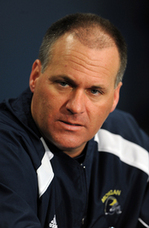 CHICAGO - Michigan football coach
Rich Rodriguez
knows first-hand what effect expansion can have on a conference, good and bad.
Rodriguez was coaching at West Virginia in 2003 when the ACC raided the Big East for Boston College, Miami and Virginia Tech.
"We were right in the middle of it," Rodriguez said Monday from the Big Ten spring meetings in Chicago. "It was more of a blind-sided shot, you didn't really see it coming. You had heard maybe a rumor or two, but it happened so fast that there was a lot of doom-and-gloom scenarios."
From Rodriguez's standpoint, things aren't totally different this time around. Yes, it's good to be the aggressor - the Big Ten is looking to add one, three or five teams - but "from a coaching standpoint we're just kind of along for the ride anyway."
"They tell us what's going to happen and we go accordingly," Rodriguez said. "But it's certainly good to be in a spot where you're dealing from a position of strength."
Rodriguez said the Big East schools commonly mentioned as expansion candidates - Rutgers, Syracuse, Pittsburgh and UConn - are better positioned today to be factors in the Big Ten then they were a few years ago.
"One of the things that happened back in 2003 when the Big East went through something similar to this that we all talked about was every institution had to make a commitment to football … as far as raising the profile of the league," Rodriguez said. "And if every school would do that, I think the league would be OK. And I think that's what happened.
"Every school in the Big East has upgraded significantly their football facilities over the last seven to 10 years. I think they've positioned themselves, if that's what's going to happen, to be ready for the next move because there's a lot of good football in that league."
The Big East survived in 2003 by adding five schools from Conference USA, including football-playing members Cincinnati, Louisville and South Florida. Could the league survive another all-out assault?
"Gosh, I really hadn't thought about it, but I think it really depends on where the dominoes fall after that," Rodriguez said. "If we expand largely and another conference expands largely, then I think there could be quite a bit of concern. But there's a lot of smart people that that's all they think about all day so they'll figure it out."
Dave Birkett covers University of Michigan football for AnnArbor.com. He can be reached by phone at 734-623-2552 or by e-mail at davidbirkett@annarbor.com. Follow him on Twitter @davebirkett.