Posted on
Thu, Mar 25, 2010 : 4:38 p.m.
Michigan football coach Rich Rodriguez: Linebacker Obi Ezeh will have a great year
By Dave Birkett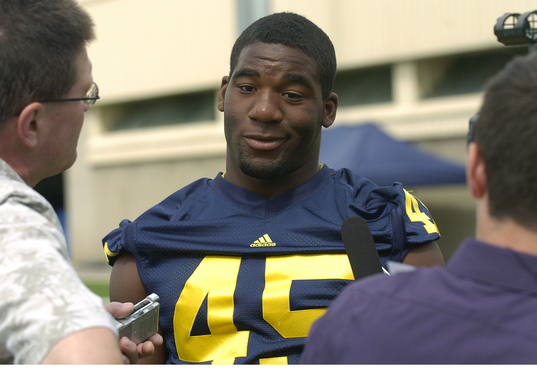 Michigan's defense was abysmal last year, allowing the second-most points in school history.
One position especially under the microscope this spring is middle linebacker, where senior starter Obi Ezeh is coming off a disappointing season.
"Obi didn't probably play as well at the end of the year as he did at the beginning," Michigan coach Rich Rodriguez said earlier this week. "But Obi's a very, very conscientious guy. It's important to him. I think he's probably had, at least since we've been here, his best off-season workout."
An all-conference honorable mention selection as a sophomore, Ezeh's production dropped dramatically last year. He looked less instinctive playing for his third defensive coordinator in as many seasons, gave up several big pass plays, and was benched late in the year for Kevin Leach.
Leach played well in starts against Illinois, Purdue and Ohio State, but Ezeh still entered spring practice as the projected starter at middle linebacker.
Rodriguez said he expects big things this year out of both Ezeh and linebacker Jonas Mouton, two of 12 Michigan's seniors.
"As a coach, you want all of your guys to have their best years as seniors … leading a team and certainly on the field," Rodriguez said. "And I would be very shocked, I'd be disappointed if those two don't. I think they will have great years."
Mouton "had really a pretty good year" last year, Rodriguez said, though he missed one game because of suspension and was dinged up late in the season.
Junior J.B. Fitzgerald and sophomore Kenny Demens could push Ezeh and Mouton for playing time with strong springs, and fullback Mark Moundros is playing part-time at linebacker to add depth.
"It's kind of an experiment at Mark's request to play a little bit of linebacker because we don't use a fullback 30, 40 snaps a game a lot of times," Rodriguez said. "But I think he's going to be able to help us there. At the same time, I told Mark he's also going to be playing fullback. Now it gives us three veteran guys, or at least three experienced guys on that linebacker position."
With more depth and more experience at linebacker, will Michigan's defense be better in 2010?
"It was a combination of things defensively that we didn't play as well as we'd like" last year, Rodriguez said. "It seemed like we'd play good for two or three plays in a row and then give up the big one, or play good for a quarter and then let a team go up and down the field on us.
"I think the defensive staff has got a good plan. I think we've made a few moves as I've mentioned to try to help us, and frankly we just got to be better technique wise and I think we got to play better fundamentally and play more physical, get more guys to the football. And I think we'll do that."
Dave Birkett covers University of Michigan football for AnnArbor.com. He can be reached by phone at 734-623-2552 or by e-mail at davidbirkett@annarbor.com. Follow him on Twitter @davebirkett.