Posted on
Wed, Mar 24, 2010 : 6:51 p.m.
Michigan football coach Rich Rodriguez: Too early to say which early enrollees will play in 2010
By Dave Birkett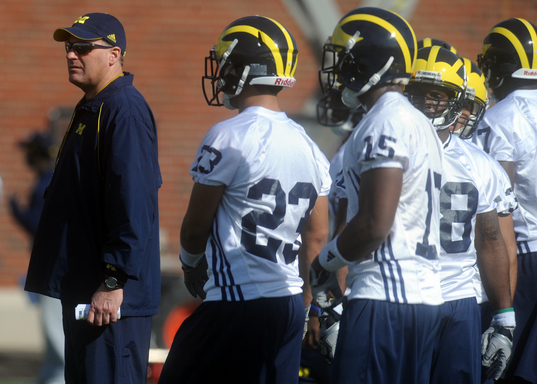 Melanie Maxwell | AnnArbor.com
Michigan football coach Rich Rodriguez offered some general thoughts on the Wolverines' seven early enrollee freshmen before spring practice No. 4 on Tuesday:
"All those guys, their heads are spinning a little bit even though we're trying to keep our installation simple, slow it down so everybody can concentrate on their fundamentals and techniques," Rodriguez said. "But I like the seven guys that are in, I think they're competing very well. But it's too early to tell how many of those guys can helps us this fall."
Devin Gardner, Michigan's most high profile 2010 recruit, is running third-string at quarterback behind Tate Forcier and Denard Robinson. Rodriguez said that's to be expected, though Gardner has improved his throwing the motion from the one he had when he caught Rodriguez's eye at camp a few years ago.
"He did a lot of work and (the Inkster) coaching staff did a great job with him getting him to improve his fundamentals and his throwing motion," Rodriguez said. "He still obviously has to learn all the offense and the techniques that we do in our system, but he's gotten better in three days. But those other guys aren't backing up. Tate and Denard aren't backing up, so it's going to give us a comfortable feeling if we can have three guys that can help us in certain situations."
Robinson continues to work exclusively at quarterback for now, giving Michigan's three receiver recruits (Jeremy Jackson, Ricardo Miller and Jerald Robinson) plenty of practice reps. At least one is expected to play next fall.
Rodriguez said he still thinks Denard Robinson "will be able to play a lot of different roles for our offense."
"I actually met with Denard the other day and talked to him quite a bit about this: We want you to learn quarterback and learn it very well because once you learn quarterback you can play any position offensively," Rodriguez said. "I think that's the biggest thing with Denard is just understanding all the whys and wheres and hows of the quarterback position in this offense. And then as I mentioned to him, if he's not the starting quarterback or he's not playing extensively at quarterback, it doesn't make a lot of sense if he's one of our best skill guys to be standing next to me for 75 percent of the game."
Dave Birkett covers University of Michigan football for AnnArbor.com. He can be reached by phone at 734-623-2552 or by e-mail at davidbirkett@annarbor.com. Follow him on Twitter @davebirkett.