Posted on
Tue, Jan 25, 2011 : 10:18 a.m.
Michigan football recruit Kellen Jones earned reputation as a 'violent' hitter
By Pete Cunningham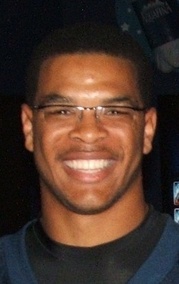 How can Brady Hoke and his staff stem the tide of points (31.5 points per game) and yards (423 yards per game) the Michigan football team allowed the past two seasons?
Look no further than linebacker recruit Kellen Jones, St. Pius (Houston) football coach Jason Kimball said.
"He's just a violent football player. He's going to leave his mark when he makes contact with you," Kimball said of Jones, who confirmed his commitment to Michigan last week in advance of national signing day on Feb. 3.
Jones' high school highlight tape, which features mostly clips from his junior season, shows him putting that tough approach to good use. Kimball points out that the game tape is limited to nine of the team's 12 games from that season, however, because of perhaps the hardest hit Jones delivered all year came in a preseason scrimmage.
In the scrimmage, the opposing team was ran a sweep. Jones pursued the running back and delivered a hit that Kimball said puts his highlight reel to shame.
"Let's just say the guy's momentum stopped going forward instantly. It was amazing that they were both conscious after that hit," Kimball said. "I don't know how both of them got up and walked off the field. It was one of those types of collisions that looked like two diesel trucks running into each other.
"Poor running back, he didn't see it coming, barely."
Kimball admits his description of the play is a bit of an exaggeration. The players didn't so much as "walk" off the field. It was more of a stumble.
The hit put both players out for the beginning of the 2009 season as Jones and the running back experienced concussion-type symptoms. Jones came back healthy and earned first-team all-state honors as St. Pius went on to finish runner-up in the TAPPS Division 1 state finals. Jones was a first-team all-state selection as a senior as well.
Some coaches like to claim to have "taught him everything he knows." Not Kimball.
"I wish we could take more credit. We've got some great coaches here, but it's (Jones') aggressiveness that's really made him the player he is," Kimball said. "We spend actually more time at practice telling him to chalk it back a little bit. … We had to tell him, 'Hey, man, look, we're just trying to get a look here, you're running scout team defense of whatever can you maybe give us a better look, because we're not going to face a guy like you the whole season.'"
Kimball said Jones carries the same attitude to the classroom, hitting the books as hard as the weights and he believes that was part of the reason Jones committed to Michigan even through the coaching change.
"He likes the school, he likes the atmosphere, he likes where it's going to get him in life," Kimball said. "He's that kind of cerebral kid where he's going to think through a process and not just react."
Michigan Football verbal commitments
Pete Cunningham covers sports for AnnArbor.com. He can be reached at petercunningham@annarbor.com or by phone at 734-623-2561. Follow him on Twitter @petcunningham.