Michigan could turn to freshmen to shore up depth behind Brandon Moore at tight end
Posted on Sat, Aug 11, 2012 : 6:01 a.m.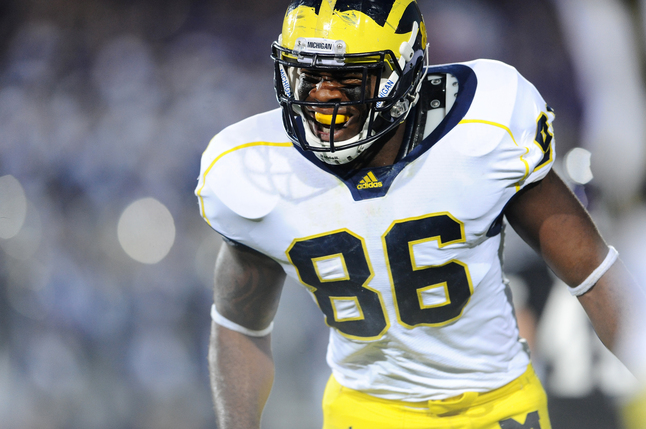 Melanie Maxwell | AnnArbor.com

A tide of turnover has splashed the Michigan football team at tight end, leaving it light on experience entering this season.

Last year's top player at the position, Kevin Koger, is gone. So is second tight end Steve Watson. And Pharaoh Brown, who was dropped from the incoming freshman class. And Christopher Barnett, who left during last year's camp.

Paired with poor recruiting classes at the position the past few years, because former coach Rich Rodriguez didn't feature the position in his offense, and the Wolverines are left with a gulf at the position.

Who's left?

It starts with Brandon Moore, a fifth-year senior who appeared in 12 games last year at tight end, but played sparingly. He has two career catches.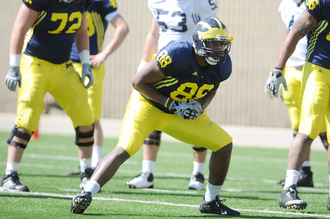 Melanie Maxwell | AnnArbor.com
That's still good enough to make him Michigan's most experienced player at the position.
He will begin the season No. 1 on the depth chart, taking over Koger's old role, but coach Brady Hoke said the senior first must work on his physicality in camp.
"That's one of the big things with Brandon that probably was his biggest weakness, was being physical all the time," Hoke said after Thursday's practice.
Who plays at the second tight end spot? That could go to a freshman.
Michigan has two in its most recent class, and A.J. Williams seems to be the best fit for the second tight end slot, which is used primarily for blocking. The burly freshman tips the scales at 6-foot-6, 283 pounds.
"For 280 pounds, he does pretty well," Hoke said. "A lot of people think we're going to make him a tackle, but he can run."
WIN UM vs. ALABAMA TICKETS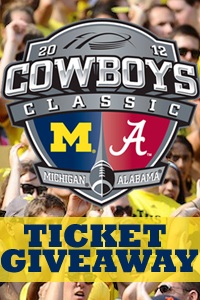 Want to check out Michigan take on defending national champion Alabama?
Click here to visit the AnnArbor.com Michigan Football News and Views Facebook page
and vote for who will be the Wolverines' most important player, besides Denard Robinson, in the 2012 season. That vote will earn you a chance to win three free tickets.
Is 280 pounds too heavy for a tight end?
"Depends on what you want him to do," Hoke said. "He runs well enough. I shouldn't say surprisingly, because we recruited him. We must have thought he ran well enough. But for moving that big body around, he's not bad."
Hoke said a big, blocking freshman such as Williams could especially see the field in short-yardage packages because there's no one else to fill that role due to the depth crunch.
Fifth-year senior walk-on Mike Kwiatkowski also has received praise from Hoke, and could provide depth at the second tight end position.
"Mike is a guy who we can use a little bit as a second tight end," Hoke said. "I think he's better."
The other freshman, Devin Funchess, is a much different tight end than his classmate Williams. The Farmington Hills Harrison product stands 6-5, 229 pounds, which means he likely won't be a force as a blocker this year.
But he's also considered to be a much more polished pass-catcher, and could end up serving as Moore's backup at the primary tight end position.
Junior Ricardo Miller, who was believed to be moving to receiver after playing tight end last season, is practicing at both positions but not expected to make the two-deep roster.