Posted on
Tue, Nov 23, 2010 : 3:36 p.m.
Defense has to be "better than OK," remains a focal point for Michigan football team
By Jeff Arnold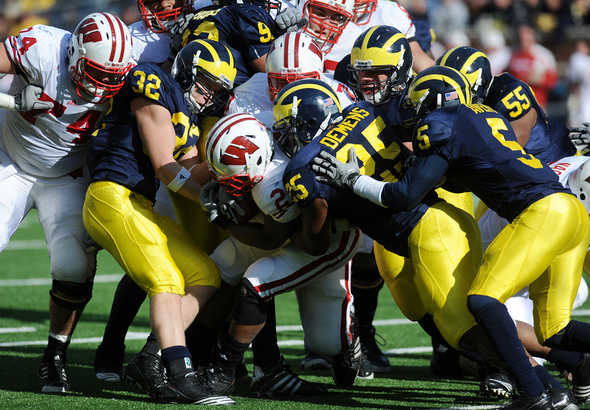 Melanie Maxwell I AnnArbor.com
Rich Rodriguez is enough of an offensive mastermind to fully appreciate the benefits that come with having a high-octane attack capable of scoring at any time.
Four losses this season have provided the Michigan football coach with a simple, hard knocks lesson. When the defense can't make enough stops to support the offensive effort, the results are fairly predictable.
In those losses, the Wolverines have allowed an average of 40.2 points and 478 offensive yards. Rodriguez has repeatedly pointed to defensive inexperience and injuries as key culprits, but during Tuesday's Big Ten coaches teleconference he acknowledged what many of his critics have said all along.
"You have to be better than OK in all three phases," Rodriguez said. "If you're great on offense, great on special teams and OK on defense, I think you can win some games, but I don't know if you can win championships."
Michigan's defensive struggles have been well-documented. On Monday, Rodriguez again pleaded for patience, saying it's difficult to make wide-sweeping improvements over the course of a season.
On Saturday, Michigan will play at No. 8 Ohio State (noon, ABC), attempting to slow down a Buckeyes offense averaging 39.6 points. Like always, Rodriguez said he will do an "exhaustive review" of each phase of his team's attack. But he also said he looks at the offense, defense and special teams on a daily basis, looking for ways to improve before the next game.
His biggest issues remain with his defense, which likely remains a long-term fix.
"Obviously, we've got a lot of improvements to make defensively," Rodriguez said. "We've talked at length about it -- recruiting-wise and scheme-wise -- and some of it, we know we are going to get better in a few months when our injuries heal up. So we're optimistic about that.
"But we know there's a lot of things we have to fix. Defense is certainly to be a main focal point for us and has our attention between now and signing day in recruiting and through spring practice."
Rodriguez said his defense has had moments of playing well, but hasn't displayed nearly enough consistency. The Wolverines have struggled most against the Big Ten's upper-echelon teams, and they'll face a member of that group Saturday in Columbus.
Despite Michigan's defensive struggles, Ohio State coach Jim Tressel said he has been impressed with the Wolverines' tenacity.
"They run and they never stop playing," Tressel said. "The one thing we know about the Ohio State-Michigan game is that you're going to see a whole different team on the field than you've seen in the first 10 or 11 games. That's the way it was when I was an assistant coach, that's the way it's been in these 10 years I've been the head coach.
"The thing I love best about their team is that they play and they play and they play. They fly around and they must be enjoying themselves because they just keep playing."
Pryor sightings
Michigan must contend with Buckeyes' quarterback Terelle Pryor, who ended up in Columbus after picking Ohio State over Michigan. The Wolverines eventually got their own dynamic playmaker in Denard Robinson.
Rodriguez said he is confident that Robinson, who leads the Big Ten in rushing, would have ended up in Ann Arbor even if Pryor had chosen Michigan one year earlier.
"Some quarterbacks and some players don't want to come if they think you've already got somebody there," Rodriguez said. "But the really good ones don't care. Some quarterbacks don't want to go to a school because they think there's a guy that is established.
"But we like to have that quarterback that likes to come and compete every year."
Upon further review
Following Saturday's win over Michigan, Wisconsin coach Bret Bielema said his offensive linemen were "unable to disengage" from Michigan's defensive linemen while trying to pull. Essentially, Bielema was accusing the Wolverines of holding.
Bielema created some buzz with a post-game comment that his team "rectified the situation," and going on to mention the chop block penalty that negated a Wisconsin touchdown.
While neither coach outwardly accused the other program of playing dirty, both were asked if they had.
When asked Monday what he thought of a sideline reporter's summation that Michigan was playing dirty, Rodriguez laughed. "Playing dirty? That's funny," he said.
On Tuesday, Bielema also dismissed it. "That's just people being creative with their writing," he said.
MSU going blue?
Bielema and Michigan State coach Mark Dantonio are among eight finalists for the Eddie Robinson Coach of the Year Award. Both have led their teams to 10-1 overall records and part of a three-way tie for first place in the league standings. The Spartans, who travel to Penn State Saturday, need Michigan to beat Ohio State to have a chance at a league crown.
Asked about the idea of rooting for Michigan, Dantonio said he didn't have time to think about such things. "We control our own destiny ... anything else that happens is an after-thought."
Jeff Arnold covers sports for AnnArbor.com and can be reached at (734) 623-2554 or by e-mail at jeffarnold@annarbor.com. Follow him on Twitter @jeffreyparnold.