Posted on
Wed, Oct 5, 2011 : 5:58 a.m.
Futility of Northwestern once drove Greg Mattison out of coaching, now the Wildcats worry the Michigan defensive coordinator
By Kyle Meinke
Michigan defensive coordinator Greg Mattison is preparing to face Northwestern, which he thinks will be his unit's "biggest challenge" so far this season.
There was a time, though, when the longtime coach left this profession altogether.
It came after three seasons at Northwestern.
Here's how Mattison recalls his time as a Wildcats defensive assistant from 1978-80: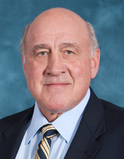 "All I remember is going out recruiting, and I would see a man, and they'd say, 'Well, what's your record?' And I'd always go, 'Oh … 10-and-one.' And they'd go, 'Good record!' No, it was 0-10-1.

"My record -- and I'll say mine -- my record at Northwestern was 1-30-1. To be honest with you, it drove me out of coaching for a year. I actually went into the sporting good business, and I lost every penny I ever had doing that, and I begged to get back in coaching.

"Northwestern was a great place, it really was. That's a long time ago, but it was a good place -- except on Saturdays."

How bad was it? After more than 30 years, Mattison can still recall every non-loss from his tenure at Northwestern. But he's forgotten one loss. The Wildcats were actually 1-31-1.
"We beat Wyoming and tied Illinois," Mattison said. "I remember that explicitly."
Things are a little different now for the Wildcats, whom No. 12 Michigan (5-0, 1-0 Big Ten) will face at 7 p.m. Saturday on the Big Ten Network.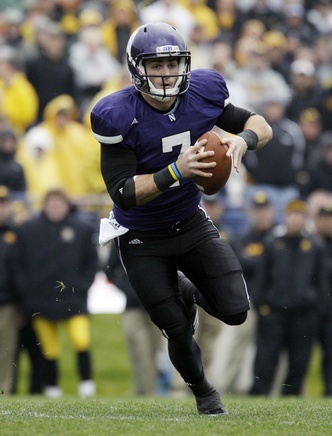 Associated Press file photo
Most notably, they're good -- especially when quarterback
Dan Persa
is healthy.
The senior, who completed a Big Ten-record 73.5 percent of his passes a season ago, returned from an Achilles injury last week against Illinois. He threw for a career-high four touchdowns in his season debut before aggravating the injury and taking himself out in the fourth quarter.
Northwestern proceeded to be outscored 21-7 in the final quarter and lose 38-35. It's clear just how much he means to them.
He's expected to play against Michigan.
"We're going to be facing a really, really good offense. It's got the same components that (Denard Robinson) gives you," Mattison said, referencing Persa's mobility.
"This quarterback is the real deal, Persa. You get out of your rush lanes in any way, or you rush too far upfield, or you aren't doing what you're supposed to do, and he's going to turn a pass opportunity into a 15-yard gain at minimum."
Michigan's defense has improved significantly in the past year. After allowing 35.2 points per game last season, the Wolverines are averaging a meager 10.8. That's second nationally, trailing only Alabama.
They've allowed a combined 10 points in their past three games -- although Persa and Northwestern are expected to provide a more difficult test than Eastern Michigan, San Diego State and Minnesota.
THURSDAY LIVE CHAT
Come back to AnnArbor.com at noon Thursday for a live chat with Kyle Meinke. He'll recap the Wolverines' win over Minnesota, discuss news that emerged this week and preview the game against Northwestern on Saturday.
One key Mattison cited is Michigan's ability to pressure the quarterback. When the defensive line struggled early in the season, he was forced to call more blitzes to disrupt opposing passing games.
As Michigan's defensive front has played better, Mattison has called fewer blitzes. That allows for better balance, and could be a key to stopping the dual-threat Persa.
"You can't be successful if, every down, you blitz," Mattison said. "Offenses are too smart, and they're going to get you.
"Pressure. No pressure. Pressure. No pressure. Or, make it look like pressure and it's really not pressure. That's what you want — when you can get all that going, then you've got a better deal."
Kyle Meinke covers Michigan football for AnnArbor.com. He can be reached at 734-623-2588, by email at kylemeinke@annarbor.com and followed on Twitter @kmeinke.