Posted on
Tue, Nov 1, 2011 : 10:27 p.m.
Root for dad or alma mater? Michigan defensive coordinator Greg Mattison loses this round
By Nick Baumgardner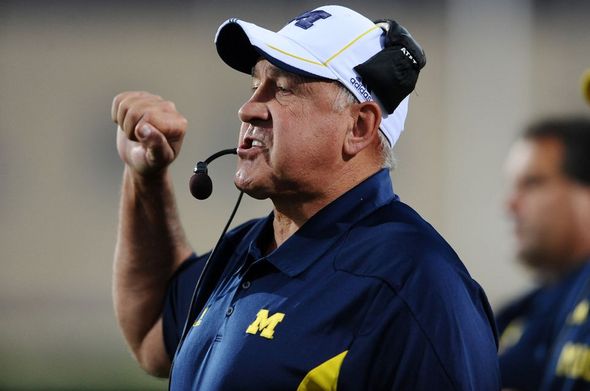 Melanie Maxwell I AnnArbor.com
Michigan
defensive coordinator
Greg Mattison
will have plenty of people rooting for him Saturday when the Wolverines visit Iowa (noon, ESPN).
But his son, Bryan, won't be among them.
Bryan Mattison, now an offensive lineman with the Baltimore Ravens, played for Kirk Ferentz at Iowa from 2003-07. And as big a fan as he is of his father's work, he simply can't go against his alma mater.
"As much as he is close to (Michigan head coach Brady Hoke) and loves what's happening here, he's said all along, 'Dad, there's only one game I won't cheer for you and that's that Iowa game,'" Mattison said with a smile. "He's a big fan."
During his stint as an assistant coach at Notre Dame, Greg Mattison actively recruited his son to come play for him on the defensive line.
THURSDAY LIVE CHAT
Come back to AnnArbor.com at noon Thursday for a live chat with Kyle Meinke. He'll recap the Wolverines' win over Purdue, discuss news that emerged this week and preview the game against Iowa on Saturday.
Bryan would've likely turned into a good fit for the Irish. He ended his career at Iowa as a two-year captain, tallying 171 tackles and 20 sacks in a very productive four-year career.
Bryan wanted to play for his father at Notre Dame, but in the end, dad said no.
Not because he wasn't good enough, but for other reasons altogether.
"It's one of those things in parenting, it's different in coaching," Greg Mattison said. "It's hard. I'd be coaching him myself and he's such a strong-willed guy and a competitive guy and I didn't want him to have to put up with the politics of that locker room.
"When you have to go from the coaching part of it to the (parent) part of it (it's hard). It was a better fit."
Greg Mattison, whose daughter Lisa played softball at Notre Dame while he was there, said he has a great deal of respect for Ferentz and his program.
He says he doesn't have too many vivid memories of coaching in Kinnick Stadium, but definitely has had his share of tense moments there.
"I have a number of memories being there as a fan and as a father," he said. "The hardest thing in the world is being a parent, sitting in the stands watching your son.
"You can coach him all you want, but when you see him out there (from the stands), you live and die with every play."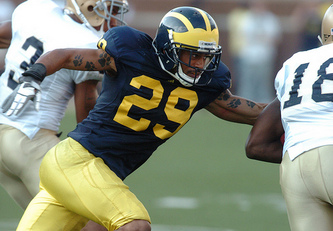 Woolfolk feeling great
Michigan senior defensive back Troy Woolfolk moved over to safety Saturday against Purdue, filling in for the injured Jordan Kovacs.
Hoke and Mattison have both said the fifth-year senior will continue to see action at safety when Kovacs returns, but more importantly, Woolfolk said Tuesday that he feels as healthy as he has at any point this season.
"I'm perfect, I feel good," he said. "That bye week was much needed and I'm so happy I had that. I feel great, like a regular person for once.
"I don't have any injuries, I don't think about anything on the field when I make a tackle. I'm not worried about my ankle, I'm not worried about my hand or anything. I'm finally back to 100 percent."
Woolfolk said he hasn't felt this good since the first day of fall camp.
After missing all of last season with a broken leg and ankle, Woolfolk started 2011 out by spraining his ankle during the season-opener before eventually suffering a broken bone in his hand and a laceration on his nose.
But after grabbing some rest, he says he's ready for the season's stretch run.
"I feel rejuvenated," Woolfolk said. "I can't wait to get back out there."

Don't ask Al Borges about Denard Robinson and the bubble screen

Michigan offensive coordinator Al Borges talked more about the combination "deuce formation" featuring junior quarterback Denard Robinson and sophomore quarterback Devin Gardner.
Borges said he wasn't concerned with Gardner's entry into games being disruptive to Robinson's overall rhythm, and also explained how he has no intention of rotating quarterbacks for entire possessions.
So far this season, Borges has lined Robinson up in the backfield behind Gardner and in the slot alongside him.
Robinson's never run a pass route, but might Michigan ever consider throwing a bubble screen to the speedster to see what happens?
"I'm not saying one thing about any bubble screens," Borges said. "Everyone wants to ask about that play."
Defending McNutt no easy task
Iowa senior Marvin McNutt is the Big Ten's second-leading receiver with 859 yards and nine touchdowns through the air this season.
How does Michigan intend on limiting him this weekend?
"Sack the quarterback," Mattison laughed.
Mattison said defending a player of McNutt's caliber isn't easy. He's 6-foot-4, 215 pounds and one of the best deep threats in America. "He's a very good receiver," Mattison said. "You have to make sure you're staying really, really tight to him and (you can't) look back. When a guy catches fades a lot of the time it's because (the defender) is right on him and he happens to look back for the ball, and that's just the separation he needs.
"We're going to have to do a great job against him."

Vincent Smith still Michigan's best throwing running back

Asked if he has considered allowing a different back to be his designated halfback passer, Borges said, no, junior Vincent Smith is still his man.
Smith completed a halfback pass for a touchdown earlier this season against Minnesota, but overthrew an attempt Saturday against Purdue, resulting in an incompletion.
"He won the audition. When you win the audition you get the part, and once you get the part, you don't fire the guy," Borges said in a joking manner. "Unless you're Charlie Sheen or something."
Borges went on to explain he was only kidding about the Sheen remark, saying he was a fan of the famous actor's work on "Two and a Half Men."

Odds and ends

Borges echoed Hoke's statements from Monday about the lack of offensive line depth, but wouldn't use it as an excuse moving forward. "We had plans to run a six-man offensive line offense, but we can't do any of that," Borges said. "But we've got some good players and we have to play with what we've got. And I like them. We may not have a lot of them, but I like them." ... Woolfolk tweeted during Michigan's bye week that he'd been involved in a car accident while traveling to Cedar Point. Woolfolk wasn't injured, and on Tuesday, he explained how he did, in fact, find a way to finish his trip to the rollercoaster-themed park. What's his favorite ride? "I didn't want to go, I don't like rollercoasters. You all can call me a punk, I don't care, I just don't like the idea of (rollercoasters)."
Nick Baumgardner covers Michigan sports for AnnArbor.com. He can be reached at 734-623-2514, by email at nickbaumgardner@annarbor.com and followed on Twitter @nickbaumgardner.