Posted on
Mon, Oct 3, 2011 : 8:12 p.m.
Michigan defensive tackle Will Campbell receives more praise for his improving play, growing role
By Kyle Meinke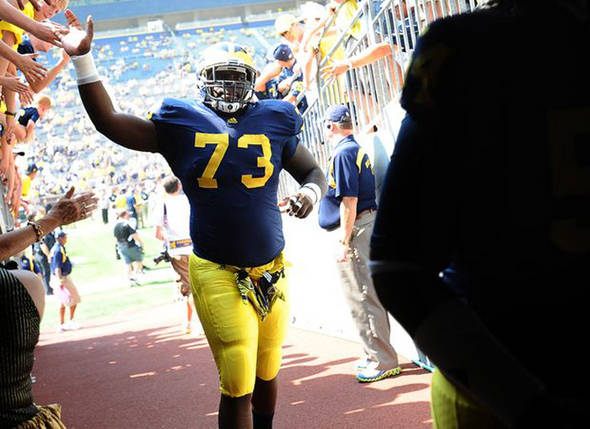 Melanie Maxwell | AnnArbor.com
After a play that seemed three years in the making,
Will Campbell
laid on the ground for an extra beat, savoring the moment.
Oh, and there was a quarterback flattened beneath him.
The junior defensive tackle who has struggled with weight, conditioning and expectations for much of his career had, in one play, provided a snapshot of what that ponderous body can do.
Campbell bull-rushed Minnesota center Ryan Winn, thrusting him flat on his back, and then rumbled toward quarterback Max Shortell.
He got to Shortell as he was delivering the ball, picked him up and drove him straight into the ground with that 6-foot-5, 322-pound frame -- Campbell's latest and most definitive step in his emergence as a reliable option for Michigan's defensive line.
It was a punishing blow in a 58-0 blowout that improved the 12th-ranked Michigan football team's record to 5-0.
"If (Campbell) keeps coming along like that, it's going to be scary, because he just tossed that kid, and that quarterback did not want to get up," senior defensive tackle Ryan Van Bergen said. "(Shortell) sat there for a good while -- and I wouldn't get up, either. He's 330 pounds. That's dangerous."
Campbell has been the Wolverines' most enigmatic player since the day he stepped foot onto campus as a five-star recruit. He failed to deliver on that billing his first two years in Ann Arbor, as he battled to even see the field.
He recorded five tackles in that span, and was relegated mostly to special teams.
This year, though, Campbell is starting to find a consistency that has expanded his role and playing time up front. He now is a mainstay in the rotation, with most of his snaps coming at the three-tech spot.
He now has four tackles, one off that career total entering the season. He also has recovered a fumble.
"He's been making progress," Van Bergen said. "We've been waiting for him to kind of have his coming out party, because he has put together practices where he's just played really well — and he's slowly starting to come out on Saturdays and put some production down.
"That's one of the plays we've seen him make time and time again in practice. We're just waiting for it to transfer."
Campbell is not the star he was expected to be, but he also no longer is the bust some feared he would become. He has provided productive stints while subbing for Van Bergen and nose tackle Mike Martin.
"The more reps he gets, the production I think you'll see from him," Van Bergen said.

Penalties not an issue
Of all the improvements the Wolverines have made in the past year, one that has received less attention is their drop in penalties.
But it's been significant.
Michigan currently is averaging 30.6 penalty yards per game, which is eighth nationally. If the Wolverines maintain that pace, it would mark their least-penalized season since at least 1996.
The biggest turnaround has come from left tackle
Taylor Lewan
, who averaged a penalty per game during last year's regular season, committed three personal fouls and was benched multiple times for losing his composure.
This year, the promising redshirt sophomore has no penalties through five games.
"I don't know what he did in the past, but I think we understand that we have to play the game with fundamentals, technique and discpline, and have great poise and composure to how you play," Michigan coach Brady Hoke said.

What's up with Roundtree?
Roy Roundtree, who led Michigan in receiving last year, has only two catches in three games and five for the year. Is there something wrong with him?
"Nothing," Hoke said. "Just the way games have played out."

Johnson not moving up depth chart
Sophomore safety Carvin Johnson, buried on the depth chart this year, has seen more snaps during blowouts the past two weeks.
Hoke said that does not mean he's closer to cracking the regular rotation.
"I don't think I can say that yet," he said. "I can say he's improving. I think the competition there is always pretty good. There's signs that he's doing things maybe more complete."
One play Hoke singled out was an overthrow that Johnson tried to intercept -- but instead of jumping for the ball at its highest point, he tried to catch it on the run. An offensive player was able to knock it away.
"We talked about it on the field," Hoke said. "Play it at its highest point. I think he realizes that."
Angela J. Cesere | AnnArbor.com
Hoke's eating habits
Reports over the weekend suggested Hoke doesn't eat before games. He was grilled about the issue during his weekly roundtable session with reporters.
Question: You don't eat on game days?
Answer: "No."
Question: All day?
Answer: "Obviously, I eat. Let's all be settled on that. But, no."
Question: You don't get light-headed on the sideline?
Answer: "I'm usually light-headed."


Odds and ends

Hoke was please with the way sophomore Michael Schofield played against Minnesota for injured starting left tackle Ricky Barnum (ankle). "He did pretty good — he hung in there pretty well," Hoke said. Barnum is day-to-day.

Hoke said punter Will Hagerup was "OK" in his return to the lineup. The sophomore was suspended the first four games of the season due to a violation of team rules. He returned against the Gophers, but punted only twice -- a line-drive 47-yarder and a short 28-yarder. The stiff wind was a factor, Hoke said.

Kyle Meinke covers Michigan football for AnnArbor.com. He can be reached at 734-623-2588, by email at kylemeinke@annarbor.com and followed on Twitter @kmeinke.