Posted on
Fri, Sep 16, 2011 : 3:58 p.m.
Breaking down how Michigan's position groups are trending, including the big winner: Linebackers
By Kyle Meinke
After two games, is there a position group that's trending upward for the Michigan football team?
Barely.
But during a week when almost every position group was panned by the coaching staff, the linebackers, considering the circumstances, have surfaced as a group that's improving.
Brandin Hawthorne is a big reason for that.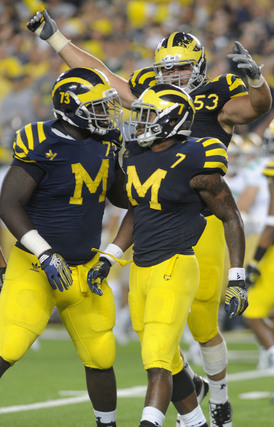 Angela J. Cesere | AnnArbor.com
The junior played well at weak-side linebacker in
Saturday's win against Notre Dame
after not playing in the opener due to a sprained ankle. He made the most of his opportunity, making six tackles, breaking up a pass and recording a tackle for a loss.
He's now listed as the starter.
"(Hawthorne) was having a great camp," reserve linebacker J.B. Fitzgerald said of how the junior was playing before he was hurt. "He had a couple days where he really showed up and was making plays all over the place.
"Saturday, him going in there and doing his thing, was no surprise at all. We've seen him go do that prior."
As Michigan prepares to face Eastern Michigan on Saturday (Noon, BTN) and the Eagles' 331.0-yards-per-game rushing attack, Hawthorne is one player whose stock is up for the Wolverines.
"One thing I've been impressed with him was even when the ankle was not good earlier, he came out and practiced hard, and limped and tried to do everything he could," defensive coordinator Greg Mattison said this week. "He shows you he's a tough kid. I was happy for some of the things he did, and he really helped us."
The linebacker position has been something of a revolving door for Michigan. Sophomore Cam Gordon was listed as the starter on the strong-side each week, but has yet to play because of a balky back. Senior Brandon Herron, who scored twice in the opener against Western Michigan, did not play last week due to a leg injury.
Sophomore Mike Jones was listed as the starter on the weak-side for the Wolverines' first two games, but has slid to fourth on the depth chart. True freshman Desmond Morgan, who has dealt with a hamstring injury since fall camp, saw some time against Notre Dame and struggled.
In all, nine players have played at linebacker for Michigan. Gordon, who is expected to return against Eastern Michigan, will become the 10th just three games into the season.
Despite the fluidity, the linebackers have held their own. There have been some issues, including blowing a few assignments against Notre Dame, but the position largely has been a ballast for an otherwise ineffectual Wolverines defense.
Starting middle linebacker Kenny Demens is tied with safety Jordan Kovacs for the team lead in tackles with 18, and the two have been Michigan's steadiest defensive players.
Mattison said during the preseason he saw more improvement from the linebackers than any other position, and they showed in the first two weeks of the season they have made significant strides since last year, even if there still is work to do.
Now, the Wolverines will focus on trying to get the rest of their defense going against Eastern Michigan and that fifth-ranked rushing game.
How other positions are trending:
Tailback: Down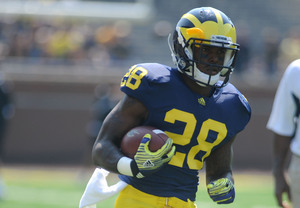 Angela J. Cesere | AnnArbor.com
The running backs, as a group, have rushed 25 times for 155 yards. Those are numbers Hoke was looking for this season — from a single back each game.
After all that preseason talk about turning Denard Robinson into a pro-style quarterback, he leads Michigan in rushing and is only 1 yard short of matching the production of all the tailbacks combined.
Starter Fitz Toussaint, who missed last week with a shoulder injury, is expected to return this week. That could help, after playing well in the opener (11 carries, 80 yards, two touchdowns).
Receivers: Up
There were some drops against Notre Dame, but as a group, the receivers were tremendous in winning the jump-ball battles. Junior Hemingway, Roy Roundtree and Jeremy Gallon all came up with big catches late against the Irish, despite slow starts.
Receivers caught just seven balls against Notre Dame, but Robinson either missed or didn't see several open targets, and that's not their fault.
Defensive line: Plummeting
Hoke and Mattison have expertises here, and position coach Chris Montgomery is highly respected. Yet, the triumverate has not been able to coax Michigan's line into consistent production.
Notre Dame quarterback Tommy Rees was not bothered by pressure from the front four, getting into trouble only when Michigan brought blitzes.
Most concerning of all: It was the same case for Western Michigan quarterback Alex Carder, and the Broncos' offensive line has been ravaged by injury.
Starting end Craig Roh has yet to record a tackle, and ends Will Heininger and Nathan Brink have seen their playing time diminish after playing poorly. Even senior captain Mike Martin has been quiet at nose tackle.
End Jibreel Black and tackle Ryan Van Bergen have been OK, but not great. Tackle Will Campbell was steady (is that the first time this word has been used to describe him?) against Notre Dame, but languished against Western Michigan.
Quarterback: Even
There's no chance Michigan is 2-0 without Robinson, who accounted for 98.7 percent of the team's production against Notre Dame and 79.7 percent on the season. His performance in the fourth quarter against Notre Dame was legendary.
So, he can't be trending downward. Right?
Well, he's certainly not trending upward, either.
He was 2-of-9 passing in the first half against Notre Dame, and looked flat-out awful for stretches. He missed open receivers and threw to covered ones. The close-your-eyes-and-throw-it-as-far-as-you-can jump ball worked against the Irish, and Michigan does have Hemingway, a star on jump balls.
In moderation, these will work — even if it looks like just pitch-and-catch — but won't always, and Michigan's largely abandoned a midrange passing game.
Robinson ran well, but struggled to establish any kind of offensive rhythm. He completed just 11 passes.
The junior's role likely will be diminshed against Eastern MIchigan, because it can be. But if he doesn't improve his decision-making and accuracy in future weeks, it will cost the Wolverines games.
Cornerbacks: Down
They drew a tough assignment in future pro Michael Floyd last week, but looked overmatched on too many plays. Floyd finished with 13 catches for 159 yards, and Rees was 27-of-39 passing for 315 yards and three touchdowns.
The previous week, Western Michigan star receiver Jordan White had 12 catches for 119 yards in less than three quarters of play.
Floyd and White weren't surprising targets going into those games, yet Michigan couldn't slow them at all.
Special teams: Slightly up
There were some breakdowns in kick coverage against Notre Dame, but it wasn't abysmal, as it was against Western Michigan.
Freshman Matt Wile seems to be an able fill-in for suspended starter Will Hagerup at punter. Gallon had some nice moments in the return game.
The big question, though, is Michigan's field-goal kicking unit, which has yet to attempt a kick this year. Given that it was the country's worst at them last year, this, in a roundabout way, has been an uptick in performance.
Hoke confirmed this week sophomore Brendan Gibbons still is the short-range guy, and Wile or Kris Pauloski (but probably Wile) will be on for kicks of about 43 yards or longer.
Michigan isn't going to take a knee against Eastern Michigan simply to get off an attempt, but Hoke surely wants to get some reps in before meaningful games pick up next week. Wile is a true freshman and Gibbons was 1-of-5 last year.
Between San Diego State next week, then the Big Ten opener against Minnesota and the team's first road game against Northwestern looming after that, there are bound to be pressure kicks on the horizon.
A cold, inexperienced kicker probably is worse than an inexperienced kicker. But nothing can be as bad as last year. Right?
PREDICTION
Mike Hart will be at Michigan Stadium ... wearing green and white, standing on the opponent's sideline. In this bizarro world we call Michigan vs. Eastern Michigan, surely anything can happen, correct?
Unless Hart is suiting up for EMU, where he now is an assistant, there's no chance. The Wolverines won't run up the score badly, out of deference for EMU coach Ron English and his staff, but this one will be in hand early. Now would be a good time to pick up Devin Gardner in your college football fantasy league. Michigan 38, EMU 13
Kyle Meinke covers Michigan football for AnnArbor.com. He can be reached at 734-623-2588, by email at kylemeinke@annarbor.com and followed on Twitter @kmeinke.