Posted on
Sun, Mar 14, 2010 : 6:01 a.m.
Michigan faces 'formally informal' hearing with potentially grave consequences
By Dave Birkett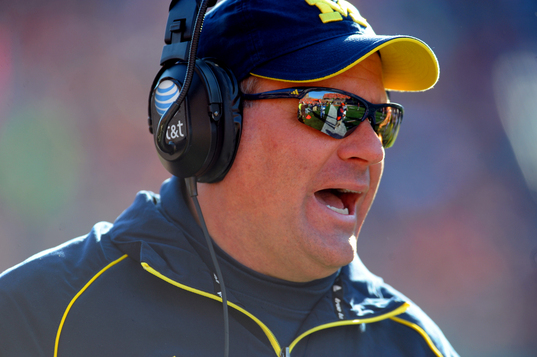 Joe Beckham spent eight hours in front of the NCAA Committee on Infractions two years ago as part of a Florida State contingent hauled in to answer questions about academic fraud.
Beckham, the university's faculty-athletics representative, said the hearing was civil and the NCAA hospitable, but there was no doubt what was at stake in the room.
"I think the committee is motivated to ensure that their enforcement responsibilities are met," Beckham said. "I don't think there's any question that the committee does not want to be seen as a paper tiger that is not taking its responsibilities very seriously and does feel that they have a very important obligation to impose penalties that have consequences."
Michigan could face penalties including probation and a loss of practice time if it's found guilty of violating NCAA rules when it goes before the infractions committee Aug. 13-14 in Seattle.
The Wolverines are charged with committing five major violations, the most serious of which are separate failure-to-monitor counts against the university and football coach Rich Rodriguez.
Rodriguez, school president Mary Sue Coleman and athletic director Dave Brandon are among 10 Michigan representatives requested to appear at a hearing that former infractions chairperson Jo Potuto said is "formally informal" in nature.
"It's like an administrative hearing," said Potuto, who wouldn't talk specifically about Michigan's case. "Nobody's put under oath, it doesn't look like the way people would think of a courtroom, even a civil trial and certainly not a criminal trial. It's more like an administrative hearing, which means the rules of evidence don't apply."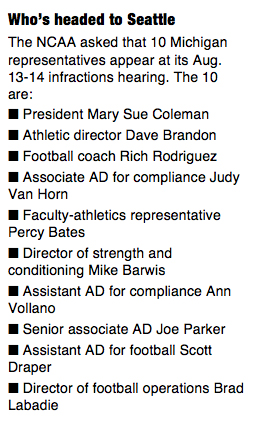 The NCAA spells out clear procedures for hearings before the infractions committee, down to the U-shaped set up of the room.
The eight-person committee sits at the head table, with representatives from the school on its right and the NCAA's enforcement staff on its left. A court reporter sits in the middle transcribing the hearing.
Both sides begin with opening statements that last 15 minutes or less, and the committee chairperson reviews each allegation separately. Only the chair can ask questions of the parties involved, and while Potuto said dialogue is usually free-flowing, Memphis athletic director R.C. Johnson said that wasn't his experience.
"Maybe if I was on the infractions committee I'd think it was, but when you're on the other side it wasn't quite as free-flowing," said Johnson, who appeared before the committee last year. "Maybe we were unique, but I don't think so."
Hearings typically last a day and always take place in a hotel ballroom, both for privacy ("There's never any windows," Potuto said) and space reasons.
Former infractions committee chairperson David Swank said he's seen universities submit up to 20,000 pages of material to support their case.
"In some hearings, each committee member, you have to have the bellhop move the materials because you can't carry them," Potuto said. "It's impossible."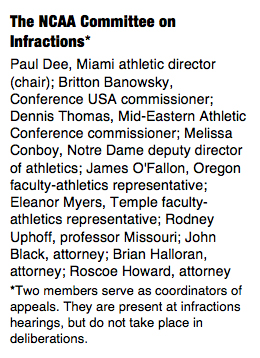 While Potuto said the committee debates punishments and comes to "general conclusions" at the hearing site, final decisions aren't rendered for six to 10 weeks.
That process can be expedited when schools self-impose penalties.
Michigan conducted a parallel investigation to the NCAA's last fall, and Brandon said nothing in the official Notice of Allegations came as a surprise.
It's unclear how or if Michigan will penalize itself, but Johnson said that always seems to be the best course of action.
"I would tell anybody, I think the more you can do up front the better off you are," he said. "Regardless of what happens, I think it's good to be proactive on the charges they give you, regardless of how severe or how much it might hurt you. I talked to Alabama and Florida State quite a bit before we went in because they were ahead of us and they gave me the same advice, to be proactive rather than to go in and be combative and say we're not doing anything."
Dave Birkett covers University of Michigan football for AnnArbor.com. He can be reached by phone at 734-623-2552 or by e-mail at davidbirkett@annarbor.com. Follow him on Twitter @davebirkett.