Posted on
Wed, Dec 28, 2011 : 3:57 p.m.
Dave Brandon: Michigan football program can schedule Pac-12 game prior to 2017
By Nick Baumgardner
The Michigan football program will be able to participate in the newly agreed upon Big Ten-Pac-12 scheduling agreement prior to the 2017 season.
When, exactly?
"Whenever we can work out a scheduling agreement with a Pac-12 school," Michigan athletic director Dave Brandon wrote in an email to AnnArbor.com Wednesday.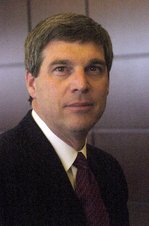 File photo
The Big Ten and the Pac-12 announced a scheduling alliance Wednesday that will eventually require all football institutions to schedule a non-conference game with an opponent from the opposite league by the 2017 season.
Presently, Michigan has a full 12-game schedule in 2012 and 2013, but has open dates beginning in 2014. The Wolverines have a pair of non-conference games planned for the 2014 season, a home game against Appalachian State and a road contest against Notre Dame.
While Michigan's ability to participate in this new non-conference platform prior to the aimed target date is firm, it's relationship moving forward with Notre Dame may become less clear.
"In the near term, it will not change anything," Brandon wrote with regard to the scheduling in the Michigan-Notre Dame series. "Long term is never easy to predict."
Reports earlier Wednesday explained how the Big Ten is likely to examine its move to a nine-game football schedule. If the league opts to go with a nine-game slate, teams would have just three non-conference games to work with.
If the league uses a nine-game schedule and Michigan keeps Notre Dame on the schedule, it would then receive one non-conference guaranteed home game.
An eight-game conference slate would give Michigan more wiggle room with non-league scheduling, but in the end, it won't change Brandon's philosophy on games played inside Michigan Stadium.
"We have a clear scheduling principle of having a minimum of seven home games each year," he wrote. "And that will not change."
As far as Brandon's feeling toward the new Big Ten-Pac-12 agreement, he seems to be all for it.
"It is positive for all of our sports," he wrote.
Nick Baumgardner covers Michigan sports for AnnArbor.com. He can be reached at 734-623-2514, by email at nickbaumgardner@annarbor.com and followed on Twitter @nickbaumgardner.