Posted on
Tue, Feb 23, 2010 : 2:14 p.m.
Michigan football program faces 5 NCAA violations, university has 90 days to respond
By Dave Birkett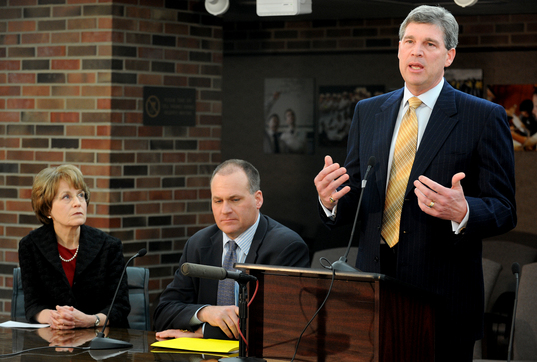 Michigan's storied football program faces possible NCAA sanctions after an investigation revealed five potential major rules violations concerning in- and out-of-season practice time.
The university has 90 days to file a response, and is expected to go before the NCAA Committee on Infractions in August.
"I want to make clear that no accusation against our program is trivial," incoming athletic director Dave Brandon said at a press conference Tuesday. "We take this report very seriously and we will learn from it and we will get better."
Among the violations outlined in a Notice of Allegations received by the university Monday:
• Quality control staff members "regularly monitored" voluntary winter and summer workouts and "regularly assisted" with on- and off-field coaching duties from 2008-09.
• Football players were required to participate in more than the maximum allowed practice hours by anywhere from 20 minutes to two hours a week.
• Graduate assistant coach Alex Herron provided "false and misleading information" to NCAA enforcement staff on whether he monitored summer workouts he was not allowed to attend.
• Head coach Rich Rodriguez "failed to promote an atmosphere of compliance within the football program and failed to adequately monitor the duties and activities" of his quality control staff.
• The athletic department "failed to adequately monitor its football program to assure" NCAA compliance.
Rodriguez accepted responsibility for the violations.
"I have always felt compliance is a priority for us and it always will be," he said. "We know we can do a better job in certain areas."
Brandon, who takes over for Bill Martin as Michigan athletic director March 8, indicated the violations were a product of not understanding NCAA rules and supported Rodriguez as Michigan's coach.
"Rich Rodriguez is our football coach and will be our football coach next year," he said. "Nothing leads me to believe there should be a change."
Dave Birkett covers University of Michigan football for AnnArbor.com. He can be reached by phone at 734-623-2552 or by e-mail at davidbirkett@annarbor.com. Follow him on Twitter @davebirkett.