Posted on
Tue, Nov 8, 2011 : 3:55 p.m.
Michigan football coach Brady Hoke will not 'make judgment' on child sex scandal at Penn State
By Kyle Meinke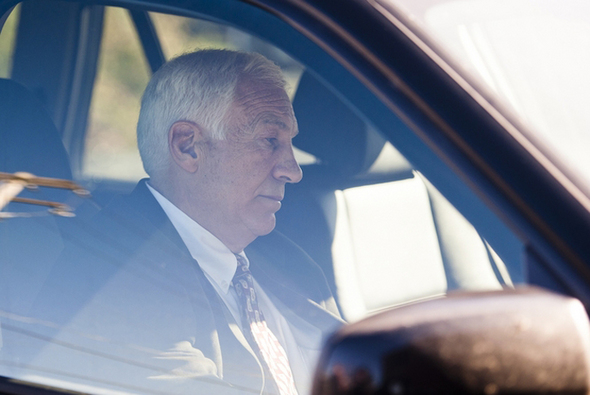 Andy Colwell | The Patriot-News
For the second day in a row, Michigan football coach Brady Hoke declined to comment on the brewing child sex-abuse scandal at Penn State.
"I'm not going to really address that," he said Tuesday during his weekly teleconference with reporters. "I said yesterday, it's an unfortunate situation, but it's not my place to make judgment on it, because I don't know the facts. My big concern is Michigan, this program and getting ready to play a very good Illinois team."
The No. 22 Wolverines (7-2, 3-2) travel to Champaign, Ill., for a game at 3:30 p.m. Saturday on ABC. They are not scheduled to play this year against Penn State, which has come under fire for alleged sexual abuse by former defensive coordinator Jerry Sandusky.
Sandusky has been charged with sexually abusing eight boys spanning a 15-year period, and multiple administrators -- even legendary head coach Joe Paterno — have been widely panned for failing to contact the police when they were informed in 2002 of an alleged rape of a young boy in a football facility shower.
Gary Schultz, the senior vice president for finance and business, and Tim Curley, the athletic director, were charged by a grand jury of perjury and failure to report to authorities, which is required by Pennsylvania state law.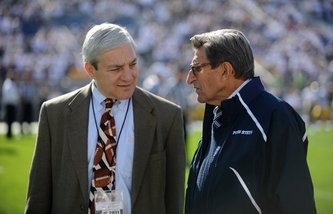 PennLive.com file photo
Now, Penn State president
Graham Spanier
and Paterno have been excoriated for a failure to notify police or child services after learning that Sandusky allegedly was abusing children.
Sandusky continued to receive full access to school and football facilities, was seen with children and directed a football camp for boys on a Penn State satellite campus for six years after school officials were notified of his alleged sexual encounters with boys.
The New York Times reported on Tuesday afternoon the 84-year-old Paterno will not coach next season, and his exit already is being planned due to the scandal.
He has served 46 seasons as the Nittany Lions' head coach and last week passed Eddie Robinson as the all-time leader in Division I college football wins. Now, his career appears headed toward an abrupt and disgraceful conclusion.
Penn State canceled Paterno's weekly news conference minutes before it was scheduled to begin today, and Paterno did not appear on his weekly Big Ten conference call later in the day.
On Monday, Hoke seemed to have a hard time finding the right words to characterize the scandal, and eventually declined to comment.
"You know, well, believe me, that's ... (long pause) ... I wouldn't even know how to answer that question," Hoke said. "We've got Illinois to worry about."
Kyle Meinke covers Michigan football for AnnArbor.com. He can be reached at 734-623-2588, by email at kylemeinke@annarbor.com and followed on Twitter @kmeinke.