Posted on
Thu, Jan 5, 2012 : 6 p.m.
Michigan football coach Brady Hoke didn't pressure anyone to enroll early; 3 recruits have
By Kyle Meinke
Michigan football coach Brady Hoke will hit the recruiting trail for much of the next month as national signing day approaches.
But he already has three guys in the bag.
Hoke affirmed previous reports that 2012 recruits Joe Bolden, Kaleb Ringer and Jarrod Wilson have enrolled early at Michigan. Each is listed in the online database of current students.
Each also happens to play defense, which pleases the defensive-minded Hoke.
Wilson is a four-star safety from Butchel High School in Akron, Ohio; Bolden is a four-star linebacker from Colerain High School in Cincinnati, Ohio; and Ringer is a three-star linebacker from Northmont High School in Clayton, Ohio.
Bolden is considered to have the best potential of the three and could crack the rotation next year, even though Michigan will return every player from its two-deep at linebacker.
Wilson also could see the field, particularly with the graduation of senior Troy Woolfolk, the midseason departure of Carvin Johnson and the ongoing legal troubles of Marvin Robinson.
Enrolling early allows players to get a seven-month jump on strength and conditioning, which better positions them for making contributions as true freshmen and catapults them past their classmates in picking up the schemes.
The early enrollees also will participate in spring ball.
Forgoing the final semester of high school is becoming more common for elite high school prospects, but Hoke emphasized the program did not pressure any recruit to enroll early.
"To be honest with you, it was really they were just able to," Hoke said of process behind who enrolled now. "We didn't push any of them to come early. I think at some point, kids miss their senior year of high school.
"We don't encourage anybody, but they wanted to and their clock made it work."
Hoke said enrolling in January allows the freshmen to become acclimated to the rigors of college coursework without also having to deal with the demands of a season.
"That, to me, is as important as anything," Hoke said.
Ringer and Wilson are on campus this week. Bolden will join them after competing in tonight's Under Armour All-America Game.
"There are so many daggone games now," Hoke joked. "I may even be able to play in one."
Meantime, Hoke will hit the road hard for the next month to fill the final four or five spots of the 2012 class. He also will keep in touch with current commitments.
"You always do," Hoke said of recruiting current recruits. "But, no matter where you are, if you're at Ball State, you're always recruiting commitments and doing your due diligence with that."
Other items of note from Hoke's news conference:
No update on Robinson, Floyd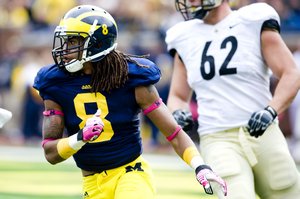 Joseph Tobianski | AnnArbor.com
Hoke said quarterback
Denard Robinson
and cornerback
J.T. Floyd
have not yet heard back since filing paperwork to the NFL Draft advisory board, requesting information on their pro stock.
He said he expects to know more by Friday or Saturday.
Denard injury rumors false
Hoke dispelled a wide-spread rumors that Robinson suffered a leg injury before Tuesday's Sugar Bowl win against Virginia Tech, noting the junior was "100 percent" for the game and that "he didn't tweak anything."
Hoke, when asked to evaluate Robinson's wobbly performance (he threw one interception, had two others overturned, completed only nine passes and had a career-worst 13 yards rushing): "We won the football game not playing our best anywhere. That's how I would assess it."
Three players have career nights
Hoke said three players had the best games of their careers in the Sugar Bowl win, whether or not that showed up in the box score: defensive linemen Mike Martin and Frank Clark and linebacker Jake Ryan. Clark and Ryan are freshmen.
Martin, playing in his final game at Michigan, played more than 70 snaps because of key injuries to the defensive line.
Van Bergen limited

One of those injuries was to senior
Ryan Van Bergen
, who suffered a foot injury in the Sugar Bowl and was seen after the game with crutches. The senior lost feeling in the foot and had trouble pushing off, particularly on his final six or seven plays.
Michigan adjusted its personnel groups during the game to give Van Bergen more of a break than he typically receives.
Snapshot into 2012
Hoke said his chief concerns for next year are replenishing the talent and depth at offensive and defensive line.
Michigan loses starters Martin, Van Bergen and Will Heininger up front defensively, and starters Mark Huyge and All-American David Molk on the other side of the ball. It had just eight scholarship offensive linemen this year, roughly half what Hoke desires.
"We have some work to do," Hoke said.
Odds and ends
Hoke plans to attend the national coaches convention next week. ... Hoke once again said he expects his staff to return intact next season, although he declined to discuss possible attrition among players. ... Hoke, on his first season at the helm: "Every day is a little different. There's a couple knuckleheads you deal with, but that's OK. I was one of those at one point." ... Hoke said there will be no motivational signs regarding the team's four-game losing streak to Michigan State.
Kyle Meinke covers Michigan football for AnnArbor.com. He can be reached at 734-623-2588, by email at kylemeinke@annarbor.com and followed on Twitter @kmeinke.