Posted on
Thu, Dec 22, 2011 : 2:39 p.m.
Michigan football coach Brady Hoke expects Denard Robinson to return next year, despite NFL paperwork
By Kyle Meinke
Michigan football coach Brady Hoke said he's talked to quarterback Denard Robinson about submitting paperwork to the NFL draft advisory committee, and he understands why the junior is doing it.
But he also made it very clear: He expects Robinson to return.
"We've talked about it, and I think it's smart to get an idea, but I expect him to be back here," Hoke said Thursday at a news conference. "We'll see what happens. I'm not going to live in hypothetics, but when we get the information we need, we'll proceed like we should."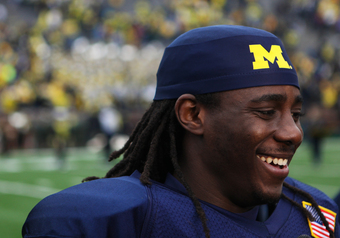 Jeff Sainlar | AnnArbor.com
Robinson accounted for 3,219 yards and 34 touchdowns this year and led the Big Ten in total offense despite transitioning to a more pro-style offense.
Offensive coordinator Al Borges eventually will run a true West Coast offense, but has blended that system with the spread-option Robinson was recruited to run. That takes advantage of what Robinson can do with his legs.
If Robinson wants to be an NFL quarterback — and he hasn't indicated otherwise — another year under Borges and Hoke could help iron out his biggest weaknesses, which include accuracy and decision-making in the passing game.
He threw 14 interceptions this year, and he hovered below 50-percent accuracy for several weeks.
It is unlikely Robinson will receive a high grade as a quarterback, although his potential as a slot receiver or kick returner could be high because of his speed and elusiveness.
Hoke said Robinson has potential to be a quarterback at the next level.
"There's some guys out there playing at the next level who have the same skill set," he said.
Later in the news conference, Hoke indicated he expects Michigan to run the "spread-West Coast" hybrid for at least another year before moving to a more traditional pro-style offense in 2013, further revealing his confidence Robinson will return.
Hoke said he does not expect any other player to consult the advisory board.
Marvin Robinson will travel with team
As grades begin to roll in, Hoke said he expects every player to make the trip to New Orleans. That includes sophomore safety Marvin Robinson, who is facing charges of second degree home invasion.
"Oh, yeah," Hoke said, when asked specifically whether Robinson would travel with the team.
The safety is accused of stealing an Xbox in September. His attorney maintains Robinson "didn't intend to steal anything."
He will have a preliminary hearing Jan. 11.
Punter competition ongoing
Hoke said the competition between incumbent Will Hagerup and challenger Matt Wile for the starting punting duties remains strong, and he does not expect to make a decision until a few days before the game.
The punters have been working outdoors because they hit the ceiling of their indoor facility.
Practice winding down
Hoke has been impressed with the physical nature of Michigan's practices, although acknowledged they'll down shift today and Friday before breaking for Christmas.
The team will reconvene on Dec. 28. Players who live farther than four hours from Ann Arbor will travel on their own to New Orleans. Everyone else will take the team charter.
New Orleans guidelines
Hoke said a local will brief the team on what areas to avoid in New Orleans. He also said the team would have a curfew. When will that be?
"Sometime during the night," Hoke quipped.
Freshman Bryant still turning heads
Hoke reaffirmed last week's observation that true freshman Chris Bryant is performing well in early practices. Bryant, who will be a redshirt freshman next year, was listed first as a young standout by Hoke last week and this week, and also Borges this week.
Other reserves who have stood out include cornerback Raymon Taylor, safety Josh Furman, receiver Jerald Robinson and quarterback Russell Bellomy.
Quick hits
Hoke said "two or three" incoming freshmen will enroll early, but he's not allowed to identify them per NCAA rules. ... Hoke said he will spend Christmas in his home state of Ohio, but that he will be working.
Kyle Meinke covers Michigan football for AnnArbor.com. He can be reached at 734-623-2588, by email at kylemeinke@annarbor.com and followed on Twitter @kmeinke.