Posted on
Mon, Mar 19, 2012 : 5:59 a.m.
Michigan football coach Brady Hoke favors reform to NCAA's policies on social media, texting
By Kyle Meinke
Michigan receiver Roy Roundtree grew up in the same Ohio town as Mike McCray. Five years separated them, but they developed a relationship as McCray, like Roundtree, emerged as a big-time football recruit from Trotwood-Madison High School.
When the linebacker picked Michigan earlier this month, Roundtree reached out to congratulate him. No big deal.
Except, he did it on Twitter. And that, according to NCAA rules, is a no-no. In fact, it's considered a secondary violation.
Brady Hoke sees something wrong with that.
"That one's really silly," he said.
Michigan reported Roundtree's tweet, as well as a similar missive posted by linebacker Kenny Demens, to its compliance department. Hoke said he does not expect to receive any kind of NCAA punishment, even though the school remains on probation from the Rich Rodriguez era.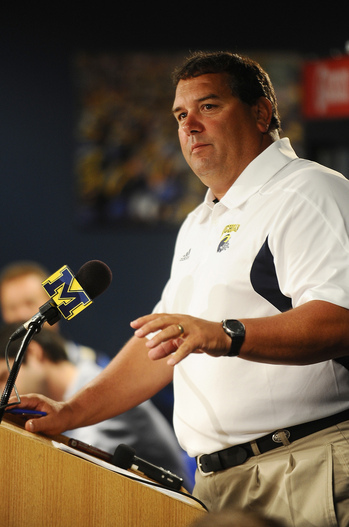 Melanie Maxwell | AnnArbor.com
Because of these type of situations, the Michigan coach says he is in favor of reform to the NCAA rules that govern social media, the use of which has proliferated among athletes in the past couple years.
"I think social media happened so quickly, and the NCAA is trying to get its head around all that stuff," Hoke told AnnArbor.com last week. "We just need to keep educating our players. We'll meet at 4 o'clock (last Tuesday) and I'll mention what they put out there and what they say.
"But there's no question something needs to happen."
Hoke doesn't use social media himself. He has two laptops in his Schembechler Hall office, but says he never uses one of them. The other, he uses for film study.
It's not just that he doesn't use Twitter or Facebook, either. He also claims to have never sent an email, preferring instead to pick up a phone or write a hand-written note because "it's more personal." If an email is required, he has his secretary forward along one on his behalf.
He has a joint personal email account with his wife, Laura, but says he doesn't even know the password.
However, there is one new technology of which Hoke is a fan: Text messaging, which he picked up two or three years ago. He said he would like to see the rules that prohibit its use in recruiting loosened, or excised altogether.
The NCAA announced late last year it is, in fact, exploring revisions to the ban.
"Compliance departments now, can you imagine all the paperwork they have to go through to see if you texted a guy?" Hoke said. "They have to fill out their report and send it to the Big Ten office, and the Big Ten office has to send it to the NCAA. Each time, someone is writing up a report and then sending it back to you. It's wasting people's time.
"I think (the rule) was smart and savvy, because kids were getting $100 phone bills and all that, but how do you enforce 'em? That's the problem. There's too many rules."
There is a bit of irony in the fact that, with the NCAA's myriad rules that regulate modern technologies, the most egregious mistakes committed by Michigan football players didn't break a rule at all.
Rather, they were provocative tweets sent by recruits and prospective recruits that gained traction online earlier this year.
One-time Michigan target Yuri Wright drew criticism for posting racially and sexually charged tweets, and he eventually was kicked out of his private school because of them. There were reports the Wolverines backed off their courtship of the elite cornerback for the same reason.
But several 2012 commits tweeted similar churlish, crass and especially sexually charged messages before they signed with the program Feb. 1, and were not dropped from the class. (AnnArbor.com decided not to publish the tweets because of their explicit nature.)
Hoke said it was more important to him to use the tweets as a learning experience for the recruits. He said the program is educating future players more than ever on social media, and how its use represents the program.
"Kids come from all different backgrounds," Hoke said. "Some have great support, some don't. Even guys with great support make mistakes. And, obviously, there are certain levels of mistakes that are intolerable, but I think at the same time, it's our job ... to help young men grow and mature."
Hoke said his staff also monitors the tweets of current players, and the issue is addressed about three times per month.
"What I tell them is, if you don't want your grandmother to see it, or your mother to see it, you probably shouldn't do it," he said.
Despite all the blips incurred by his players and future players online, Hoke said he has no plans to prohibit tweeting, or limit its use to non-football topics, as some programs have done. He said although he doesn't use social media, he understands its growing place in the modern world and wants his players to have the opportunity to engage in it.
Can Hoke envision a scenario in which he would have to change that policy?
"I hope we don't have to get to that point. I hope our guys are responsive enough," Hoke said. "You're going to have knuckleheads in there, that's just the way it is. You have 115 of them. You take 115 reporters and line them up, you're going to find eight to 10 knuckleheads.
"Well, it's no different than our football team, and we can manage eight to 10 knuckleheads."
Kyle Meinke covers Michigan football for AnnArbor.com. He can be reached at 734-623-2588, by email at kylemeinke@annarbor.com and followed on Twitter @kmeinke.