Posted on
Sun, Aug 28, 2011 : 5:57 a.m.
Michigan football coach Brady Hoke has a one-year plan; can he accomplish it?
By Kyle Meinke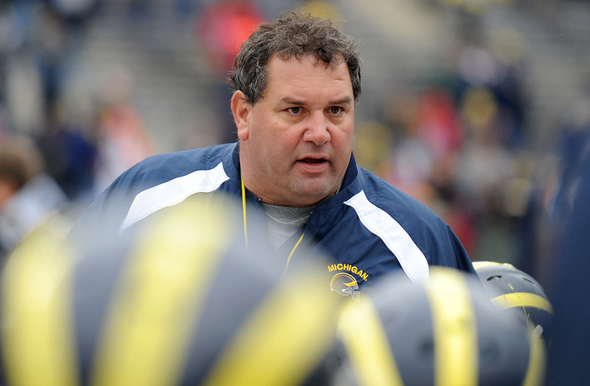 Angela J. Cesere | AnnArbor.com
Note: This is the third story in a three-part series on Michigan's new coaching staff.
-----
Some coaches have three-year plans. Others go four- or five-year routes.
Brady Hoke? He has a one-year plan. It renews annually.
"This is Michigan, there aren't going to be any excuses," the first-year Michigan football coach said earlier this month. "If we don't win the Big Ten championship, we've failed these kids as coaches."
High standards — but Hoke wouldn't have it any other way.
The former Michigan assistant was hired in January to replace Rich Rodriguez, who was fired after guiding the Wolverines to their worst three-year stretch in school history.
Rodriguez always talked about time, and how he needed it to implement his system — specifically, his spread-option offense, which was as different from the incumbent pro-style as schemes can be.
Now, Hoke is scrapping the spread-option and reinstalling the pro-style offense. Only, he isn't asking for time — just a renewed commitment to fundamentals, physicality and toughness.
How realistic is Hoke's goal of winning a Big Ten title in his first year as head coach?
It's a rare feat, but not unprecedented. Three men have done it since 1950 and, oddly enough, Hoke is close to two of them: Bo Schembechler (1969), whom Hoke got to know during an eight-year stint as a Michigan assistant, and Gary Moeller (1990), who gave Hoke that job in 1995.
Former Ohio State coach Earle Bruce was the other. He did it in 1979.
Don't self-inflict 'catastrophic' growing pains

It's a tough trick, to be sure. Offensive coordinator Al Borges, embarking on his ninth offensive coordinator job, knows why.
"As much as I've transitioned jobs, what I've found is that you're never going to get exactly what you want in the first game, so you might as well forget that," he said.
Borges, who coached with Hoke the past two years at San Diego State, said growing pains are normal during scheme adjustments, no matter how well they're taught. It takes time. The key to successfully bridging coaching regimes, he said, is to make concessions to contain the damage up front.
That means, for instance, giving quarterback Denard Robinson 10 to 15 carries per game, even if Hoke would prefer to have a tailback carry that load.
"Until they get through the transitional growing pains, you have to do as little damage as possible," Borges said. "You just don't want to kill yourself in the process. The growing pains can't be catastrophic."
Under Rodriguez, they were.
Michigan went 3-9 in his first year, the worst record in school history. The Wolverines couldn't move the ball on offense, as they tried to run the spread-option attack with pro-style quarterbacks Stephen Threet and Nick Sheridan.
The blows absorbed in 2008 stunted Michigan's momentum and further exasperated a frustrated fanbase. Rodriguez never did repair the damage.
Don't expect those same mistakes to be repeated.
"We're not here to fit a square peg in a round hole," Borges said. "Brady's great at getting the best out of his players, even if they're not running what they've run in the past, and it'll be the same here."
Two stops, two turnarounds

Hoke has gained a reputation for turning around programs, and it makes him a proven commodity, despite a 47-50 career record.
He took over Ball State in 2003, a school that hadn't posted a winning season since 1995. The Cardinals won only six games in his first two years, but then won four, five and seven the next three. They broke through in 2008, going a school-record 12-1.
"Coach Hoke changed the culture," said Joey Lynch, who was Hoke's quarterback at Ball State from 2004-06. "He did a lot of good things right away, even though wins didn't show up his first or second year. But he didn't panic, stuck to what he believed in, and that consistency paid off."
What did Hoke believe in at Ball State? The answer will sound familiar.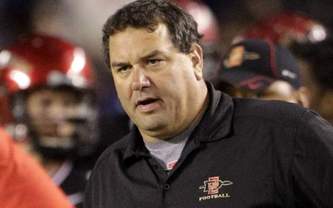 AP Photo
"Anyone who knows Coach Hoke, he's got that defensive attitude," said Lynch, who now works with Ball State's tight ends and remains close to his former coach "He has his opinions, about how you develop toughness and that kind of thing, and we kind of took on that personality."
In 2009, Hoke moved on to San Diego State, which hadn't posted a winning season since 1998 and was 2-10 the year before he arrived. It went 4-8 his first year, 9-4 the next.
How did he do this?
"This program is going to be a program that's based on toughness," Hoke told the San Diego Union-Tribune upon his hire by the Aztecs. "To play football at the Division I level … you have to be tough-minded. You have to be physically tough and mentally tough."
Hoke's message isn't 'lip-service toughness'

Physicality. Toughness. These aren't buzzwords he formulated on a January flight to Ann Arbor so he could appease snake-bitten fans. They define the fabric upon which he builds programs, Lynch said.
"Brady doesn't believe in lip-service toughness," Borges said. "He believes in, if bodies don't collide and noses don't get bloodied a little bit once in a while, then you're not playing the game right."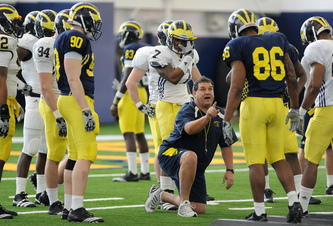 Melanie Maxwell | AnnArbor.com
How does Hoke define his style? Defense first. Always, defense first.
"I still coach the same way I did at Ball State and San Diego State, and I'm going to always look at the defense," Hoke said.
"This is simple: If they can't score, they can't win. So, why wouldn't you want to be out there stopping somebody so they couldn't score?"
It is not uncommon to see Hoke blow his whistle during a practice to move a player's foot just inches, or bend a knee by just a few degrees, or even simulate the mechanics and execution of a punt.
"Coach Hoke is not a complicated guy," Lynch said. "He knows what he wants and who he is. What you see is what you get, and that's why guys buy in."
Lynch said the biggest sign the culture had changed at Ball State — besides the wins — was the recruits Hoke began to haul in toward the end of his tenure there.
He has recruited fabulously well at Michigan, too. He avoided the attrition that afflicts so many programs undergoing coaching changes — including when Lloyd Carr retired from the Wolverines after the 2007 season — then attracting a consensus top-five class for 2012.
"Most coaches use college as a stepping stone to go somewhere else,'' senior cornerback Troy Woolfolk said during the first week of practice this fall. "With Coach Hoke, you can tell this is his final stone.
"The Michigan pride we see from him has a trickle-down effect, and that's why you've seen so many recruits come here."
Whatever he's doing, it's working. He's turned around two moribund programs with few resources in non-BCS conferences.
Now, what can he do for college football's winningest program?
This week, we'll begin to find out.
Kyle Meinke covers Michigan football for AnnArbor.com. He can be reached at 734-623-2588, by email at kylemeinke@annarbor.com and followed on Twitter @kmeinke.