Posted on
Mon, Jul 30, 2012 : 10:01 a.m.
Michigan football coach Brady Hoke is used to prime time, but remains cautious of night games
By Nick Baumgardner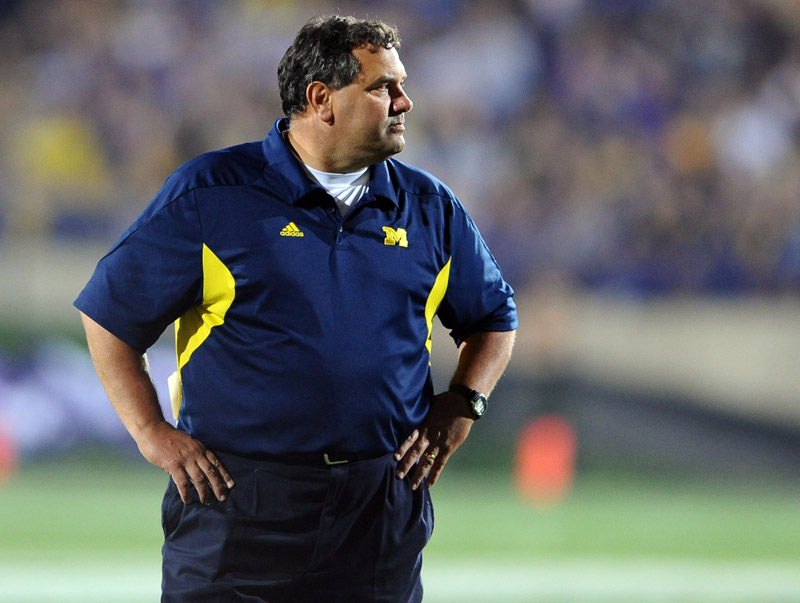 AnnArbor.com file photo
Brady Hoke
is no stranger to prime time.
During his debut season as the Michigan football coach, Hoke's Wolverines took center stage under the lights for night time kickoffs twice during the regular season and again during the Sugar Bowl. He went 3-0.
In his final season at Ball State, the Cardinals kicked off after dark a total of nine times during the regular season. That year, Hoke went 9-0.
In 2012, the Wolverines already have three scheduled night games (vs. Alabama, at Notre Dame, at Nebraska) and Hoke said last week he believes Michigan will end up with four nighttime contests. He's used to it. But he still doesn't like it.
"We have a pretty good blueprint and formula of what we do to help the guys as much as anything," Hoke said last week during the Big Ten media days in Chicago. "But it's a long day.
"And it is an issue."
Hoke can understand the value in Michigan's first two prime time tilts.
The Wolverines will get the nation's undivided attention on Sept. 1 when they tangle with defending national champion Alabama at 8 p.m. (ET) from Arlington, Texas.
Two weeks later, Michigan will once again have a national game under the lights -- this time in South Bend, Ind. against rival Notre Dame.
The publicity for the school and the attention from a recruiting standpoint are mega benefits Hoke and Michigan could enjoy for years to come. However, the immediate future won't be so bright.
"It's hard on (the players)," Hoke admits. "It is an issue. These are students, you kind of look at what you (have to do) on Sunday. The issue becomes Sunday. How much do you do?"
Throughout the season, Michigan will follow a Saturday game with a practice session on Sunday that quickly recaps the previous week before moving into preparation for the next opponent.
If the Wolverines kick off at noon Saturday, they've got most of the evening and a large chunk of Sunday to recover mentally and physically before getting back to work.
If they play at night? Well, that's another story. At home last year against Notre Dame, Michigan players were looking at Sunday morning bed times of no earlier than 2 or 3 a.m. This season, the three scheduled night games are on the road -- meaning it could be even worse.
So, from the moment the final whistle sounds against Alabama, Notre Dame and Nebraska, Michigan will likely be behind on preparation for Air Force, Purdue and Minnesota, respectively.
"I think later in the year, maybe you do less (on Sunday)," Hoke said. "But the less you do earlier in the year helps you in October and November from a health and body standpoint.
"It's a double-edged sword."
Hoke's program remains a national brand and name, and in turn, Michigan will continue to play at night as the years go by. As of right now, the Wolverines have one noon game scheduled in 2012.
That would clearly anger the late Bo Schembechler, and it really doesn't sit well with Hoke, either.
"Do I like (night games)?" he asked. "I'd like to play at noon every Saturday.
"But my opinion really doesn't matter, as you know."
Nick Baumgardner covers Michigan sports for AnnArbor.com. He can be reached at 734-623-2514, by email at nickbaumgardner@annarbor.com and followed on Twitter @nickbaumgardner.