Posted on
Thu, Jun 14, 2012 : 5:24 a.m.
No sugar-coating: Brady Hoke talks rivalries, including 4 straight losses to MSU
By Kyle Meinke
SOUTHFIELD -- Michigan football coach Brady Hoke says beating Ohio State remains his team's chief objective, even though the Wolverines have lost four games in a row to in-state rival Michigan State.
But he hasn't exactly forgotten about the Spartans.
Speaking to about 450 high school football players Wednesday afternoon during the Sound Mind, Sound Body camp at Southfield High School, Hoke didn't sugarcoat his team's recent performance against the Spartans.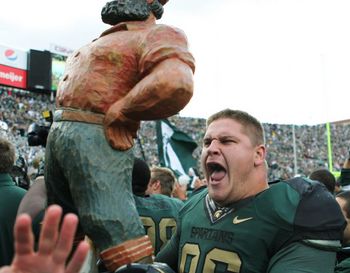 Jeff Sainlar I AnnArbor.com
"We play an in-state rivalry game against Michigan State, and they have beat our ass for the last four years," Hoke told the players, most of whom hail from the state. "There's no other way to put that. It's been an ass-kicking. Just being honest with you. Pardon me about my language, but it's true."
Hoke rarely curses in public, so his passion for the Wolverines' losing streak in that game was evident.
Members of the Spartans' coaching staff, including defensive coordinator Pat Narduzzi, also attended the first day of the two-day event. Head coach Mark Dantonio will speak to the recruits Thursday.
Sound Mind, Sound Body is a non-profit camp that benefits charity, and was able to secure clearance from the NCAA for coaches to attend. That made for an interesting dynamic, with the Michigan and Michigan State (and, in some cases, Ohio State) coaches sometimes evaluating or leading the same player groupings.
The two schools already have butted heads on the recruiting trail this offseason, after Dantonio cut off a speech by Michigan recruiting coordinator Jeff Hecklinski at a function in Kalamazoo.
There was no such drama in Southfield.
Hoke also commented on the rivalry against Ohio State -- just hours after he said "Ohio State" during an interview with the media. That's believed to be the first time he's used the Buckeyes' full name with reporters since he was named head coach 17 months ago.
"There's nothing like that football game, and there's nothing -- and I can tell you -- the respect that the guys who have worn that winged helmet, the guys who have played in that game, or coached in that game, understand about that game the respect the two schools have for each other," Hoke said.
"When you play in that kind of rivalry, the last Saturday in November, it's important. And for us, as it is at Ohio, it's important. To them, their alumni, their graduates, their coaches and their players, and it's important for us in those areas."
Hoke also characterized the Wolverines' annual game against Notre Dame as a "national rivalry." Michigan has won the past three games in that series, capturing each in dramatic fashion, and four of the past five.
It staged a 17-point fourth-quarter comeback last year during the first night game in Michigan Stadium history.
Kyle Meinke covers Michigan football for AnnArbor.com. He can be reached at 734-623-2588, by email at kylemeinke@annarbor.com and followed on Twitter @kmeinke.