Posted on
Fri, Sep 2, 2011 : 8:09 p.m.
Michigan football coach Brady Hoke names Fitzgerald Toussaint starting tailback hours before opener
By Kyle Meinke
One of the top storylines of the Michigan football team's fall camp has been the race to become the program's first lead tailback since 2007.
Just hours before Saturday's season opener against Western Michigan, coach Brady Hoke revealed his choice: Fitzgerald Toussaint.
The 5-foot-10, 195-pound sophomore fell behind early in the competition, but came on strong toward the end of camp, was listed as a co-starter on Monday's depth chart, then was officially named the starter Friday night in a video released by the school's athletic department.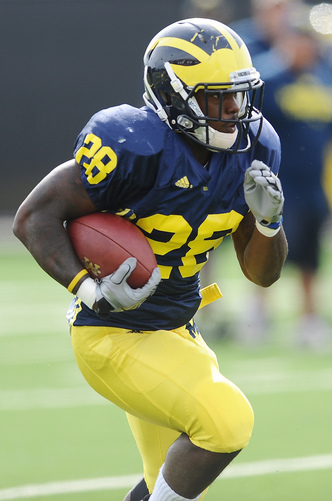 AnnArbor.com file photo
"He's really showed a toughness to him," Hoke said in the video. "I think he's done real well in the passing game, with picking up blitzers and those things, and knowing where they're coming from. He's shown good ability to stay on his feet and have great balance and vision."
Toussaint beat out senior Michael Shaw, who last week was declared the leader for the job. He was listed on the top line of the depth chart that was released Monday, but only an "or" separated him from Toussaint.
Hoke said in the video Shaw would also receive snaps in the backfield. There also could be a back who fills more of a third-down or short-yardage role.
Michigan plans to run a power-run game in its new pro-style offense. Toussaint, with his big body and down-hill running, could be a nice fit.
"Toussaint's a tough kid who makes no concessions to the defense," offensive coordinator Al Borges said after a recent practice.
Toussaint was a heralded recruit from Youngstown, Ohio. He missed the first three games last season due to a knee injury, then later battled a shoulder issue. He finished with eight rushes for 87 yards and one touchdown.
He has been fully healthy throughout camp this year.
Borges said he's targeting about 25 carries per game for his lead back, although that could be diminished if Toussaint splits time with Shaw. He was asked Tuesday if one back still would get at least 20 carries against Western Michigan, even though jockeying for the position continued until the eve of the season.
"If he is hot and he is rolling, (yes)," Borges said. "Sometimes, you don't know until you play. The lights go on and guys are tested. Are they going to hold on to the ball? Are they going to beat people in the open field? Break tackles?
"Sometimes, you get a completely different animal when it's game time. Sometimes, that is good, and sometimes, that's bad."
Borges and Hoke have said regardless of who wins the starting nod Saturday, the running back competition could carry into the season.
"We may have to use two guys for a while, or a third-down guy," Hoke said Wednesday. "I think it will all clear out (once the season starts). You play each other so much and the defense knows what the line call is, and it is going to be fun to play somebody else."
Hoke said this week that, although no back separated himself during camp, he isn't worried about the position.
"From the simple standpoint that competition has really been awesome," he said. "I think competition is what makes us all better, and I think all these kids have done a great job."
Junior Vincent Smith and sophomore Stephen Hopkins could also see time at running back. They long were considered candidates for the tailback job, but were eliminated from that battle as Shaw and Toussaint emerged.
Also of note in the video: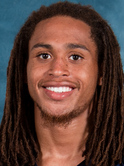 Floyd gets start
Hoke said junior J.T. Floyd will start at corner. Sophomore Courtney Avery was listed as a co-starter with Floyd, and freshman Blake Countess could also vie for time.
"I thought J.T. really came into camp and really proved himself to the defensive staff and myself," Hoke said. "We're going to stay on him because we think there's a lot of potential there. He's done a nice job."
Senior Troy Woolfolk is the other starting corner.

Freshmen to see time

Hoke said about six freshmen will see time against Western Michigan.
"I told them I'd hold their hand on the sideline," Hoke said of preparing the freshman for the opener. "We have six of them, special teams, offense or defense really … you just never know. You just keep them positive, and I think the older kids are doing a great job with them."

Cutting down big plays

Hoke, on his team's ability to tackle: "When teams get big plays, morale-wise, it's not good for your team on either side of the ball. So, obviously, we want to minimize those things and be aggressive in what we're doing.
"I think we've tackled quite a bit, so we may be better at that. But that's why you play, and we'll find out (Saturday)."
Kyle Meinke covers Michigan football for AnnArbor.com. He can be reached at 734-623-2588, by email at kylemeinke@annarbor.com and followed on Twitter @kmeinke.