Posted on
Thu, Aug 18, 2011 : 9:28 p.m.
Michigan football coach Brady Hoke names 3 defensive starters
By Kyle Meinke
Michigan football coach Brady Hoke is a defense guy, and he doesn't mince words when he says his unit has a long way to go before the season opener.
But there are three guys with whom he's pleased.
Hoke said he's filled "about two or three" starting spots on defense. When asked who they were, he responded:
"(Cornerback Troy) Woolfolk's had a nice camp, I think (nose tackle Mike) Martin's had a nice camp, (safety Jordan) Kovacs has had a nice camp."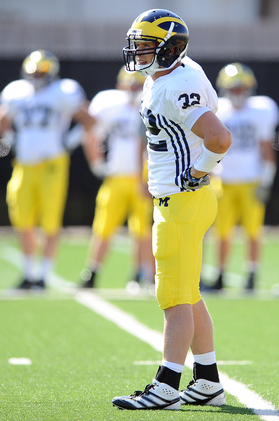 Melanie Maxwell | AnnArbor.com
That doesn't exactly leave a lot to the imagination.
Each of those players was a starter last year, although Woolfolk, a senior, missed the season after suffering a brutal ankle injury during fall camp.
Martin, a senior, was an all-Big Ten player last year who anchors the Wolverines' defensive line, and Kovacs, a junior, has been one of Michigan's most consistent players the past couple of years and started every game last year.
Although the Wolverines have nine defensive starters back, Hoke said every other position remains undecided.
Michigan will hold its first fall scrimmage Saturday. Hoke has said he hopes to start penciling in his two-deep roster around then, although position battles are expected to persist throughout camp.
Notably, walk-on sophomore defensive tackle Nathan Brink appears to be a legitimate contender to earn minutes at the defensive tackle position. The walk-on sophomore from Holland Christian was seen getting first-team reps ahead of junior Will Campbell at Tuesday's practice.
Thursday, Hoke continued to gush about Brink, a name most didn't know until this week.
"(Brink is) one we may not have seen earlier," Hoke said. "Coming out of spring, we thought he could help us some, but I think he'll probably help us more."
Hoke lauded Brink's toughness, coachability and technique at the team's media day Sunday, then echoed those sentiments Thursday without being prompted to do so.
"He's just kind of a guy who's shown up," Hoke continued. "I give Nate a lot of credit. He's coachable and teachable and all those things that you want.
"I think he's tough-minded. If you're going to play up front defensively, you better have that first and foremost."
Hoke said competition is healthy for his unit.
How is Campbell taking it?
"That's (on) Will," Hoke said of the Detroit Cass Tech product, who was one of the top defensive tackle recruits in the country coming out of high school. "He's competing. He'll compete, and then we'll go from there."
Martin will anchor the defensive line, and he is considered one of the best defensive tackles in the Big Ten.
Hoke has been pleased enough with Martin — and has enough respect for him and his leadership skills — to name him among the first batch of starters, but he also has identified a couple areas for improvement.
"His biggest obstacle at times (is) he's not following-through on the basic fundamentals once in a while," Hoke said. "He's really learning, really working hard at it, and I like the endurance he's showing."
It's healthy to have competition for jobs in camp because it keeps players sharp, but having so many positions undecided at this point can also mean a team is short on playmakers.
Does Michigan have many playmakers on defense?
"You have to understand, I'm really hard on the defense now," Hoke said after a moment, his hoarse voice dropping. "Eh, I'd say no. I mean ..."
Will Michigan's defense be a liability this year, as it was last year, when it finished 110th overall?
"I think defense helps any team. I don't know about this particular team," Hoke said. "We'll find out."
Hoke acknowledges he's especially hard on the defense, and the line in particular, because he played the position growing up and has taught it for much of his career.
One positive he did point out is he thinks the defense is getting to the quarterback better. Hoke said that's due to a better understanding of the concepts being taught up front, as well as improved paths being taken into the offensive backfield.
The 4-3 defense being installed by Hoke and defensive coordinator Greg Mattison is supposed to facilitate quarterback pressure, which also would help take some of the onus off Michigan's secondary.
Hoke also has been pleased with his defense's grasp of the new blitz packages.
Kyle Meinke covers Michigan football for AnnArbor.com. He can be reached at 734-623-2588, by email at kylemeinke@annarbor.com and followed on Twitter @kmeinke.