Posted on
Mon, Nov 7, 2011 : 12:30 p.m.
Michigan football coach Brady Hoke on Illinois and other hot topics
By Pete Cunningham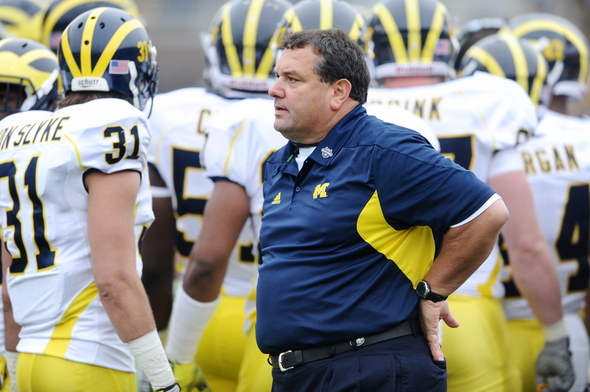 Melanie Maxwell | AnnArbor.com
Another week, and there are plenty of questions for Brady Hoke and the Michigan football team to address at their weekly press conference following a 24-16 loss at Iowa.
What are the expectations for this team now that it is 3-2 in the Big Ten Conference and a longshot at best for a Legends Division title? Why is quarterback Denard Robinson struggling to run? What are the goals for the final three regular-season games, beginning with a contest Saturday at Illinois (3:30 p.m. ABC)?
We'll update this post today throughout the press conference, which begins at 12:30 p.m.
Brady Hoke has left the building and players will arrive shortly. Check below for highlight's from Hoke's press conference. Below that are comments from Ryan Van Bergen and David Molk as well:
Brady Hoke: On Brendan Gibbons' production. "He's done a nice job."
Brady Hoke: On calls in the late stages of the game. "We gotta move forward."
Brady Hoke: Said he was pleased with the way running back Ftizgerald Toussaint played. Said Denard Robinson hit his funny bone on a series and his fingers went numb. Hoke said Robinson is fine.
Brady Hoke: On Penn State situation. "I wouldn't even know how to answer that. (Long pause.) We've got Illinois to worry about."
Brady Hoke: "I'm really happy with Desmond's (Morgan) flow to the ball."
Brady Hoke: Said "NASCAR" formation is different than two-minute package in play calling and is more "up-tempo."
Brady Hoke: "Defensively, I think they're (Illinois) a very athletic defense."
Brady Hoke: Said Jake Ryan's "burner" is fine. No lingering effects. Said Fitz Toussaint was healthy enough to return following injury, but didn't because of late-game situation.
Brady Hoke: Said approach to talking about championships doesn't change because there is no telling what will happen.
Brady Hoke: After seeing replays, "I thought Junior (Hemmingway) made a catch," in bounds. "I thought he caught the ball."
Brady Hoke: Said he has not been given a complete explanation as to why Junior Hemmingway's "catch" was not a catch against Iowa. Said he will likely get explanation from Big Ten office later in the week.
Brady Hoke: "I think he grew as a quarterback," on Denard's play in the game.
Brady Hoke: Said Troy Woolfolk "had a better week" in practice than Thomas Gordon, hence the start against Iowa.
Brady Hoke: Said Jake Ryan's reduced play on Saturday was due to a "burner," aka a stinger early.
Brady Hoke: On bouncing back on the road. "I think our kids are pretty daggone resilient, and they'll be in good shape."
Brady Hoke: "You've heard me say this a lot, and I wouldn't say it if I didn't believe it. I really like how are seniors have invested in the youth of this fotball team."
Brady Hoke: Hoke said he wasted a timeout in the second half because he thought there were 12 men on the field. There were not. "I talked about executing and effort (of players); I gotta execute better there."
Brady Hoke: Said opting for possession at beginning of the game was in order to have wind in the fourth quarter.
Brady Hoke: On clock management at end. "I thought Al (Borges) really managed it well. We had four shots at the end zone, two of 'em were in my hands."
Brady Hoke: "I thought most of the game we did a good job of putting hats on (Iowa running back Marcus Coker)."
Brady Hoke: "We've gotta execute better. There was great effort on both sides of the ball."
Brady Hoke: "Disappointing to lose a football game. The thing I can tell you is our guys played with great effort."
DAVID MOLK
David Molk: On Illinois defensive front, "I don't know much about them yet," but expects them to be strong based on experience.
David Molk: "I love how these coaches adapt."
David Molk: On evolution of two-quarterback system, "I really like that formation because it puts another playmaker on the field." Credited Iowa coaches for being successful against that formation.
David Molk: On Junior Hemmingway play. "Can't fight it, can't change it, so there's no reason to think about it."
RYAN VAN BERGEN
Ryan Van Bergen: Said he expects Illinois to be fired up, especially considering the manner in which the game played out last year, a 67-65 triple overtime Michigan win.
Ryan Van Bergen: On defending Illinois quarterback Nathan Scheelhaase, "We can't expect one guy to bring him down, we gotta get hats to the ball."
Ryan Van Bergen: "Everybody can be beaten, that showed itself this Saturday."
Ryan Van Bergen: Said he thought Junior Hemmingway made a touchdown catch, but "we had opportunities after that, and we had opportunities before."