Michigan football coach Brady Hoke on Joe Paterno: 'It's just sad and unfortunate on all levels'
Posted on Fri, Jul 13, 2012 : 10:55 a.m.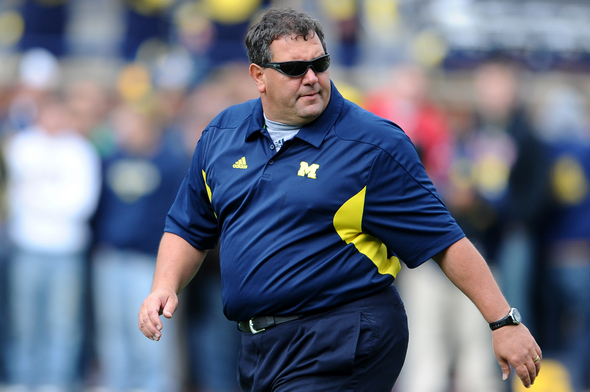 Michigan football coach Brady Hoke understands the fleeting nature of success, which is why he remains guarded even after guiding the Wolverines to an 11-2 record in his debut season.
He's cited the reported rampant drug use at UCLA and array of misconduct at North Carolina as examples. And now, he has another after the spectacular fall of former Penn State football coach Joe Paterno.
Paterno played a key role in concealing the child sexual abuse of former Penn State defensive coordinator Jerry Sandusky, according to a report released Thursday by former FBI director Louis Freeh.
That one hits home for Hoke, who coached against Paterno while a Michigan assistant from 1995-2002.
"It's so sad and unfortunate everything the victims, the Paternos and family, everything on all levels," Hoke said Friday during an interview with Jason Whitlock on the Dan Patrick Show.
"It's one of those things I know there's a lot of emotion on all sides of it and a lot still to be found out about all those things. It's just sad and unfortunate on all levels and really is something that takes you back a little bit."
Hoke, who knows Whitlock going back to their days at Ball State, also addressed a few other topics:
On the passing of his father, John, in March: "He was obviously a guy who loves the game. He loved talking the game, he loved going to the games and he was a football guy, he played for Coach (Woody) Hayes at Miami of Ohio. It was an important part, with my brother Jon coaching with the (Chicago) Bears and myself being in the coaching profession. We are a football family. He right now is watching every move we make and making sure that we've got guys doing the right things during the workouts, that we're providing the leadership and the commitment and everything we need to do to go get those great degrees from the University of Michigan and play their best football. So we're always held in check by somebody. He just is on a bigger scheme, holding us in check."
On why he doesn't tailgate outside the stadium after games, as he did at Ball State: "I don't think there's a place around there to be able to do that. Our families all get together and they have a great time and that's the best part about it. It's such a great stadium, a great place, a great atmosphere for college football at the Big House and around the Big House."
On the season opener against defending national champion Alabama: "It's a great opportunity. We're going to play the reigning national championship football team in Alabama. Coach (Nick) Saban's done a great job of coaching, recruiting and everything that they do. It's a great opportunity for us to see where we're at as a team because that's something we're all looking forward to, to see what kind of football team we're going to be. We've got some guys who played awfully well as seniors a year ago, fourth-year and fifth-year guys that we're going to be missing. Now, it's time for guys to step up and really understand what playing in big games like you want to do. That's why you go to Michigan, why you coach at Michigan to play in those type of football games."
On being seen smiling and eating with Ohio State coach Urban Meyer at a recruiting event last month in Southfield: "I tell ya what, the ribs were great, I can tell you that. Maybe I was smiling because of the ribs."