Posted on
Tue, Sep 20, 2011 : 5:58 a.m.
Michigan football coach Brady Hoke preparing to face his former San Diego State team
By Kyle Meinke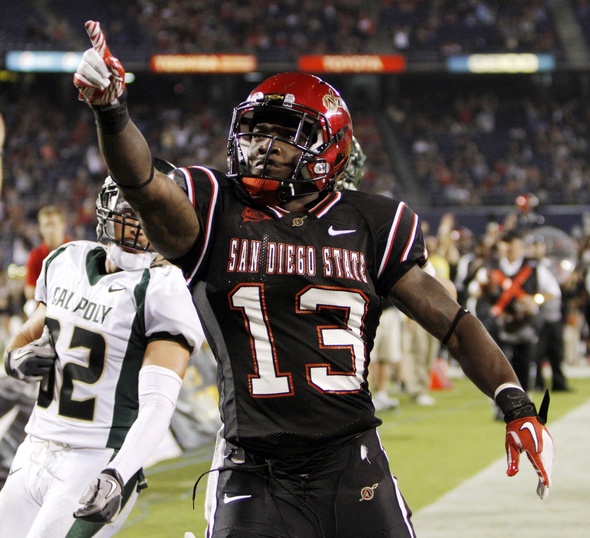 AP Photo
How did Brady Hoke tell his San Diego State players he had taken the Michigan football job in January?
Mass text.
Players were on semester break, so it was impossible to meet. No phone calls, either. Nothing.
They'll see him again Saturday, though, when San Diego State visits Ann Arbor (Noon, BTN) in a game of unbeaten teams that was scheduled by Hoke himself.
Think the Aztecs will be motivated to face their old coach and 22nd-ranked Michigan?
"It would be very motivating," senior defensive tackle Ryan Van Bergen said Monday at the team's weekly news conference. "I can imagine that they are going to come in with a demeanor of, 'We are going to play hard and beat them in their own house.'
"That is what I would expect from them and that is what I would expect from myself if I was placed in that same situation."
Hoke said he now regrets scheduling the game, which will pay San Diego State more than $1 million, according to the San Diego Union-Tribune.
In fact, he tried to get out of it.
"I told Dave Brandon 'Let's buy that one out,'" said a smiling Hoke, referring to his athletic director. "(But) the game was scheduled and you've got to play it. It would've been way too hard for both teams to try and find new opponents and do all that kind of stuff."
Hoke said he has kept in contact with his replacement at San Diego State, Rocky Long, who was his defensive coordinator with the Aztecs. They've mostly talked about personal matters, though.
Hoke's worried about facing his former assistant, and for reasons other than revenge.
As in, Long's team is good.
"I don't know if they have a weakness," Hoke said.
Added Van Bergen: "I have seen the film ... and they are going to be the toughest challenge we have faced so far."
San Diego State's strength is its offense, which is ranked 27th in the country at 38.0 points per game. Its running back, Ronnie Hillman, is second nationally in rushing at 165.7 yards per game.
He rushed 32 times for 191 yards and four touchdowns last week in a 42-24 win against Washington State, which improved the Aztecs to 3-0. Although unranked, they received votes this week in both major polls.
In the passing game, Ryan Lindley was one of the country's most prolific quarterbacks last year, when he finished seventh nationally (294.6 yards per game). He is averaging 212.3 yards per game this year, which is 60th.
Pass-heavy Western Michigan and turnover-prone Notre Dame posed problems for the Wolverines' defense, and so did run-heavy Eastern Michigan for more than a quarter. The Aztecs' balanced attack could provide the stiffest test of all.
No wonder Hoke wanted out of the game. But, he may hold one advantage over the Aztecs.
"They know our personnel a lot better than we know their personnel," Long, the SDSU coach, told the San Diego Union-Tribune this week. "I think there's a huge advantage, yes."
Hoke dismissed having a game planning edge, though, in deference to the Aztecs' talent level.
"We've got a lot work ahead of us," Hoke said. "(They're a) very talented team, a team that's going to play with a lot toughness and team that's well-coached."
He would know. He's the one who built them into a winner.
San Diego State won two games the season before Hoke's arrival in 2009. Two years later, he led the Aztecs to a 35-14 win against Navy in last season's Poinsettia Bowl.
It was the program's first bowl win since 1969, and its nine wins were a 33-year high.
Less than a month later, he jilted San Diego State for Michigan without meeting a single player.
"You send a text because you couldn't get 'em all together," Hoke said. "There was a time element in everything, obviously. We had a full team meeting when I left Ball State, my alma mater -- that was hard to leave and hard to leave those kids.
"So we were fortunate enough to be able to do that. We couldn't do it out there."
So, they'll do it Saturday instead, and Hoke is sure to get the Aztecs' best shot.
Kyle Meinke covers Michigan football for AnnArbor.com. He can be reached at 734-623-2588, by email at kylemeinke@annarbor.com and followed on Twitter @kmeinke.