Posted on
Thu, Apr 12, 2012 : 1:44 p.m.
Brady Hoke reached out to old friend Jeff Long after Arkansas AD fired Bobby Petrino
By Kyle Meinke
Michigan football coach Brady Hoke said Thursday afternoon he's reached out in the past week to Arkansas athletic director Jeff Long.
Long fired Bobby Petrino as the Razorbacks' football coach on Tuesday after Petrino crashed his motorcycle, then tried to cover up the presence of 25-year-old Jessica Durrell on the back.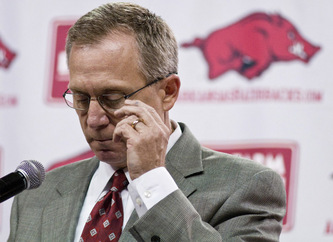 Associated Press
An internal investigation revealed Petrino and Durrell had an inappropriate relationship. Petrino also helped Durrell land a job in the football program and gave her a $20,000 gift.
"I texted him," Hoke said. "Just said, 'I'm glad I wasn't you.' That's a hard deal for anybody."
Hoke and Long go way back. They both attended Fairmont East High School in Kettering, Ohio, and were teammates on the football and baseball teams.
Long was the quarterback on the football team, and Hoke his center. They were battery mates in baseball, too, where Long was a pitcher and Hoke the catcher.
Hoke also delivered the news to Long.
"He was our paper boy," Long told the Dayton Daily News. "He loves to tell people that when we're together, and it's true. He delivered the Dayton Journal-Herald."
Their paths crossed again two decades later, when Hoke was hired as a Michigan football assistant in 1995. Long worked in the Wolverines' athletic department at the time.
Kyle Meinke covers Michigan football for AnnArbor.com. He can be reached at 734-623-2588, by email at kylemeinke@annarbor.com and followed on Twitter @kmeinke.