Posted on
Wed, Feb 1, 2012 : 7:27 p.m.
Michigan football coach Brady Hoke says social media has changed recruiting, in a bad way
By Nick Baumgardner
Michigan football coach Brady Hoke isn't a fan of social media.
And, while we're on the subject, he can deal without most types electronic communication, too.
"I wouldn't (use) Twitter," Hoke said Wednesday during his national signing day news conference. "Why would I want you to know if I was at McDonald's eating a cheeseburger, because it'd probably be three or four.
"I'm not real big into any of that. I don't Facebook, I don't Twitter, I don't email. … If I want to talk to you, I'll call you up and we'll talk."
Hoke avoids any and all social media throughout day-to-day life, but in the modern world of college football recruiting, the likes of Twitter and Facebook can't be ignored.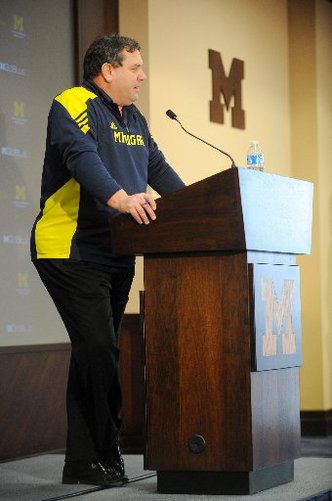 Melanie Maxwell | AnnArbor.com
As a recruit gains traction and accolades throughout the process, he generally finds himself turning into somewhat of a mini-celebrity in social media circles.
Football recruits who have never played a single down collegiately are followed by thousands of people, and every word they tweet can be seen by the masses.
Not surprisingly, Hoke doesn't like it. He says social media has changed recruiting, and not in a favorable manner.
"It's sad to say that some stuff, because of social media, makes it so you can find out a lot about guys," Hoke said. "That's all part of it. That's what's changed, and I don't think it's been for the good in a lot of ways."
Recently, Hoke and Michigan were involved in a social media recruiting story turned bad. Four-star cornerback Yuri Wright, a New Jersey prospect once recruited by the Wolverines, reportedly lost his Michigan scholarship offer after a series of unsavory tweets surfaced from his account.
Eventually, the tweets led to Wright's expulsion from Don Bosco Prep. On Wednesday, Wright signed to play college football at Colorado.
Hoke refused to get into any specifics about Wright, or any other recruit that's run into social media troubles.
He just knows he doesn't like it, and wants no part of it going forward.
"I'm not going to say (anything about) any specific kids, because they're 17 and 18-year-old kids," he said. "Not pros, they're kids. I think it has made a difference, because you don't, we don't know their situations, where they come from, the background they have.
"We know a heck of a lot more about them than you all do, but kids are going to make mistakes and you don't know what kind of support group they have or what's been accepted."

Michigan offers four-year scholarships

Much like most of its Big Ten brethren, Michigan's scholarship offers this season were four-year pacts.
ESPN.com confirmed Wednesday that -- along with Michigan -- Ohio State, Penn State, Michigan State, Iowa, Wisconsin, Northwestern and Illinois also gave out four-year scholarships this season. The Cleveland Plain Dealer initially reported Ohio State's intention to do so.
The NCAA allowed schools to offer multi-year scholarships in October, something Hoke felt the need to take advantage of.
"They were four a long time ago," Hoke said. "You decided you don't want to play anymore but you're still on scholarship, that's not fair to the school. I always thought the one-year renewables were fine, because in my tenure as head coach or being an assistant coach, I don't remember guys that their scholarship was taken because of (athletic) performance.
"It was something socially; it was something academically. So I don't know why the change. I think the NCAA made a lot of decisions in that one meeting they had probably six months ago when the cost of education and all that, and they put the brakes on a lot of things. We need to find out more about it and how conducive it all is."

Any more expected?

Hoke was mum on whether Michigan expected to add any more recruits to its 2012 class.
Currently, the group sits at 25.
Four-star offensive lineman Jordan Diamond, who is reportedly considering Michigan, is expected to make his decision public Friday.
"We'll see," Hoke said.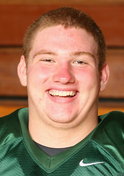 Kalis' resolve
The highest-rated recruit in Michigan's 2012 class wasn't just the most interesting because of his talent level.
Five-star offensive lineman Kyle Kalis was once an Ohio State commit before changing his mind to sign at Michigan.
On Wednesday, Hoke discussed the mental focus Kalis showed after hearing plenty of negative comments from Buckeye backers in his native Ohio.
"He's got tremendous resolve," Hoke said. "When you have a great rivalry, those things happen."
Nick Baumgardner covers Michigan sports for AnnArbor.com. He can be reached at 734-623-2514, by email at nickbaumgardner@annarbor.com and followed on Twitter @nickbaumgardner.