Posted on
Mon, Sep 19, 2011 : 2:42 p.m.
Michigan coach Brady Hoke says Vincent Smith 'has earned' right to be lead tailback
By Kyle Meinke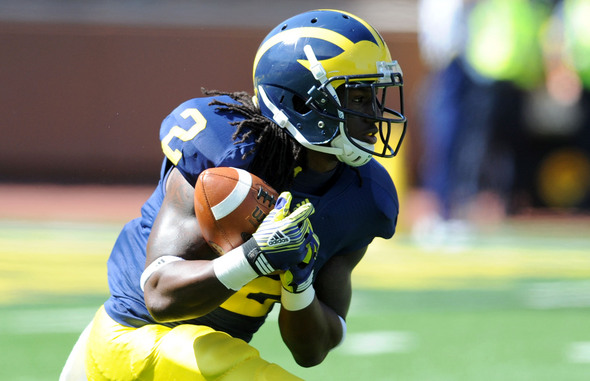 Angela J. Cesere | AnnArbor.com
The Michigan football team's ever-revolving tailback position has taken another turn.
Michigan coach Brady Hoke said Monday at his weekly news conference that Vincent Smith is the leader to be the Wolverines' lead back for this week's game against San Diego State.
"I think Vince probably right now has earned that right with his performance and production," Hoke said.
Smith ran nine times for 118 yards in Michigan's 31-3 win Saturday against Eastern Michigan, and was the team's only consistent tailback. All of the other backs combined for 60 yards.
If Smith starts Saturday, he will become the third starting tailback in four games for Michigan (3-0). Sophomore Fitz Toussaint got the call in Week 1 after a fierce competition that lasted until the night before the opener, then senior Michael Shaw earned the start in Week 2 with Toussaint hurt (although Stephen Hopkins got more carries and snaps).
Toussaint started against Eastern Michigan.
Hoke and offensive coordinator Al Borges have been reluctant to use a tailback-by-committee approach, yet Michigan still has considerable fluidity at that position as the conference season approaches.
"Neither one of us wants it that way, but I think we're there at this point in time," Hoke said.
Hoke said he was pleased with Smith's vision against Eastern Michigan, and he is considered the team's best blocking back — despite his diminutive stature. He stands 5-foot-6, 172 pounds.
"A lot of times, you'll see running backs take a short cut and go at the knees, but he'll actually get down, pop up and hit a guy on the chin," senior center David Molk said. "You don't see it until you watch the film, but when you see that on film with a guy that's so undersized, manning up and taking on anything that comes, it's really great to see."
Is Hoke concerned about Smith's lack of size in a lead-back role?
"He might be smaller, but he's put together," Hoke said. "He's a rock. … His mentality is that of a tough guy."
Smith has 12 carries for 132 yards this year, and also two catches for 26 yards and one touchdown — a score that gave Michigan its first lead in its comeback win against Notre Dame in Week 2.
He had 136 carries for 601 yards and five touchdowns last year.
Smith also has been the team's primary kick returner this year, averaging 18.4 yards per attempt. Hoke said he likely would continue to return kicks, even if he becomes the long-term starter at tailback.
"At the end of the day, you have to make sure your best players are on the field, and he's one of our best players," Hoke said.
Hoke said he also was pleased with Toussaint, who had 11 carries for 46 yards and one touchdown as the starter against Eastern Michigan. The sophomore also started against Western Michigan, but hurt his shoulder in that game and did not play the following week against Notre Dame.
Shaw was introduced as the starter against the Irish, although it was Hopkins who led the team in carries (five) and yards (8).
The only constant in the running game has been junior quarterback Denard Robinson. He had 26 carries for 198 yards against Eastern Michigan and leads the team in rushes (50) and yards (352).
Hoke said he wanted to use a tailback more this year to take some pressure and wear and tear off Robinson, and that remains the case.
"We still don't want to run Denard 26 times a game," Hoke said. "That's a good way to get him beat up and hurt. We've got to keep plugging away. I thought Vince's production, Fitz gave us some good runs in there and took a little bit of the load off him. We have to make sure we're a healthy football team as we continue forward."
Kyle Meinke covers Michigan football for AnnArbor.com. He can be reached at 734-623-2588, by email at kylemeinke@annarbor.com and followed on Twitter @kmeinke.