Posted on
Sun, Dec 18, 2011 : 5:59 a.m.
Michigan football coach Brady Hoke will give his players freedom in New Orleans
By Kyle Meinke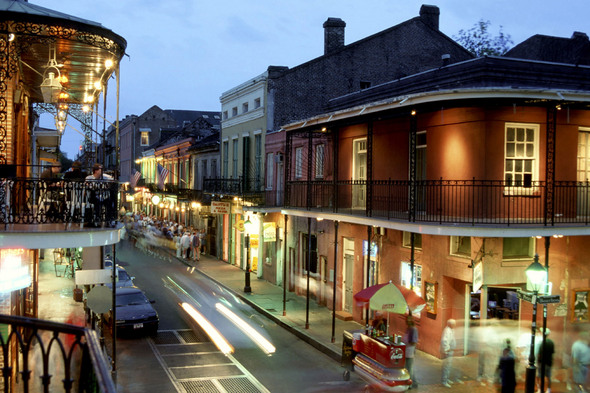 New Orleans Convention & Visitors Bureau
Brady Hoke
has coached in eight bowls as an assistant and two more as a head coach.
He's 6-4 in those games and won his only BCS appearance, the 2000 Orange Bowl, when he was a Michigan football assistant.
Now that he's the Wolverines' head coach, there are a few lessons he has learned about bowl preparation. One of those is the importance of allowing the players to police themselves, even in a place with as many distractions as New Orleans.
"There's obviously a lot of distractions in New Orleans on Bourbon Street and all those things," Hoke said before practice Friday. "We've got 18- to 23-year-olds, and how they handle themselves as a team, starting with the leadership of our seniors, is always an important factor when you take 114 or however many we're taking on the trip.
"And then it's the focus, and not being distracted by all the pats on the back and the stuff that really is immaterial to how you play in the game."
Michigan finished 10-2 this season, by far the most success any current player has had at the school. It will face No. 11 Virgina Tech in a prime-time Sugar Bowl matchup on Jan. 3 in New Orleans (8:30 p.m., ESPN).
How will players handle their success? And the national stage?
Michigan's only postseason game in the past four years was the Gator Bowl last season, when it was routed by Mississippi State. So, this kind of high-profile game is new ground for them.
Hoke, though, has experience in leading a team that is facing rising expectations. In fact, he said the best bowl prep he's ever been a part of was last year, when he took San Diego State to the Poinsettia Bowl, its first postseason berth in 12 years.
How did the Aztecs react? They jumped to a 14-0 first-quarter lead and coasted past Navy 35-14.
Hoke said the key to placating nerves, as well as not coming out flat after having more than a month between games, is to keep things fresh in bowl practices.
"I think we kept them fresh and at the same time challenged and competed enough with them," Hoke said of last year's bowl practices. "As you look at game planning, I think we got that to them early enough where they could really have a great understanding of it."
Michigan began implementing its bowl game plan Friday, and that will pick up during difficult, fully-padded practices Monday and Tuesday. The team will begin backing off on the intensity Wednesday and Thursday, then have a light practice Friday before breaking for Christmas.
The Wolverines will reconvene in New Orleans on Dec. 28 with a light workout. They will hold the bulk of their practices at Tulane University, and two more will be at the Superdome, site of the game.
The rest of the time, Hoke will give his guys some latitude to enjoy their Big Easy experience.
"It's a great city, and we're excited and all that," he said. "But there's a lot of things for them to do that aren't involved in football.
"You want them to enjoy it. It's a reward as much as it's a chance to compete again. You try to treat them like young men."
Kyle Meinke covers Michigan football for AnnArbor.com. He can be reached at 734-623-2588, by email at kylemeinke@annarbor.com and followed on Twitter @kmeinke.