Posted on
Wed, Aug 31, 2011 : 10:12 a.m.
Michigan football coach Brady Hoke's latest attempt to motivate his players: Personalized tridents
By Kyle Meinke
First-year Michigan football coach Brady Hoke brought several assistants with him from San Diego State. He brought the West Coast offense.
Now, he's bringing tridents.
Hoke last weekend presented each player with a maize and blue trident that featured their names. The three-pronged spears are an important token for U.S. Navy SEALs, and appear on the group's insignia.
"We've been studying them a lot," fifth-year senior defensive end Will Heininger said of the Navy SEALs after Tuesday's practice. "Coach Hoke has a great respect for them, as do we as a team.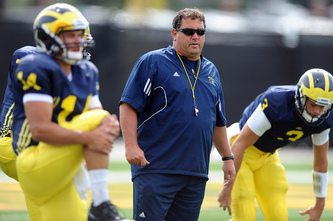 Melanie Maxwell | AnnArbor.com
"Of course, we don't want to compare what we do to what they do, but there are some lessons we can learn from what they do, and teamwork."
Hoke picked up on the tridents during his time at San Diego State, which is near a naval base.
Heininger said players hung them from the ceiling of the team's conference room. Starting receiver Junior Hemingway said he likes them there because they offer a daily reminder of what the team is striving for: discipline, hard work, accountability.
"Every day, we come in the meeting room, it's the first thing you see," said Hemingway, a fifth-year senior. "You hang it up there for a reason, you just don't hang it up there for nothing. Everybody who comes in knows they have something to work for."
Added Heininger: "It's just a reminder, every day, that we can't do it without each other."

Tailback could be gameday call

Offensive coordinator Al Borges said Michigan likely will not settle on a running back until game day.
THURSDAY LIVE CHAT
Come back to AnnArbor.com at noon Thursday to join Kyle Meinke for a live chat. He'll discuss the latest Wolverines' news and preview Saturday's game against Western Michigan. Graham Couch, who covers the Broncos for the Kalamazoo Gazette, will stop by and answer some questions, too.
Hoke and Borges said last week senior
Michael Shaw
led the competition
for Michigan's tailback job, but sophomore
Fitz Toussaint
was named co-starter at that spot when the initial depth chart
was released Monday
.
Shaw is listed first on the two-deep, but only an "or" separates him from Toussaint, who received the first carry of Tuesday's practice and turned it into a touchdown.
The competition could continue into the season -- even lasting multiple games.
"Sometimes, you don't know until you play, lights go on, guys are tested," Borges said. "Are they going to hold onto the ball? Are they going to beat people in the open field, break tackles?
"Sometimes, you get a different animal when it's game time. Sometimes that's good, sometimes that's bad."
Junior Vincent Smith and sophomore Stephen Hopkins could receive occasional carries, but Borges said Shaw and Toussaint will be his primary ballcarriers to begin the season.

Cranking up the tunes

Hoke created a buzz Tuesday when he blasted the Michigan fight song from his office at Schembechler Hall.
For one hour.
Defensive coordinator Greg Mattison could only shake his head at Hoke, whom he calls his "best friend in the whole world."
"We knew we had to come in and have a really, really high energy practice," Mattison said, "and there we've got the fight song going upstairs for an hour, from 1:30 to 2:30 (p.m.), and I'm just bouncing in my office.
"That's how I know Brady is the right guy for this job."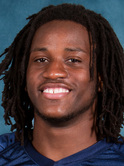 Hemingway feels for Stonum
Hemingway, who has battled injury and sickness throughout his Wolverines career, knows what it's like not to be able to run through the Michigan Stadium tunnel with his teammates.
It puts him in a unique position to offer sage advice to his roommate, Darryl Stonum, who will feel similar emotions Saturday.
"I just have to be basically a brother to him," Hemingway said of Stonum, a senior starting receiver who is being redshirted this year after he was charged this summer with the second DUI of his career. "Just keep his head on straight and let him know he'll be all right. We've got his back.
"The good thing is that he's still on this team. That's the good thing."

Jones makes strong-side impression

While junior middle linebacker Kenny Demens and sophomore weak-side linebacker Cam Gordon locked up their jobs early, sophomore Mike Jones had to fend off senior Brandon Herron and junior Brandin Hawthorne until the final days of camp to win the job at strong-side linebacker.
He was one of the few underclassmen to beat out an upperclassman for a job.
What set him apart?
"He's consistently come out every day trying to do what he's supposed to do," Mattison said. "I got a feeling Mike Jones came from a program where he probably … just played sic 'em football. Now all the sudden, he's getting coached every single second.
"I see signs of him, 'OK, you did it right, you stayed back, you didn't run past the hole,' that kind of thing."

Odds and ends

Hoke said during his Big Ten coaches teleconference his defensive attention — which, self-admittedly, is most of his attention — will be paid to Michigan's rush defense, even though Western Michigan ranked 16th last year in passing offense. … Schembechler Hall now is filled with "Game Week" fliers that feature various Western Michigan logos. One that is prominently displayed outside the main doors includes what appears to be a feminine Bronco in women's clothing.
Kyle Meinke covers Michigan football for AnnArbor.com. He can be reached at 734-623-2588, by email at kylemeinke@annarbor.com and followed on Twitter @kmeinke.