Posted on
Sat, May 29, 2010 : 3:47 p.m.
Michigan football coach Rich Rodriguez: No must-win ultimatums, progress is coming
By Dave Birkett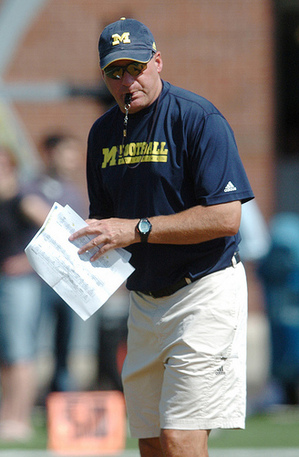 MIDLAND - Michigan athletic director Dave Brandon gave football coach Rich Rodriguez a firm vote of support this week, repeating that nothing the NCAA investigation turned up will cause him to re-evaluate Rodriguez's job this year.
Still, Rodriguez remains on one of the hottest coaching seats in America. Two seasons into a what's been a tumultuous tenure at Michigan, Rodriguez is 8-16 and coming off a last-place finish in the Big Ten.
Speaking at the Michigan Associated Press sports editors meeting earlier this week, Rodriguez said he and Brandon have talked several times about the state of the program, but Brandon has not given him an ultimatum for wins.
"Our expectation is to compete for a championship every year, and particularly you start with a Big Ten championship," Rodriguez said. "And anything short of that is going to be a disappointment.
"I don't know if I have to have that talk because that's the way we're going to be, and I'm sure that's going to be Dave's expectation for every coach, not just the old football coach."
As he has frequently over the last two years, Rodriguez said the massive overhaul he's undertaken at Michigan is similar to what he went through in his early seasons at West Virginia.
As Mountaineers coach, Rodriguez inherited a 7-5 team coming off a Music City Bowl win from Hall-of-Famer Don Nehlen. He went 3-8 his first year, then reeled off six straight winning seasons (including three 11-win campaigns) before leaving Morgantown.
At Michigan, Rodriguez replaced future Hall-of-Famer Lloyd Carr and followed a 9-4, Capital One Bowl-winning season with 3-9 and 5-7 records the last two years.
"We had a tough first year at West Virginia and then things kind of turned around," Rodriguez said. "We've obviously had a couple tough years here, but I see the same kind of dynamic or circle coming around here as well. Young guys are growing up and we'll be playing with some 19- and 20-year-olds instead of 17- and 18-year-olds. A little different."
Michigan still has several gaping holes on defense with three projected first-year starters in the secondary and no heir apparent for Brandon Graham, the nation's leader in tackles for loss last year. Offensively, the Wolverines have an ongoing battle at quarterback, no clear-cut starter at running back and their best offensive lineman coming off a torn ACL.
So how close are they to turning things around this fall?
"Optimistically, I think we made a few steps last year," Rodriguez said. "We're going to be closer this year, and we'll be closer the year after that.
"It's yet to be seen if we close the gap to win the championship, but that's our hope and expectation."
Dave Birkett covers University of Michigan football for AnnArbor.com. He can be reached by phone at 734-623-2552 or by e-mail at davidbirkett@annarbor.com. Follow him on Twitter @davebirkett.