Posted on
Tue, Aug 10, 2010 : 11:11 a.m.
Michigan football coach Rich Rodriguez: Not everyone reported to camp in shape
By Pete Bigelow
After getting his first glimpse of the summer at his team Monday, Michigan football coach Rich Rodriguez said the Wolverines seemed to be in pretty good shape.
With a few exceptions.
"We have quite a few guys in very good shape, a handful who are in OK shape and a small handful not ready to play Division I football," he said.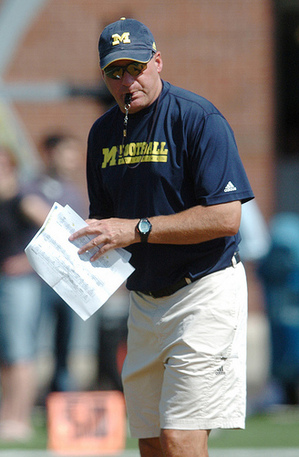 He wouldn't identify the out-of-shape players, but said they will not "have the opportunity to wear the winged helmet" on Sept. 4 against Connecticut in the season opener if they cannot improve their conditioning over the next month.
Freshmen were not included in the list of disappointments.
"Our expectations for freshmen, with their first session at this level, is not going to be very high from a standpoint of being ready physically," Rodriguez said. "… I don't look at them the same as an upperclassmen."
Mild temperatures Monday afternoon prevented Rodriguez from scrutinizing the conditioning of his team too closely. But at first glance, the third-year coach thought his linemen on both sides of the football had shown the most improvement of any particular position.
"They looked like they had a good summer," Rodriguez said. "It was not real taxing, as far as the weather, but I liked the way we looked physically up front.
"Our young guys look like they've grown some, gained weight and strength, and some have shaven now for the first time."
Pete Bigelow covers sports for AnnArbor.com. He can be reached at petebigelow@annarbor.com