Posted on
Wed, Aug 11, 2010 : 9:33 a.m.
Michigan football coach Rich Rodriguez tells players to be careful on Twitter, other social networks
By Michael Rothstein
The social networking took Twitter has 145 million users, but that doesn't mean college football coaches have to love it, like it or even allow it.
Boise State coach Chris Petersen banned his players from using Twitter. A year ago, former Texas Tech coach Mike Leach and former Notre Dame coach Charlie Weis issued similar edicts.
While Michigan football coach Rich Rodriguez would prefer his players not tweet or be on Facebook, he's not insisting they stay away.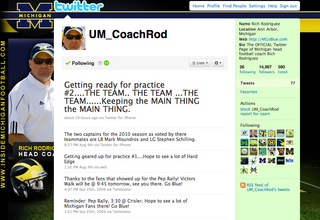 "If that's something that makes them feel good, to be in their social network, we just have to really explain to them, which (football media relations director) Dave (Ablauf) did a nice job of last night, and we have to constantly remind them we monitor and follow that.
"You've got to make sure they are representing not only themselves and their families but also every other football player, our university, our community and before you push that send button, it's there for life and future employers could look at that."
Rodriguez has his own Twitter account. He updated it Monday before Michigan's first practice and then joked after he didn't know what he wrote. He also broke news of Michigan's captains - Mark Moundros and Stephen Schilling - on the social media device. Multiple Michigan football players tweet, including tight end Martell Webb and wide receiver Kelvin Grady, although his account is not public.
In Ann Arbor, it is more prevalent on Michigan's basketball team, where former players DeShawn Sims, Manny Harris and Anthony Wright tweeted often throughout the season. Sims broke news of his new contract on Twitter and Wright announced his transfer to Toledo.
Michigan assistant basketball coach Bacari Alexander is on a push to reach 1,000 followers by the start of basketball practice in August, and head coach John Beilein recently joined the trend with four Tweets in August and now has more than 300 followers.
Some coaches are better than others. Stanford coach and former Michigan quarterback Jim Harbaugh had SI.com's Andy Staples so intrigued by his Twitter account he tried decoding messages.
But the concern for Rodriguez - and other coaches - is what might be said without thinking.
"Our guys are pretty well educated about that, and I don't want to put a ban on it," Rodriguez said. "I don't know how many guys do it but it is a concern as a coach because they may have a weak moment and put something on there that they think is completely innocent and it embarrasses them or puts them in a light that is really not them.
"But all we can do is educate them and hope that they respond maturely."
Looking to follow? Here's an easy reference guide to some Michigan coaches and athletes on Twitter: Michigan football coach Rich Rodriguez: @UM_CoachRod Michigan basketball coach John Beilein: @JohnBeilein Michigan assistant basketball coach Bacari Alexander: @bacari34 Former Michigan forward DeShawn Sims: @peedi3416 Former Michigan forward Anthony Wright: @Ant_Wright Michigan slot receiver Kelvin Grady: @Kel_Grade19 Michigan tight end Martell Webb: @WorldWideWebb80 Former Michigan kicker Jay Feely: @JayFeely Former Michigan quarterback Chad Henne: @RealChadHenne
Michael Rothstein covers University of Michigan basketball for AnnArbor.com. He can be reached at (734) 623-2558, by e-mail at michaelrothstein@annarbor.com or follow along on Twitter @mikerothstein