Posted on
Wed, Mar 24, 2010 : 6:18 p.m.
Michigan football coach Rich Rodriguez targeted in another real-estate lawsuit
By Dave Birkett
Michigan coach Rich Rodriguez is facing another lawsuit over unpaid real-estate loans.
Rodriguez and four other defendants were sued Feb. 23 in Tuscaloosa, Ala., circuit court for failure to pay nearly $1 million on a condominium development project near Alabama's Bryant-Denny Stadium. The suit, filed by the West Columbia Trading Company, seeks $995,310 plus interest and attorney fees, court documents show. The Tuscaloosa News first reported on the lawsuit on Wednesday.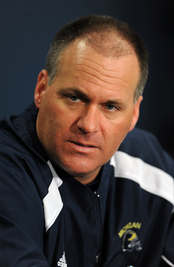 Lon Horwedel | AnnArbor.com
Last year, Rodriguez was sued in federal court in a separate but similar suit for defaulting on a loan to develop condos near Virginia Tech's Lane Stadium. Rodriguez filed a third-party complaint in December to bring his business partners in on that suit that seeks more than $4 million in damages.
A Michigan spokesperson referred all questions to Rodriguez's attorney, Hamilton Osborne, Jr., who did not return a phone call seeking comment.
Keith Canterbury, the attorney for West Columbia Trading Company, also did not respond to a phone message left at his office.
Ron Davis, an attorney for the Legends of Tuscaloosa, issued a statement Wednesday about the lawsuit.
"Coach Rodriguez, as well as the remaining LLC members, were passive investors in several real estate developments, including the Legends of Tuscaloosa condominium project. ... These projects suffered setbacks due to the fraudulent actions of its orginal promoter and developer, Lamar Greene. ... This lawsuit appears to be one where one victim is trying to recoup losses by suing other victims."
Ron West, an assistant coach at Illinois who Rodriguez worked with at Clemson, and Jeffrey Greene also were named in the lawsuit, as were The Legends of Tuscaloosa, LLC, and Palmetto States Enterprises. Rodriguez countersued both West and Greene in the Virginia Tech lawsuit.
According to court records, Rodriguez is a partner in three limited liability companies, including The Legends of Tuscaloosa and Palmetto States Enterprises, that sought to build upscale condos near college football stadiums.
The Legends of Tuscaloosa, also the name of the Alabama development, and The Spur at Williams-Brice, near South Carolina's Williams-Brice Stadium, were completed in 2006 and 2007, respectively. The Legends of Blacksburg remains undeveloped.
Rodriguez's financial advisor Mike Wilcox said previously that Rodriguez was the victim of a Ponzi scheme.
Clegg Lamar Greene, another of Rodriguez's business partners, was charged last year with five counts of stealing money from investors, including Rodriguez. Greene, Jeffrey Greene's father, died Oct. 29.
Rodriguez was served a summons and complaint in the Alabama case by certified mail March 1. The suit requests that Rodriguez be made available for deposition at a time and place to be determined.
Dave Birkett covers University of Michigan football for AnnArbor.com. He can be reached by phone at 734-623-2552 or by e-mail at davidbirkett@annarbor.com. Follow him on Twitter @davebirkett.