Posted on
Sat, Nov 12, 2011 : 10:27 p.m.
Michigan football team wins a game with defense, completing the work started by Greg Mattison
By Kyle Meinke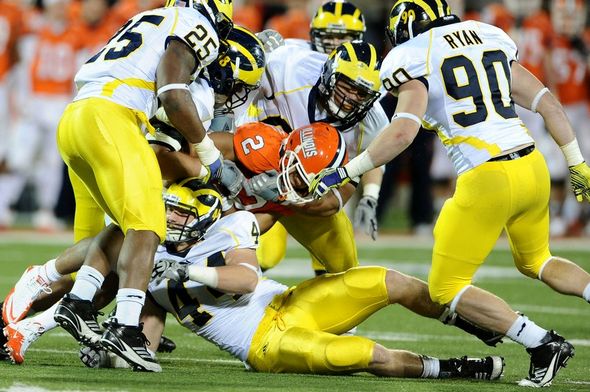 Melanie Maxwell | AnnArbor.com
CHAMPAIGN, Ill. — Greg Mattison stood there, in a tunnel near three warming team buses, addressing the media after a game for the first time this year.
He had to fight back tears to do so.
The Michigan football team's defensive coordinator has preached physicality and toughness, effort and technique since the moment he arrived on campus in January. They are cliches, really. Any football coach knows them well.
But Mattison promised that's all that was required to make an abominable Michigan defense a classic Michigan defense. One that, you know, defends.
So, minutes after the Wolverines polished off a 31-14 win against Illinois —Â a game they would not have won without their defense — Mattison couldn't help but be overcome by emotion.
He is the architect of a defense that, a year after setting program futility marks across the board, can not only be competent.
It can win games for Michigan.
"They've put up with a lot," Mattison said. "They've had a tough road. Nobody knows what went on inside of these guys, and for them to stick together, and to play like they played tonight, and like they've tried in every game, that says a lot about them."
"That was, without a doubt, a Michigan defense, because they played as hard as they could, they did whatever they had to do. Without a doubt, that was a Michigan defense."
Last year's plight is well documented: Michigan allowed 35.2 points (107th nationally) and 450.8 yards per game (110th). It set a program record for points allowed — and it set a program record for points allowed in a game.
They won that game, 67-65, against this Illinois program.
A year later, the Wolverines didn't give up 65 yards until the closing moments of the third quarter in a breathtaking display of physical and strategic dominance.
And, more important than any statistical ranking, they showed they can win games on defense.
"We hadn't come to that final point where you win a game on defense," Mattison said. "We said, 'This is your last away trip to do it,' and I couldn't be more proud that they did it."
The Wolverines committed three turnovers. They were uncharacteristically inefficient in the red zone, scoring on just three of six chances. They missed a field goal. They were stood up at the goal line.
All those missed chances spell loss more often than not, particularly on the road. Michigan knows that lesson well, too, with its two losses coming on the road and not because of the defense.
That changed in this game.
"It really solidifies our confidence, our mentality, and what we know this defense can do," senior defensive lineman Mike Martin said. "We knew it all along, but to come out here and win this game, it's set in stone now."
Just how good were the Wolverines?
They didn't allow a first down until the second quarter, or a second until the third quarter.
They didn't allow a third-down conversion until Illinois' ninth try.
They allowed minus-12 rushing yards in the first half, and 37 yards for the game. Illinois quarterback Nathan Scheelhaase rushed for just 14 yards, his worst performance of the year and well off his 55.7 yards per game average.
They sacked Scheelhaase four times.
Heck, they didn't even allow a drive of longer than 24 yards until the end of the third quarter.
And so on.
That all started with the disruption caused by the defensive line. Martin came up with nine tackles — one off his career high — and Ryan Van Bergen sacked Scheelhaase 2.5 times.
"He and Mike were running some games in there, and that was pretty good, I'd say," coach Brady Hoke said.
Illinois did establish some momentum with a third-quarter touchdown, then forced a three-and-out to start the fourth quarter. But J.T. Floyd put an end to that with an interception and the ensuing 43-yard return that led to Martavious Odoms' touchdown catch that iced the game.
Michigan is at eight wins, matching its best record since 2007. It is positioned for a quality bowl bid, and is one win from a very good one. A 10-win season is not out of grasp.
Hoke also has four Big Ten wins, more than Rich Rodriguez achieved in three years. And he did it with defense. He'd have it no other way.
"That's all you heard about when I took the job here," Hoke said of Michigan's recent defensive struggles. "Defensively, for a lot of years, Michigan was known for Michigan's defense. And they want to represent that. ... When you see those maize helmets hitting the ball carrier multiple times, that's Michigan defense."
Defense won this game, through and through.
Enough to make a grown man cry.
Kyle Meinke covers Michigan football for AnnArbor.com. He can be reached at 734-623-2588, by email at kylemeinke@annarbor.com and followed on Twitter @kmeinke.