Posted on
Sun, Nov 27, 2011 : 9:21 p.m.
Michigan quarterback Denard Robinson puts together game and numbers to remember and more thoughts
By Kyle Meinke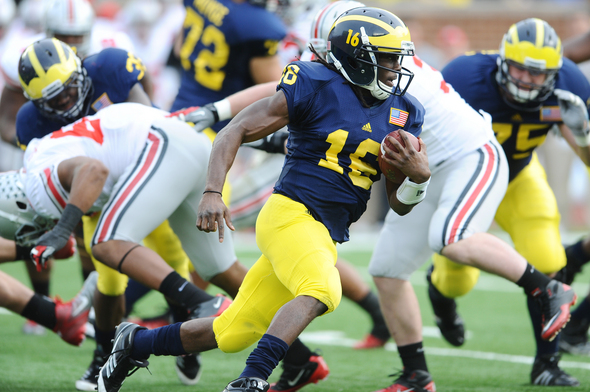 Melanie Maxwell | AnnArbor.com
Tom Brady
accounted for three career touchdowns against
Ohio State
. So did
Brian Griese
.
Chad Henne had five scores against the Buckeyes, but needed four games to do it.
Denard Robinson? He scored five in one game, a Michigan record against the Buckeyes, regardless of position — and that's not counting the sixth he had called back.
Now that's efficiency. And historic.
The Michigan football team's junior quarterback had a game for the ages in the 17th-ranked Wolverines' 40-34 win against Ohio State on Saturday. His numbers will jump off the pages of the record book for years to come.
Provide the context in which they came — on the heels of seven consecutive losses to the Buckeyes, and a failed three-year coaching regime — and they become even more profound.
Simply: Denard Robinson had the best game of his career, in the biggest game of his career. A game that, historically, will mean more than any result of the team's forthcoming bowl game, BCS or otherwise.
How clutch was Robinson's performance? He completed all but three of his 17 passes for 167 yards, three touchdowns and no picks. He ran 26 times for 170 yards and two more scores.
And Michigan won by just six points.
The Wolverines (10-2, 6-2) have relied so heavily on their resurgent defense this year, but they were shredded by Ohio State quarterback Braxton Miller. They needed the offense to deliver, and it did.
Robinson put up silly numbers to begin last year, setting a bar for himself that was impossibly high, even for him. That pressure weighed on him as the season advanced last year. As he became beat up, his impact became mitigated.
This year, Michigan coach Brady Hoke and offensive coordinator Al Borges have emphasized, and carried out, their plan to ensure Michigan's offense was not a one-man show.
Is it any coincidence that, as Fitz Toussaint has risen to prominence in the past five games, Robinson started to play his best football of the year?
Last year, as the primary (only?) focus of the offense, Robinson was most effective early in the season, against also-ran defenses. His production declined as competition picked up.
This year, his best games came against Nebraska and Ohio State — two of the best defensive teams Michigan played, and the final two games of the season.
Michigan, as a whole, has been more consistent. It is averaging 34.2 points per game, 23rd in the country. That's nearly identical to last year's production, when the Wolverines scored 34.8 points per game, 25th in the country.
The difference, though, is the team's splits against ranked teams. They average 35.1 points per game against unranked teams, good production that drops off to 29.5 points per game against the AP Top 25. Steady.
Last year? They averaged 40.0 points per game against unranked teams, and just 16.5 points per game against the top 25. Rickety.
And, of course, Michigan won its first five games last year, and lost six of its final eight.
This year, the Wolverines went 10-2. They followed their worst stretch of the season, when they lost to Michigan State and Iowa in a three-game stretch, with three consecutive wins to close the regular season — including two blowouts.
Defense is the top reason Michigan was in a position to win 10 games. But, Borges' ability to develop other offensive weapons, providing consistency — and, in the end, getting the best out of Robinson when it mattered most — is the biggest reason it won that 10th game.
The game that mattered most.
A game that forever will be linked to Robinson's legacy.
Robinson's day, by the numbers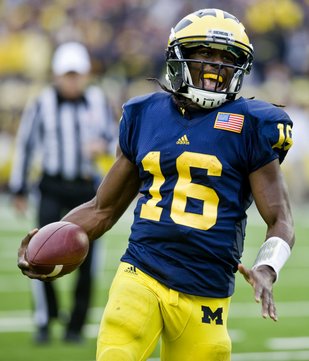 Joseph Tobianski | AnnArbor.com
A closer look at Robinson's historic day against the Buckeyes (a couple of which were gleaned from ESPN Stats & Info):
After missing on his first pass, Robinson didn't misfire again until less than 2 minutes remained in the third quarter.

According to the team's play-by-play chart, Robinson didn't misfire on a single rollout, which had been an issue for him this year.

Robinson's 82.4-percent completion percentage is his best this season. The next closest was his 78.9-perent clip against Minnesota, which finished 3-9 and had the Big Ten's third-worst defense.
Robinson's five touchdowns are the most by a Michigan player in one game against Ohio State.

Robinson's three touchdown passes tie him with Drew Henson (2000), Jim Harbaugh (1985) and Bob Chappuis (1946) for the most in a game by a Michigan quarterback against Ohio State.

Robinson rushed for 170 yards, third most by a Michigan player against Ohio State. It was the best rushing day by a Michigan back against the Buckeyes since Tim Biakabutuka rushed for 313 against them in 1995. His 170 yards exceeded his previous three games combined (168).

Robinson is the first Michigan player in the modern era to score at least two rushing touchdowns and two passing touchdowns in back-to-back games, and is the first Big Ten quarterback to accomplish the feat since Iowa's Brad Branks in 2002. He had two of each against Nebraska.

Robinson is the third FBS player since 2000 to pass for 150 or more yards, rush for 150 or more yards and account for five touchdowns in a game. The others were Vanderbilt's Chris Nickson (2006 vs Duke) and Auburn's Cam Newton (2010 vs South Carolina and Arkansas State).

Robinson's first touchdown pass gave him 36 for his career, passing Tom Brady on Michigan's all-time list. His last gave him 38, passing Todd Collins for sixth-most.

Robinson's two rushing touchdowns gave him 35 for his career, passing Rick Leach for fifth-most in team history.

Robinson is the fourth player in NCAA history to gain 2,000 yards passing and 1,000 rushing in a season twice in his career, joining Missouri's Brad Smith, UAB's Joe Webb and Nevada's Colin Kaepernick.

Robinson passed former Texas quarterback Vince Young to move into 13th place in NCAA history in rushing yards by a quarterback (3,213).

Robinson has scored multiple rushing touchdowns in a game 11 times. He upped his career total to 36 rushing touchdowns, moving to fifth place among Michigan's all-time leaders in the category, breaking a tie with Rick Leach (34, 1975-78).
Aggressive running pays off
A final word on Robinson: The quarterback has been able to stay healthier this year in part because of a conscientious effort to avoid hits. He darted for the sidelines far more often this year than he did last year, at the behest of coaches.
That, however, was not the case against Ohio State. Robinson lowered his shoulder on several carries to pick up extra yardage, and that aggressive style appeared to pay dividends for him.
Robinson looked tentative running the ball for long stretches during the middle of the season. Is it coincidental that, in the final two games of the season — and especially against Ohio State — when Robinson had less to lose and went harder, that he began finally to assert himself in the running game?
Maybe — but maybe not.
Secondary has poor day
Robinson's heroics mean the water cooler talk this week is about the Wolverines' return to glory, and not about a secondary that cost them a shot at glory.
The unit's play was bad most of the day. It was abysmal, on occasion.
Ohio State entered the game 118th in the country in passing. For perspective, that's eight spots worse than Michigan was in total defense last year, when fans were prepared to grab pitchforks in protest.
Only Army and Navy were worse.
Yet, Braxton Miller — a true freshman — went 14-of-25 passing for 235 yards and two touchdowns. More perspective: His previous highs for completions was eight, attempts was 18 and yards was 130.
But Ohio State kept going to the pass, because it was there.
Miller also had two touchdown passes of at least 40 yards. The Wolverines had allowed just four 40-yarders all year.
And it could have been worse, if not for Miller's erratic accuracy on deep balls. He missed three incredibly open receivers downfield, including one on Ohio State's final drive that would have given it a lead.
The culprit on that one: J.T. Floyd.
Converted safety Troy Woolfolk, though, appeared to be the biggest offender. The senior, who started in front of Thomas Gordon, appeared to be the safety responsible on a 54-yard touchdown catch by Corey Brown on the Buckeyes' first drive, then again on a 43-yard touchdown catch by DeVier Posey with 1:21 left in the first half.
"We didn't play very good coverage, obviously," Hoke said when asked about the big plays during a halftime interview with ESPN. "You have to play better. If you're the free safety in the middle, you should be on top of it."
Woolfolk was the free safety on both big plays.
Michigan cycled through Gordon and Woolfolk throughout the game, but went with Gordon on the Buckeyes' final drive, when the Wolverines needed a stop and were especially trying to stop the deep play.
That should say something about where the two stand.
The bowl game probably should feature more Gordon and less Woolfolk, to shore up a defense that, at one point, had been very good at preventing big plays. That has not been the case the past two weeks.
Countess struggles for first time
Another culprit in the leaky secondary? Surprisingly, true freshman Blake Countess. He was bailed out more than anyone on bad throws by Miller, which covered up a couple times he was beat downfield by receivers.
Countess has been spectacular all season. He has a bright future. He also played like a true freshman for the first time this season.
Wolverines are second-half team
Lost in the 34 points allowed by the Michigan defense is this: It allowed just 10 of them after halftime.
The defense was much better in the second half, as it so often has been this year. The Wolverines, certainly, are a second-half team. Aiding them against Ohio State, as has often been the case this year, was third-down defense and time of possession.
Lineman Ryan Van Bergen said earlier this year there have been games in which he's played half as many snaps as he would have last year. That helps the unit to get stronger as games progress.
Against Ohio State, Michigan's defense struggled to get off the field in the first half, when it allowed 214 yards of offense, 24 points (tying a season high in the first half) and a 4-of-7 success rate on third down.
Second half, the Buckeyes were 1-of-5 on third down and doubled up in time of possession.
On the season, Michigan won the first half 203-119 and the second half 207-87 (which includes several blowouts in which reserves played the fourth quarter).
The fourth quarter was the Wolverines' best, outscoring opponents 10.1 points to 3.8 points per game (including, again, blowouts in which they eased off the gas).
Special teams starting to shine
Special teams were, uh, special for the Wolverines early in the season. And not in a good way.
The uptick in the defense's performance after the hire of Hoke did not translate to special teams early in the season. But, they have come around in recent weeks, and had another good day against Ohio State.
The most encouraging sign of all: The kick coverage unit, which was flat-out bad to begin the season, forced three fumbles in the final two games of the regular season. Nickel back Courtney Avery forced one against the Buckeyes, although it was not recovered.
Avery also picked off the Braxton Miller pass that sealed the game for the Wolverines with less than a minute left. He finished the season with two fumble recoveries, one forced and two picks, despite primarily playing only in nickel situations.
He and Gordon were two players who seemed to have a knack for creating or recovering turnovers.
Gibbons finishes strong regular season
Brendan Gibbons, obviously, is a big part of that as well. It's been said before, but deserves repeating now that the regular season is in the books.
Gibbons was 1-of-5 on field-goal attempts last year, and is 10-of-14 this year. It's a stunning turnaround, after many — including former Michigan coach Rich Rodriguez — gave up on the sophomore last year.
Open tryouts for kicking duties were held for the student body in the middle of the season. Not exactly a show of confidence.
Now, though, Gibbons has turned himself into virtually automatic within 40 yards.
He was put in a tough spot against Ohio State when Michigan, at the 1-foot line in the closing minutes of a three-point game, committed a double-penalty to move the ball back and set up a 43-yard attempt, a career long.
Gibbons drilled it, though, to make it a six-point game.
Not that you'd expect anything different from him at this point.
Hagerup has bumpy ride
The only blemish on special teams was a dropped snap by punter Will Hagerup that led to a field goal. Hoke wasn't concerned after the game.
"Obviously, (he) took his eyes off it," Hoke said. "Like I told him, I said, 'How many snaps do you think you've caught over the course of your career? There's a probability that happens, that you may drop one sometime. If you've caught 1,000, then you may drop one but you won't drop the next one.'"
Still, the fact remains that after a stellar freshman season, Hagerup has not been as sharp this year. His four-game suspension to begin the season certainly didn't help matters for the sophomore.
Hidden yardage in the kick and punt games is important. Michigan often is coming up short here.
Kyle Meinke covers Michigan football for AnnArbor.com. He can be reached at 734-623-2588, by email at kylemeinke@annarbor.com and followed on Twitter @kmeinke.