Posted on
Mon, Jul 30, 2012 : 1 p.m.
Michigan football fans: Brady Hoke's decision not to recruit Penn State players is a tricky issue
By Nick Baumgardner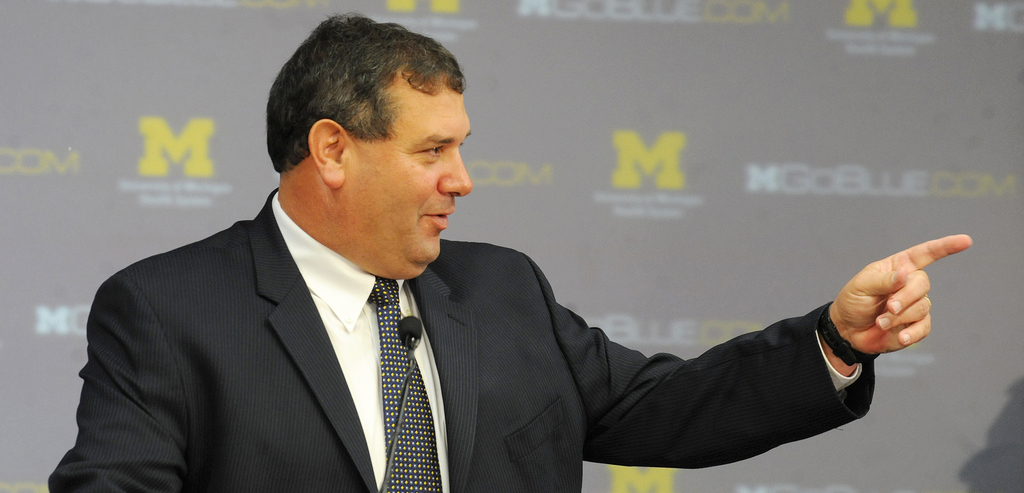 AnnArbor.com file photo
After getting pasted with sanctions by the NCAA last week, every player inside the
Penn State
football program technically became a free agent.
Illinois sent eight coaches to State College for recruiting purposes, and star running back Silas Redd reportedly hosted USC coach Lane Kiffin for an in-home visit on the same day that PSU boss Bill O'Brien fielded hundreds of questions about his program's future in Chicago.
Most coaches seemed to have differing philosophies on how to handle the issue of recruiting current athletes on the Penn State roster, but Brady Hoke's seemed to be a bit different.
The Michigan football coach left little up for debate. He and his staff discussed the situation, and came to the conclusion that they'd be staying out of the raid on PSU players altogether.
"It's not our personality," Hoke said last week in Chicago.
Hoke, who reached out to O'Brien in the wake of the scandal's aftermath, said he made a philosophical choice to recuse his program from the situation entirely. Even if a player reaches out to the Wolverines, Michigan won't be interested.
Good idea? Bad idea?
Michigan fans seemed to be split on the matter.
Some argued that Hoke was preaching a double-standard after accepting a commitment from former Penn State pledge Ross Douglas, and urged Hoke to reconsider his stance.
GoBlue1984: "So he won't take current players, but he will poach recruits… so classy!"


truebluefan: "It's not our personality"? What does that mean? I don't think there is anything ethically wrong with fielding a phone call from a current PSU football player. If they are interested in going to Michigan, they meet the academic standards, and they fill a need on the team, then why not?! These are kids that want to better their situation. Why not help them out? I don't agree with Hoke here. Dantonio has the right approach.


local: If these student athletes are looking for a place to play competitive football with the opportunity to play for something, Brady needs to take another look at this. Michigan is about opportunity and these kids are getting punished for something they had know part of. These guys just want a chance to play football and get an education along the way. I think if they call and inquire, Brady should allow them the opportunity at least to discuss the "why Michigan?" I am guessing we are talking about a few kids, a few who want to be part of a better program with opportunities they will miss out on at Penn State."
Others, meanwhile, completely backed Hoke's decision, agreeing with his take that team chemistry is a major issue here. And, furthermore, by accepting new transfers, it would limit Michigan's scholarship numbers for future recruiting classes.
tim: It hurts (morale) in any organization if you don't promote from within --- You put in years of work to be part of the line up only to have your job taken away from a transfer. Good move coach Hoke, (you're) teaching the kids that hard work pays off and that you care about your players.


Terry Star21: Brady Hoke is correct on that issue. Just like his 'zero-tolerance' policy of Michigan commitments visiting other schools -- they be gone! Being the nations best head coach, Hoke sets the highest standards of ethics for Michigan football that other coaches fail to. It is true, there was a Penn State 'commitment''. He 'decommitted' from the school on Monday after the NCAA ruling. On Tuesday as a free 'recruit', he contacted Michigan. Michigan will only talk to high school recruits and not current players -- and sorry outsiders, "That is the Michigan way".



Scott: Gotta say I love that Hoke isn't doing what (Lane) Kiffin is. And he is right about team chemistry and morale. If Redd came in and displaced (Thomas) Rawls would that be right? Rawls has done everything he could to earn that spot. The arrival of Douglas in 2013 is in no way unethical or disruptive to our team morale.
Nick Baumgardner covers Michigan sports for AnnArbor.com. He can be reached at 734-623-2514, by email at nickbaumgardner@annarbor.com and followed on Twitter @nickbaumgardner.