Posted on
Wed, Aug 15, 2012 : 11:30 a.m.
Michigan football fans: Thomas Rawls looks the part, but can he back up the hype?
By Nick Baumgardner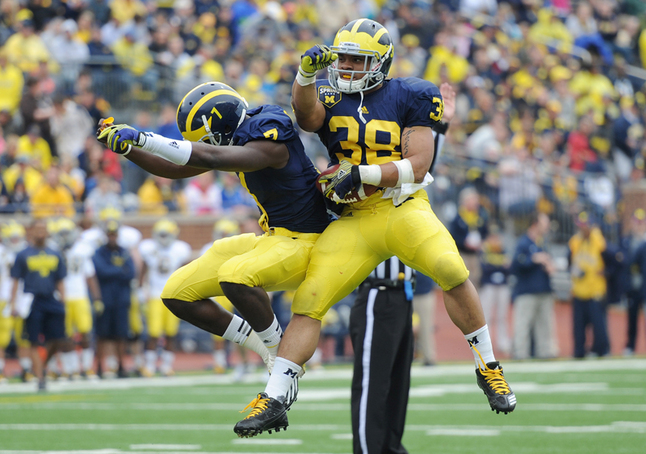 Melanie Maxwell | AnnArbor.com
It's been a longstanding quip among pop culture enthusiasts and a pumped-up myth across the Internet for years.
When it comes to superhuman traits, perhaps no one embodies the phrase more than Chuck Norris.
Well, from the close of Michigan football spring practice through the first two weeks of fall camp, one thing seems to be clear among Wolverine coaches.
Chuck Norris has nothing on Thomas Rawls.
Rawls, the little-used Michigan sophomore running back with the build of a tank, drew some hefty praise from coach Brady Hoke and offensive coordinator Al Borges throughout the summer. And, on Sunday, running backs coach Fred Jackson took it to another level.
He looks like Chris Perry, but faster. He moves like Mike Hart, but faster. He hurts people, he runs angry and he loves contact. If you believe Jackson, he even shares more than a hometown with Heisman Trophy winner Mark Ingram.
Rawls' career only contains 13 carries to this point, but through the early stages of August, he's already an all-hype all-American.
On paper, the 218-pound sophomore does appear to have it all. He has the perfect build for a bruising back, his performance in the spring game seemed to make him capable of joining Jackson's incredibly large fraternity of successful college runners and his charming, affable personality at the team's media day quickly won over reporters.
With incumbent starter Fitz Toussaint still currently in limbo for the Alabama game, Rawls may get his chance to prove he can back up Jackson's talk against the defending national champions.
But can he handle it?
Most fans seem excited, but want to see it proved on the field first.
MRunner73: Good luck to Thomas Rawls, after talking the talk, he needs to walk the walk. He's setting the bar real high but (if) he delivers, that would be spectacular. We shall see.


Steve McQueen: "Thomas is probably, maybe, 5-8. He tells me he's 5-11 and I'm 6-2, I think, and I look down on him and eat soup off his head." That is Classic Fred (Jackson) Sr. Good to see him in regular season form lol.


And then there's the question of durability, something Rawls struggled with in camp early last season. According to Jackson, Rawls was actually ahead of Toussaint on the depth chart in 2011 before a shoulder injury derailed his progress.
Scott: He runs tough but how does he keep from getting hurt again? I think he'll be as good, as Touissant, maybe better, but will likely go out with an injury with his running style.

That's why Touissant is back practicing,. Vincent Smith is just to small to carry the load.



Macabre Sunset: It's great to have a guy like Rawls on the team, and there's a huge difference between seeking out contact and wanting to "hurt" defenders and trying to injure someone. Players know the difference.

But I feel bad for these guys. This is a big part of the reason running backs have incredibly short NFL careers on average. They make an impact right away, but even when you're initiating the contact, the big hits add up quickly.
Others seem hesitant to completely buy into the hype due to the inexperience on Michigan's offensive line. Perry and Hart were phenomenal backs at Michigan, and Toussaint had a terrific year in 2011, but they all ran behind experience up front.
Mick52: I question if we are putting too much emphasis on the back and not enough on the O line. As the article points out, Alabama has a top notch D line, so how much can a back so without a line that can counter the defense? What I like about quick backs is their ability to get through a hole before it closes which I think is a great skill of Denard. He seems to be so quick he can get through the holes faster than any runner I have ever seen.

But if a defense is so good that before you get to the scrimmage line the first player you encounter is a defender it is going to be a long day.
Others? Well, they don't need to see -- or hear -- anything more.
They're convinced.
Mohawk: Added Rawls: "I'm ready. No Michigan running back is scared of anyone or anything."

YES -- I like this guy.
Nick Baumgardner covers Michigan sports for AnnArbor.com. He can be reached at 734-623-2514, by email at nickbaumgardner@annarbor.com and followed on Twitter @nickbaumgardner.